I'm sitting on one of the old, soft couches in the lobby area of Newbold House, in the midst of all of my belongings. My soft black duffel bag is packed to the brim. I'm surrounded by a variety of outerwear since I don't know what today's weather will bring. To my right, my backpack is bulging with my international power strip adapter, my ipad, my laptop, a toothbrush, my travel pillow, and a bottle of Speyside Glenlivet single malt whisky, aged 12 years.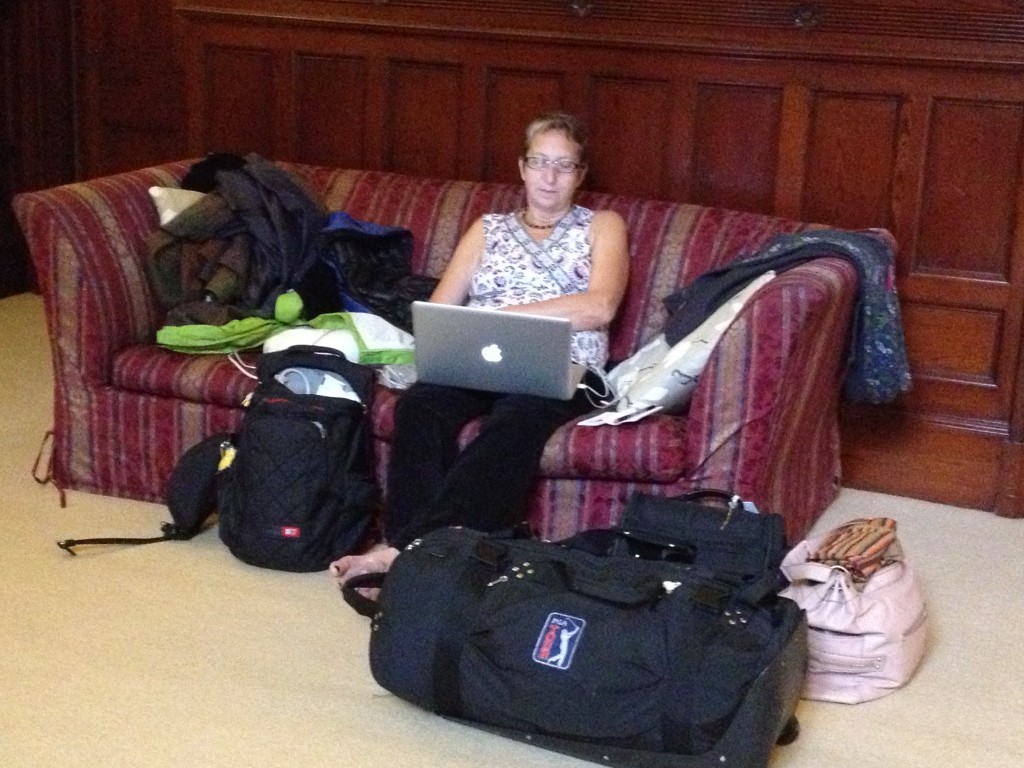 This morning, most of our group left for early morning flights—as I will tomorrow. They slipped away while I was still in dreamland. As I ate my last bowl of Scottish porridge, the dining room seemed empty without their voices and laughter: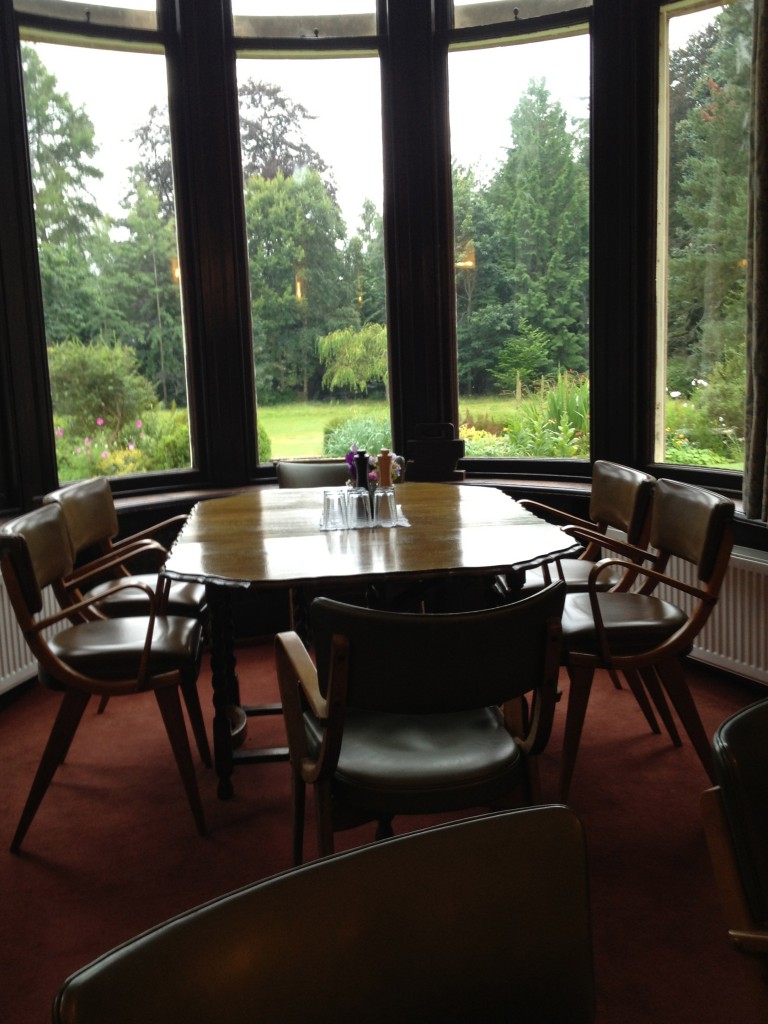 But all good things have to come to an end: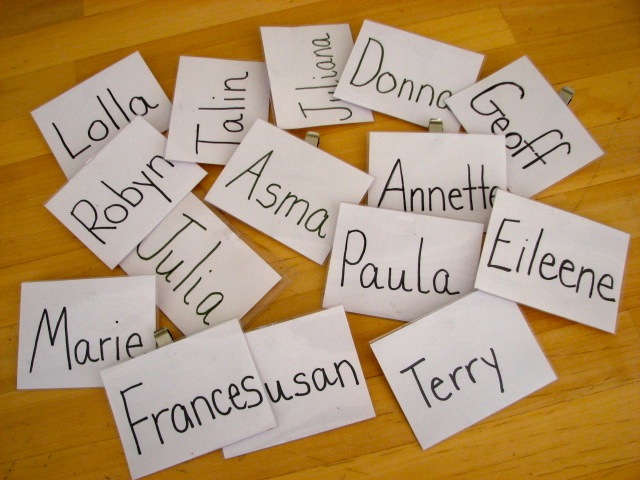 Even the Scrabble fairy. This was her last message, left outside my door last night: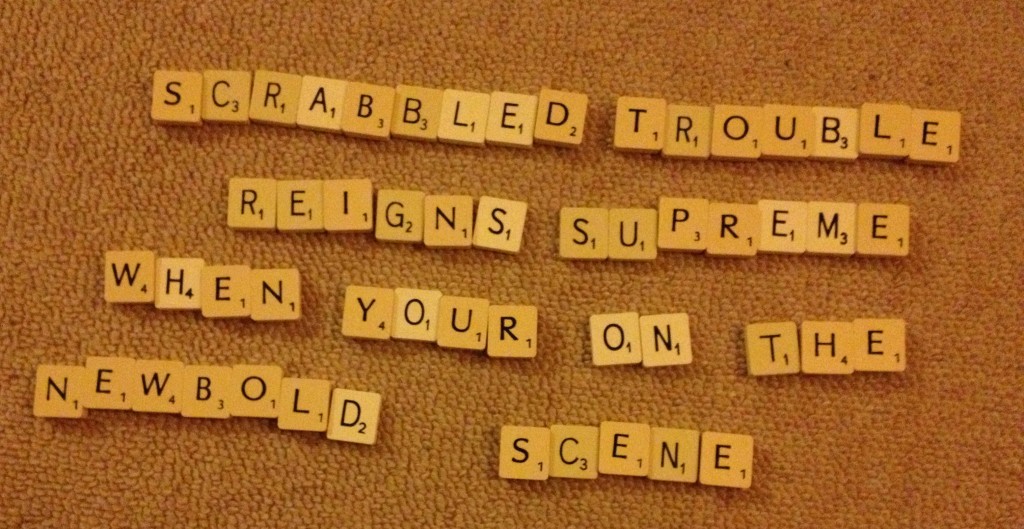 Part II: The next day, on board my first flight, to Gatwick:
Yesterday, when Terry came downstairs with her luggage for the first leg of her long trip back to Vancouver, Donna and I stood on Newbold's front steps and waved goodbye until we could no longer see her. That's what I learned to do in Bali—a generous, loving way to see friends off after a visit.
After I said goodbye to the good folks at Newbold House, Robyn and Geoff came to pick me up. I was staying an extra day so we'd have a chance to debrief together. I assumed we would talk about the retreat, but I thought my adventures were over. But Robin and Geoff had one last outing in mind: "We want to show you some things you might want to add next time, when you come back." And then they whisked me off to Inverness, the largest and only city in the Scottish Highlands.
It was the last minute, but I was still looking for a cashmere cardigan as a birthday present for Karyn, so they took me to several kilt-making stores, all of which featured traditional Highland clothing. A new kilt costs 400-600 pounds or more, and these shops will make them from your clan's specific tartan: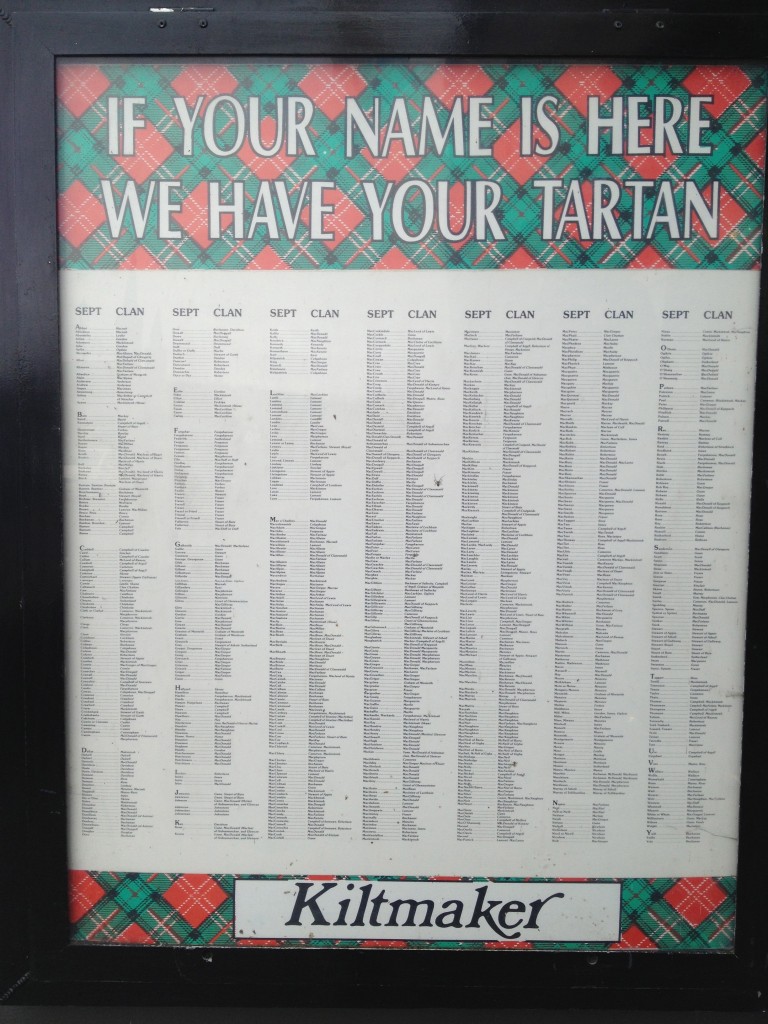 I found Karyn's sweater–a lovely, soft grey cashmere–after after two weeks of trying to find just the right one. Our next stop was Hootenanny's, a pub with live music on the weekends. As soon as we walked in, I fell in love with the funky reality of the place. The bar was full of old-timers who'd come to hear old favorites and dance.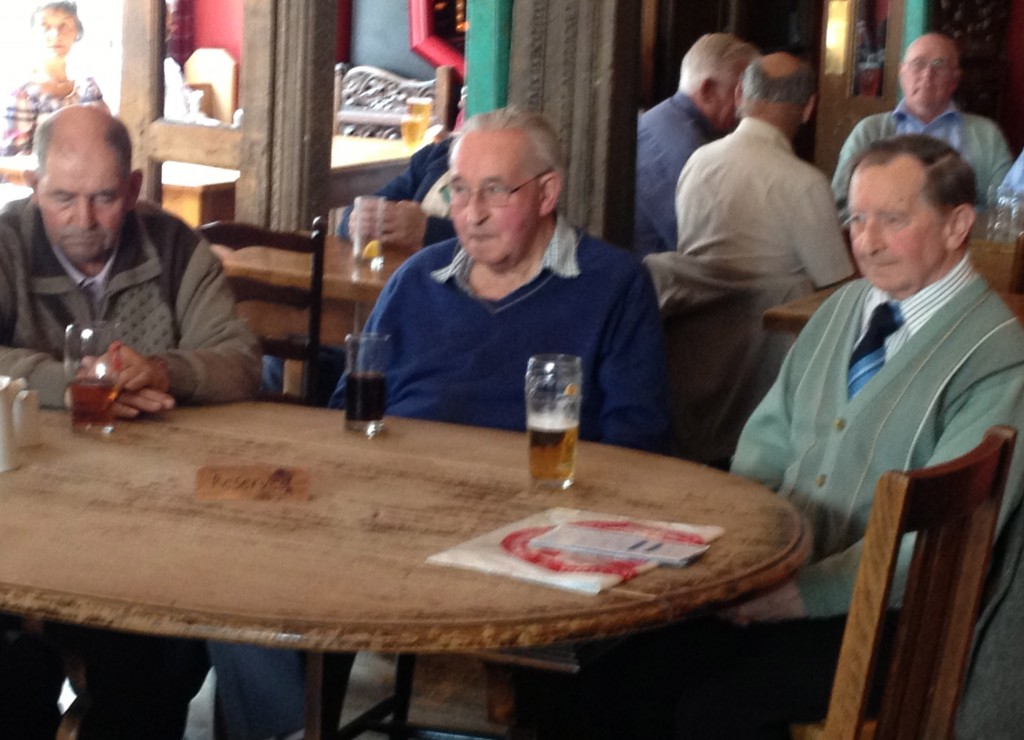 I ordered a local beer and my last dram of whisky: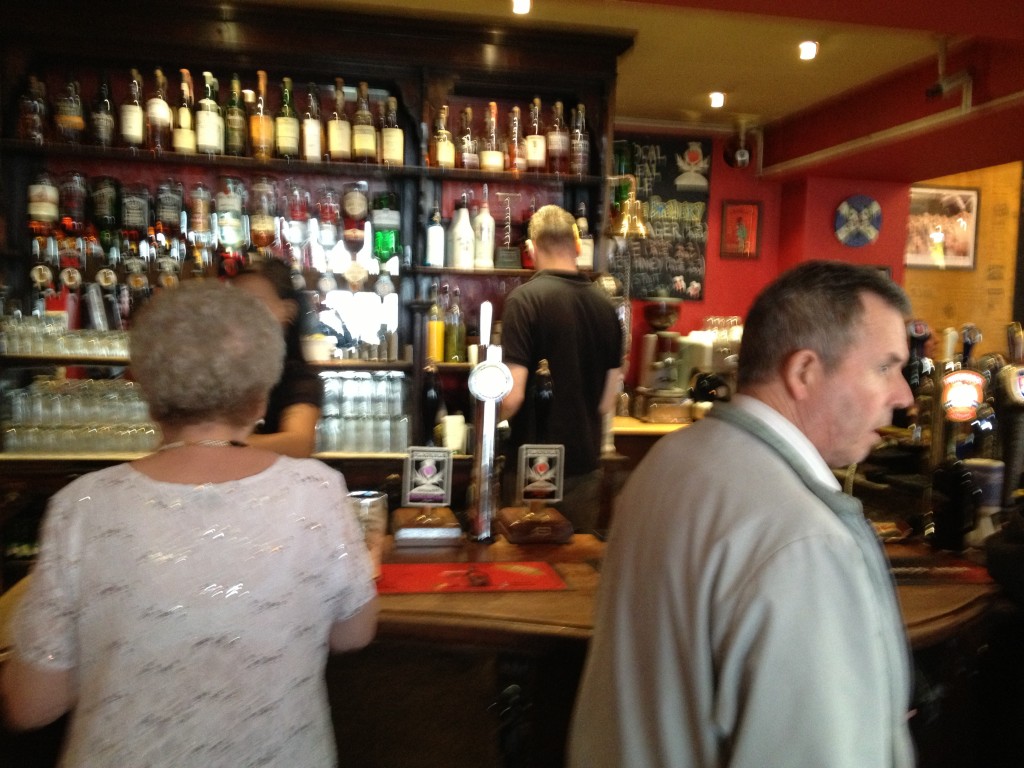 And then we settled in to listen to the music—mostly waltzes and polkas: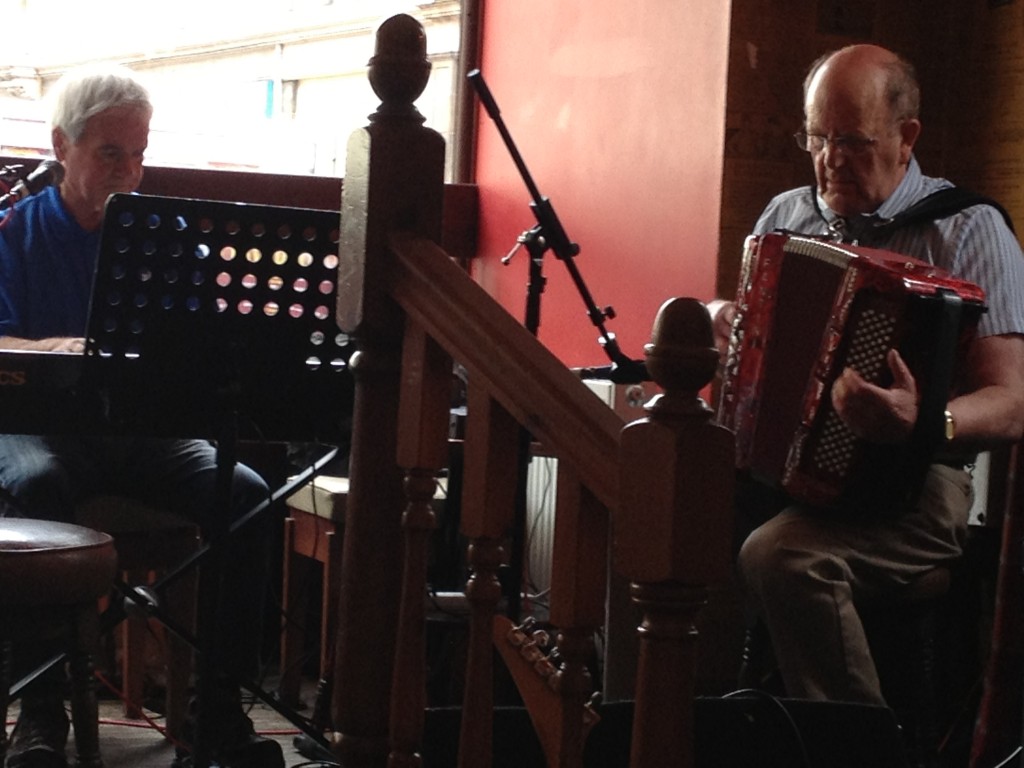 These folks, sharing our table, were happily singing along: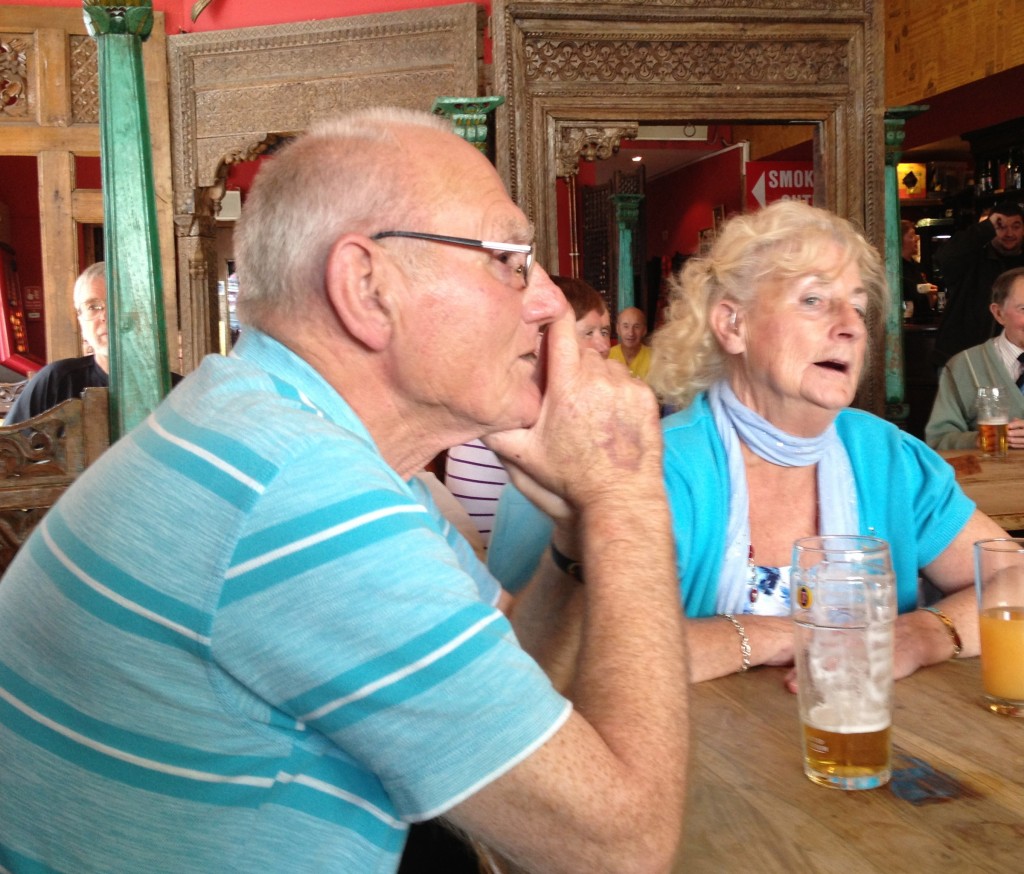 The accordion player offered up lots of patter and told lots of jokes between songs. I couldn't understand a word, but the crowd was cutting up and having a grand old time.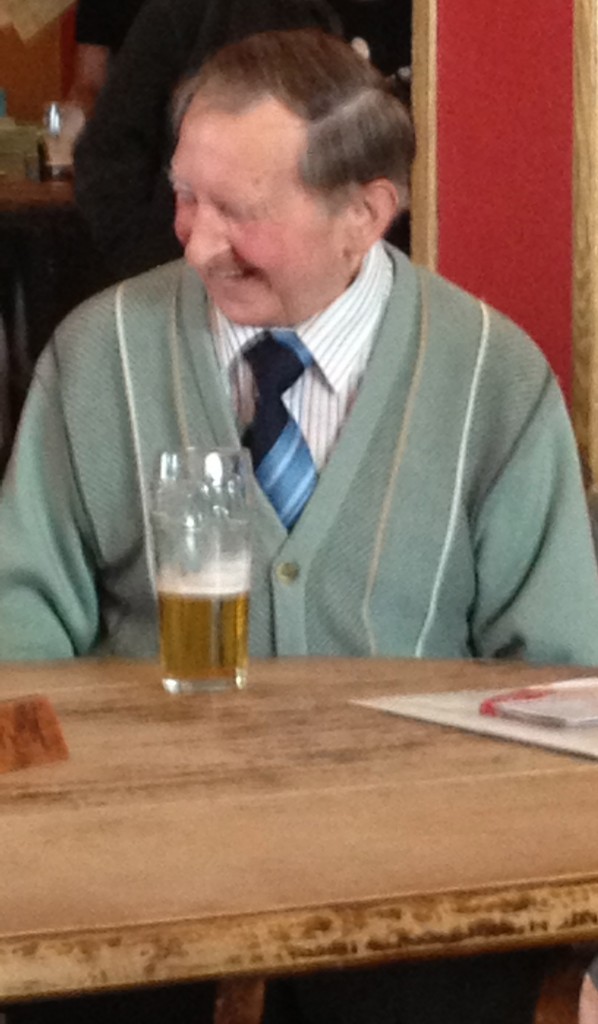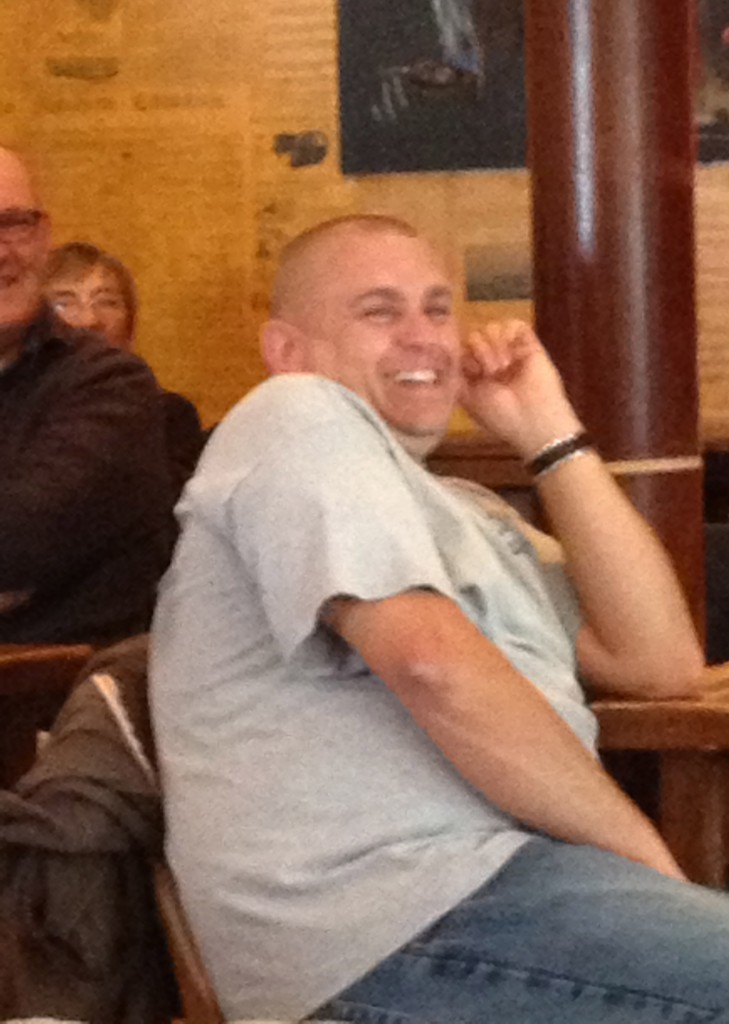 After an hour, we took off to stroll on the pathway that ran along the river. I found the city charming, and told Robyn and Geoff that a bus trip to Inverness was definitely a must the next time around.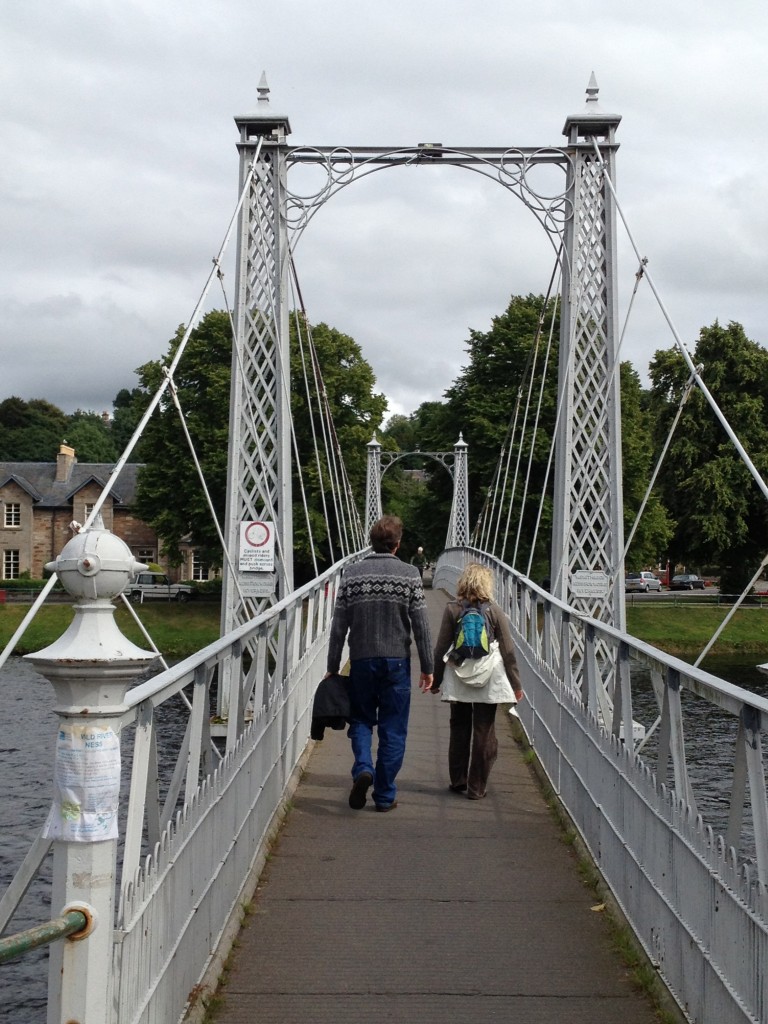 As we walked across this bouncy bridge, we talked about what we'd do the same and what we'd change the next time around. We all agreed we'd keep things pretty much the way they were. It had been a really good ten days; the feedback had been very positive, but we did brainstorm a few surprises for the next retreat.
Robin and Geoff took me to their favorite Turkish restaurant, Aspendos. Because they're self-proclaimed "foodies," I knew the meal would be great. They're friends with the owner, and since we arrived at 4 PM for a very early dinner, Mustafa had lots of time to chat with us.
He asked me if I liked meat. When I replied, "Yes, and I want lamb one last time before I leave Scotland," he recommended we get this combined grilled meat platter. It was served with some kind of delectable vegetable-rich salsa-type sauce and perfect basmati rice. Oh my God—every bite was fantastic. It was a lamb orgy.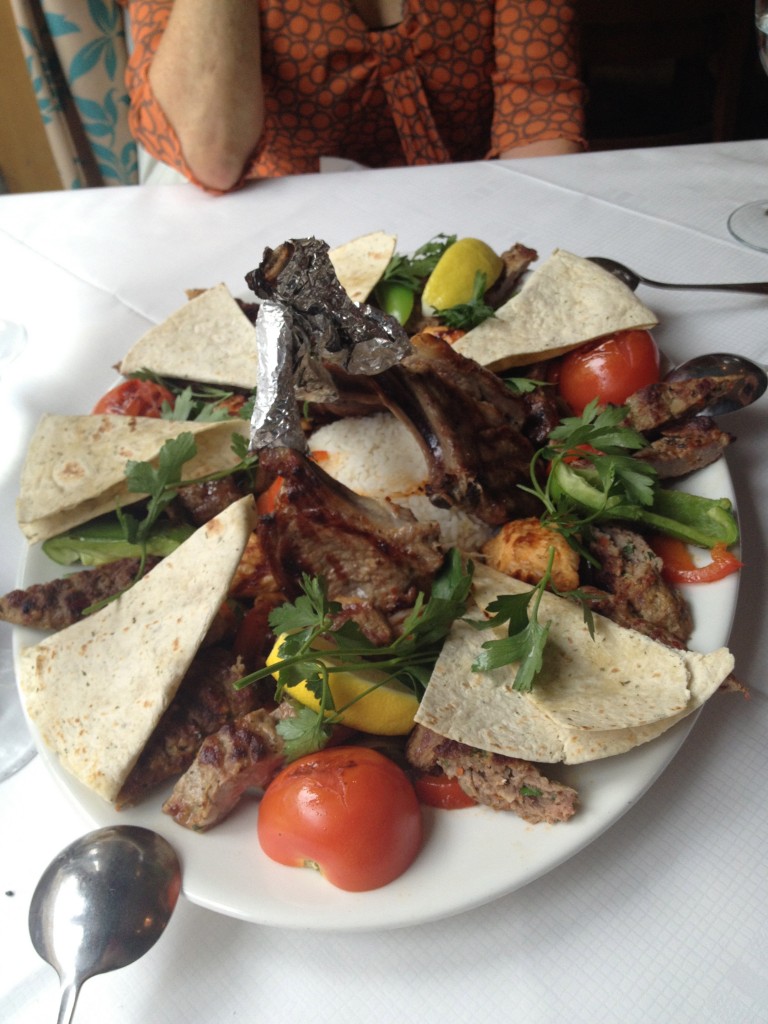 On the way back to Nairn, I stared out the window, taking in the countryside for the very last time. I was struck by how many grazing animals there were everywhere—sheep, cows, pigs. They're everywhere, a constant in the landscape, all in huge expanses of green grass. All the meat here is grass-fed and you can taste the difference. I'm not much of a meat eater at home, but here—every bite tasted like a little heaven.
I wanted to drink in were the colors—all those wonderful muted purples and greens. I felt as if my connection to this land and this place came through those lovely soft colors. I even bought a blanket with those delicious shades in it so I could cozy up on my couch at home and pull a little bit of Scotland all around me. I hadn't fallen immediately in love with Scotland the way I had with Bali, but northern Scotland was definitely getting under my skin. There was a soft power in the land and a gentle sincerity in the people that I knew I would cherish for a long time.
Back at Geoff and Robyn' house, we took one last walk on the beach that had moved me so deeply at the beginning of this Highlands journey. It had been raining on and off all day so the beach was wet and algae was everywhere. And there was nothing about the beach—expect that there was ocean and beach and sand—that looked familiar in any way. When I mentioned this to Geoff, he said, "It's a different beach every day. That's why we love it so much."
I savored every step, breathing in the beauty. "Yes," I thought to myself, "I'll be back."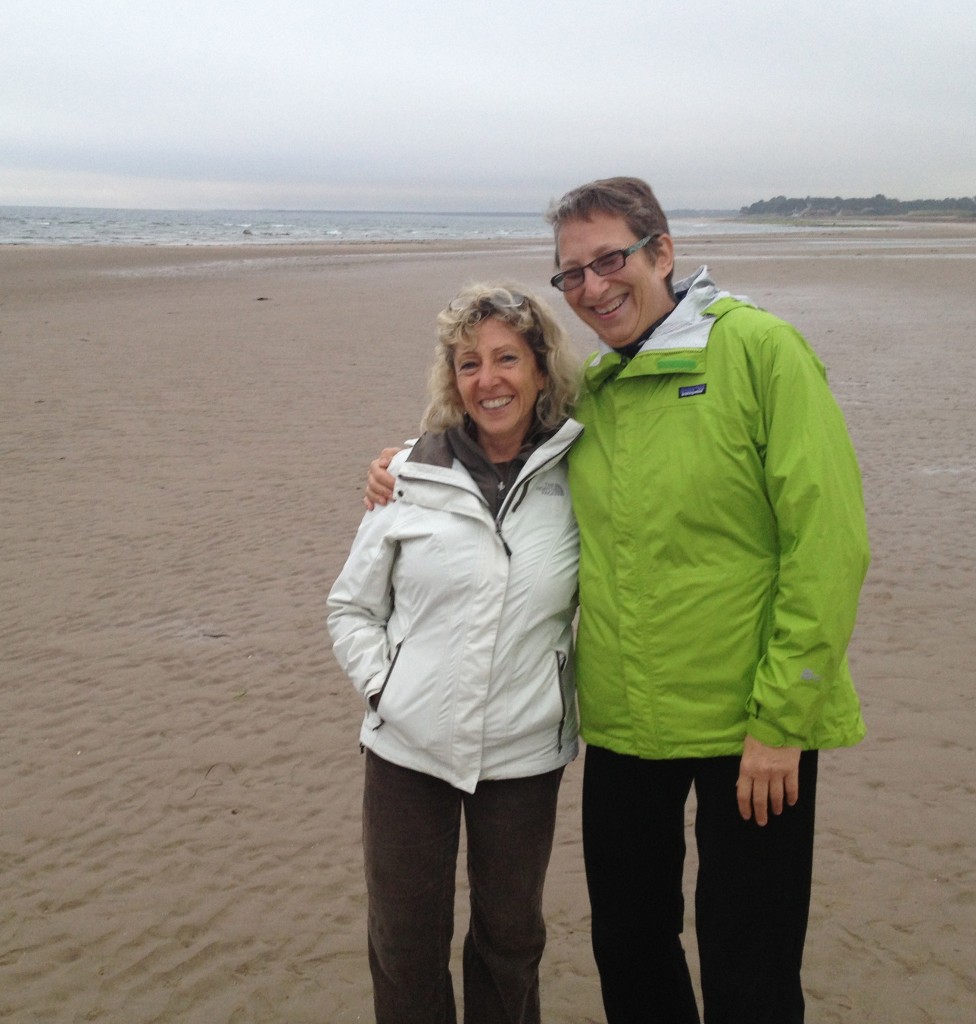 Among her many talents, Robyn is an exquisite masseuse with more than 30 years experience. We'd done a massage trade back in Santa Cruz when she was my student, before she met and married Geoff, before she uprooted her life, winnowed her belongings to two suitcases, and moved to northern Scotland, the place that felt like home, the place that had captured her heart. She and Geoff and I had done it: we'd pulled this cockamamie idea out of ethers and created a life-changing adventure for fourteen people who'd come from all over the world to share it with us. And now it was over.
I asked Robyn if she'd give me a massage before bed, and it was just as good as I remembered it: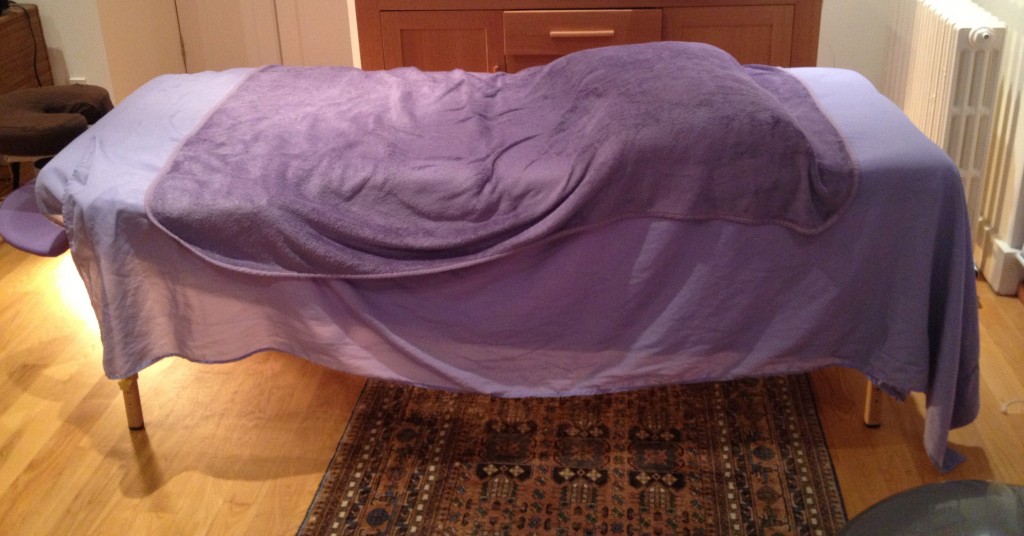 As I drifted off to sleep, my packed bags beside me, I smiled. I'd set three alarms just to be safe, and I'd be leaving in a taxi at 5:30 AM, but I knew it wouldn't be forever. I knew I'd be back.
And now dear readers, I want to thank you so much for coming with me on this journey. If you'd like to experience the magic of traveling with me for real and not just in your inbox, the next Write, Travel, Transform retreat will be in Bali next June. And I'm inviting you to come along.
"This is my third retreat with Laura. They get better and deeper and more adventurous each time, as I return to experience writing in another beautiful place with inspired people that become friends. Each return, I come not knowing what will happen, grateful that I did, and leave transformed."

–Marie Hansen, Reno, Nevada

"This was more than a retreat. It was a pivotal moment in my life."

–Julie Fellom, San Francisco
In the spirit of adventure,
Laura
P.S. The Scots are really insistent about their whisky. You know those little snack shacks they have at the gates of every airport in the world? Well, this is what the one at the Inverness airport looked like: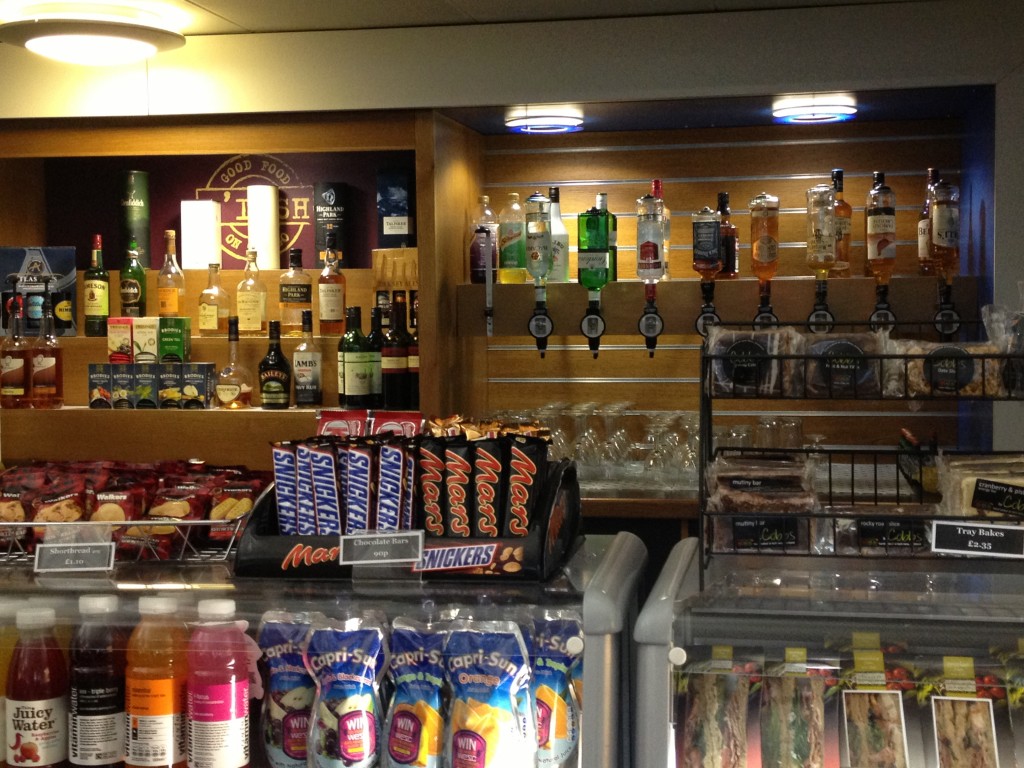 And this was right beside it—begging visitors to take a little nip of Scotland home with them: