Tuscany: Write, Travel, Transform... and Eat!
Tuscany:
Located in central Italy, Tuscany is home to stunning landscapes, world-class food and the historic cities of Florence & Siena. It's a place of art, delicious local dishes, Chianti wines and charming hilltop towns.
Tuscany is famous for many things, but of all its qualities, the countryside is perhaps the most remarkable. Whether you are walking the vineyard trails, or driving a winding road to one of the hilltop towns, its hills, valleys and cypress trees always seem to arrange themselves into an exquisite view. Each one more impressive than the next.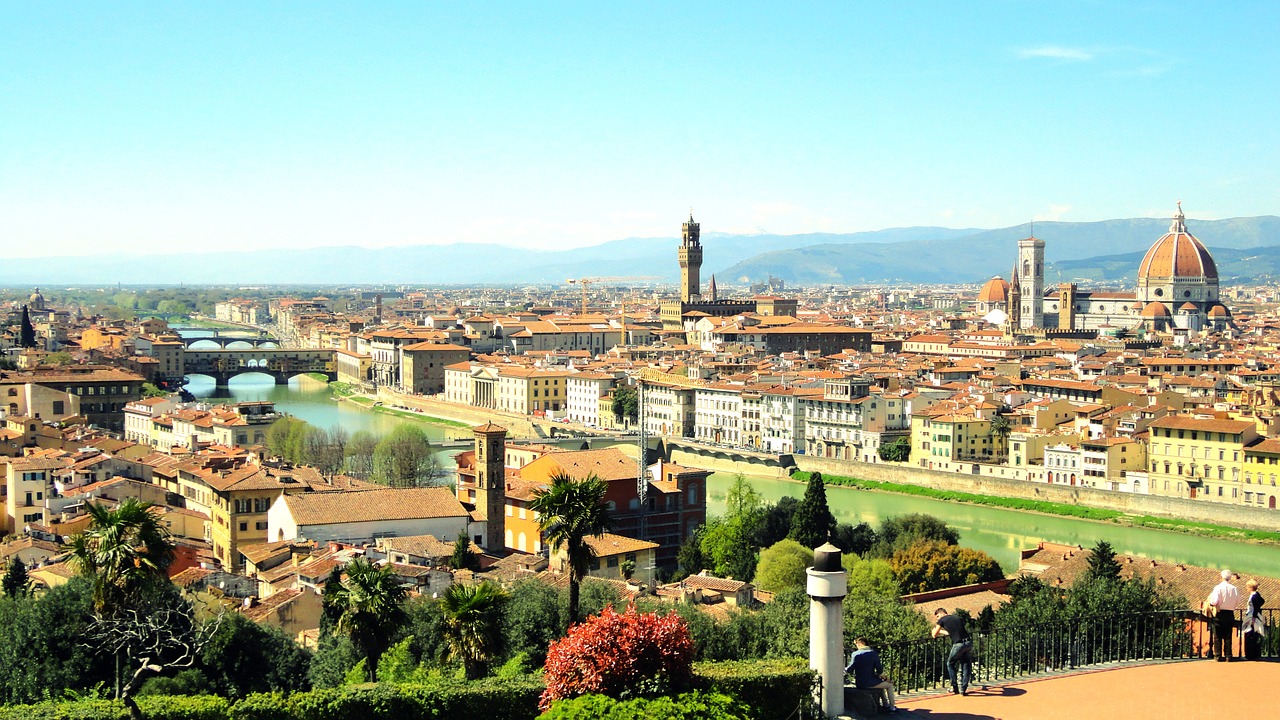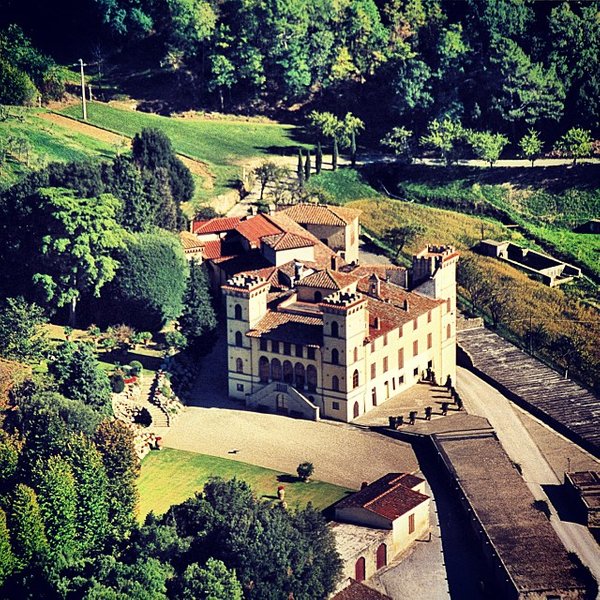 The Villa
The retreat takes place at Villa I Bonsi, located 400m above sea level in the beautiful Tuscan hills, 45 minutes away from the magical city of Florence. Originally built in the fifteenth-century, the Villa estate covers hundreds of hectares filled with olive groves, vineyards and forest.
The Villa belongs to a noble Florentine family who dedicated themselves to restoring it to its original glorious state after it was occupied by Germans during WWII. Between the rolling hills, the wild white peacocks strolling free on the grounds, and the air of Florentine history, there is plenty to inspire and awaken the senses.
Olive trees on the estate produce one of the finest olive oils in the world. Grapes from the expansive vineyards are used to produce delicious organic wine. The land also produces fine raw honey, seasonal garden vegetables, and its own "Vinsanto" - a delicate white dessert wine that is traditionally aged in oak barrels for at least five years. Simply divine!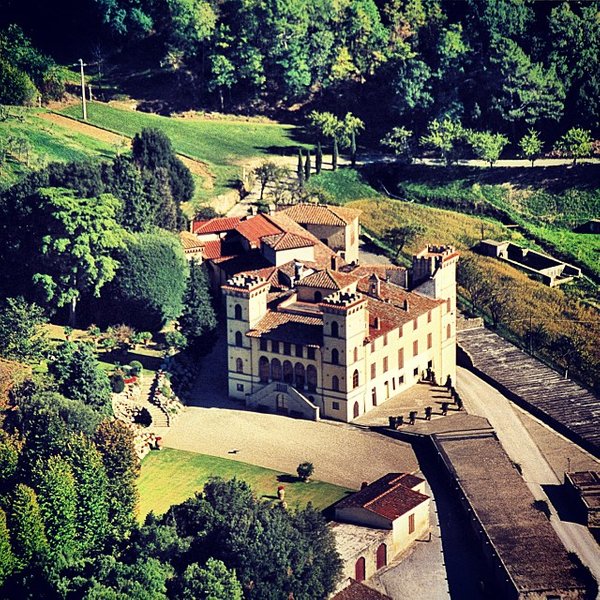 Writing, Yoga and Cultural Exploration
There will be a writing workshop every day except for the two days we go on all-day outings. Laura Davis will help you sharpen your powers of observation and ability to write vivid description. You will learn to record your experiences and insights with clarity and depth, facilitating a richer travel experience. We will also use writing practice, developed by Natalie Goldberg, to discover our "wild mind" and tap our deep creativity.
Beginning and experienced writers are welcome, but since the material in the class builds progressively, this will not be a drop-in class.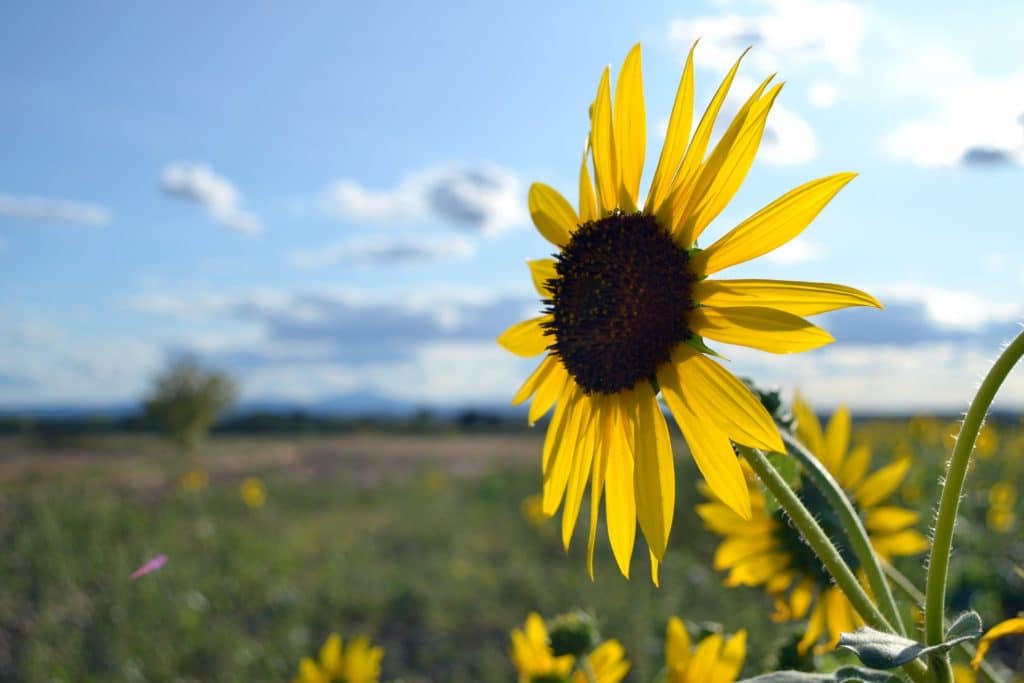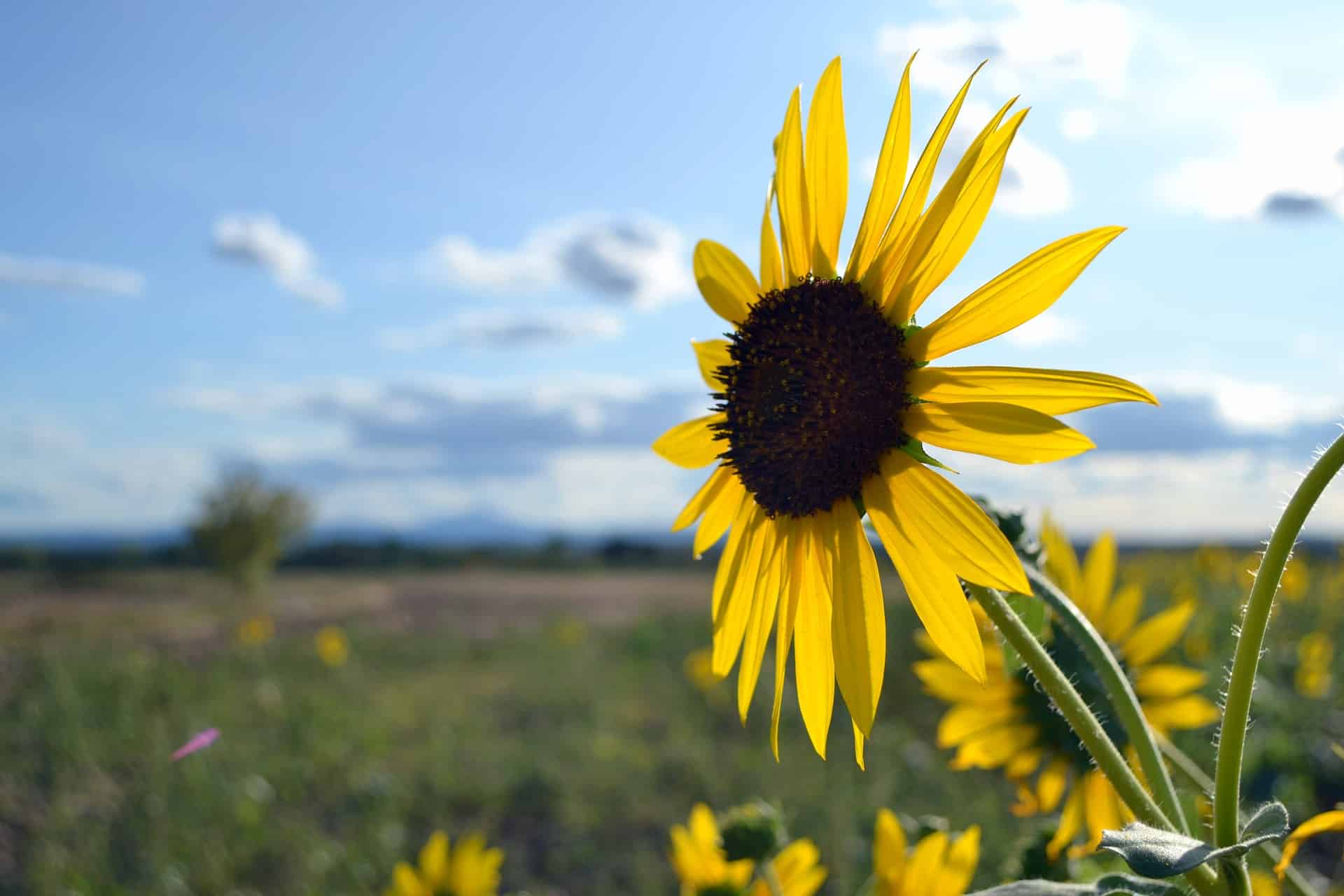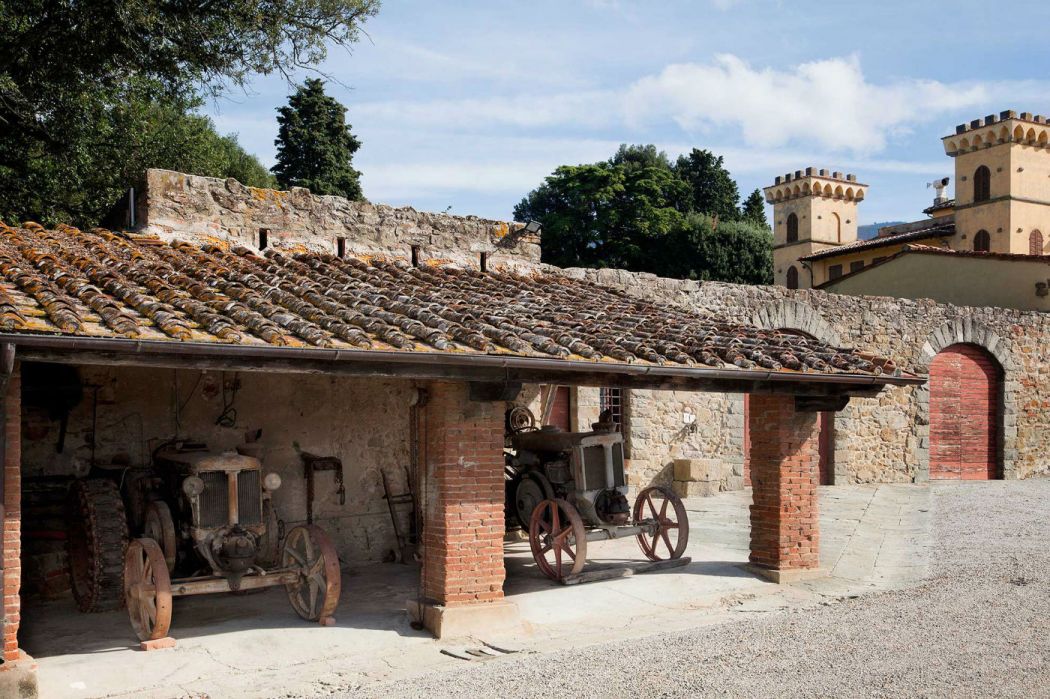 Imagine stepping outside into a beautiful Tuscan morning for an hour of yoga. We'll begin each morning with a well-rounded practice led by Iyengar yoga teacher, Karyn Bristol. Our daily sequences will focus on three aspects of yoga designed to support the needs of travelers: balance, presence, and peace.
Beginning the day with a calm focus, connected to your own center, increases relaxation, receptivity, and your capacity to be flexible, essential qualities in a traveling community.
Newcomers to yoga are welcome. Karyn is a deeply experienced, trained Iyengar yoga teacher who can modify poses to meet a wide range of experience and physical conditions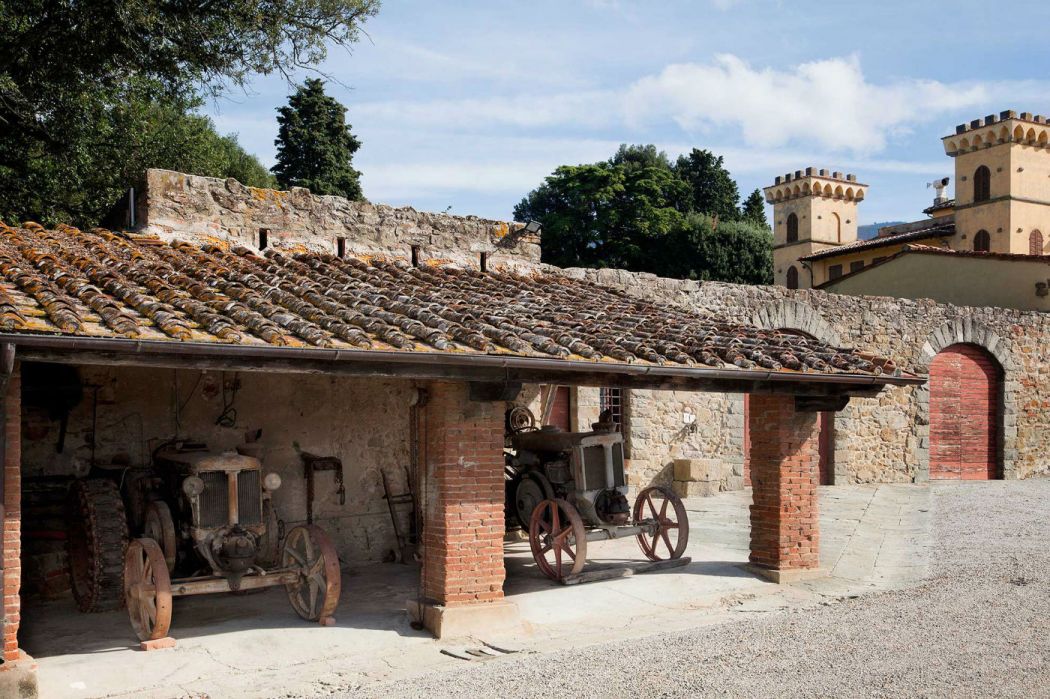 Most days, we'll have an hour-long yoga class and a 2.5 hour writing class, as well as time for relaxation, exploration and rest.
A typical day will look like this:
8:00-9:00 AM:     Hour-long Yoga Class with Karyn Bristol
9:00-10:00 AM:    Breakfast
10:00-1:00 PM:     Writing Workshop with Laura Davis
1:00-2:30 PM:       Lunch
2:30-5:00 PM:       Personal Time: Siesta, Journaling, Pool Time
5:00-8:00 PM:       Late Afternoon Activities (varies by day)
8:00-10:00 PM:     Dinner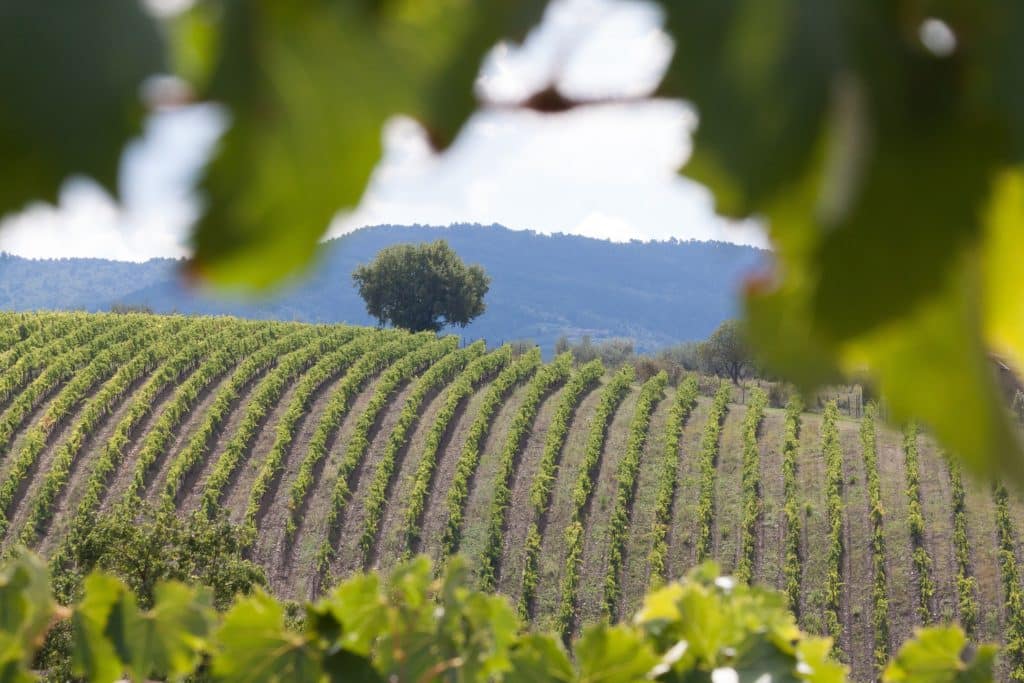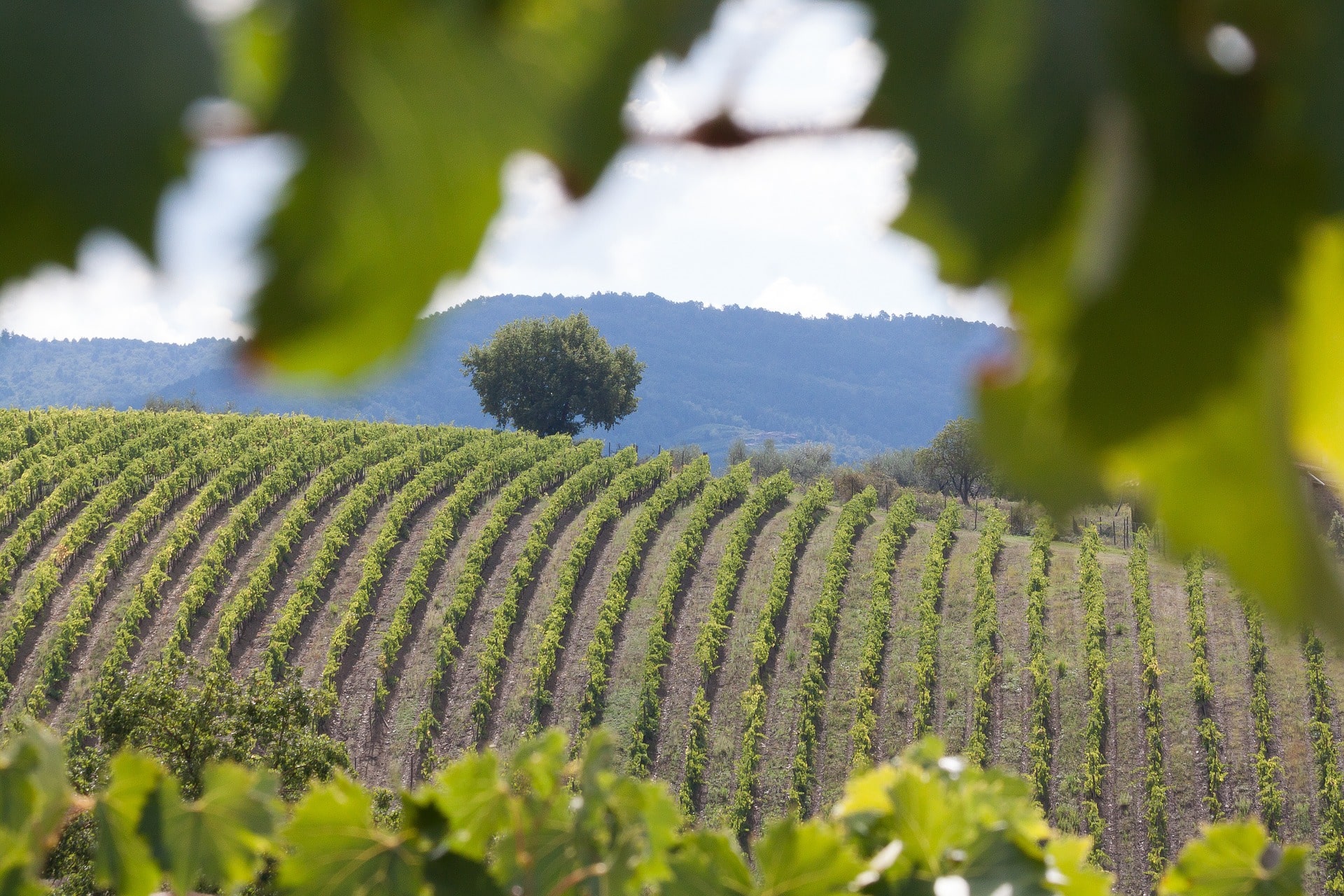 A highlight of this experience is time shared with your new community of writers. Whether you walk in the vineyards or participate in our daily yoga class, you'll have the chance to relax, rejuvenate and share with others. Here are some of the wonderful opportunities we've created for you.
Note: All activities on this tour are subject to change. There may be unique opportunities we can take advantage of in the moment. Participating in one of these opportunities may preclude doing something that's already on the itinerary or change the sequence of activities. Weather may also cause changes to our itinerary. In case any activity must be canceled, another similar activity will be substituted if possible. There will be no refunds for any activities that participants do not attend. Anyone who leaves the tour itinerary at any time FOR ANY REASON will be responsible for their own costs and safety.
Although this is a trip designed with writers in mind, this isn't a retreat where you hole up and write for most of the day. Rather, this trip is designed for people who are looking for something other than an intensive writing retreat. Our itinerary features excursions and daily opportunities to actively explore Tuscany's natural, cultural, and culinary treasures. Writing and yoga are the tools that will help you integrate this relaxing, immersion experience.
Non-Writing Spouses and Friends are welcome to join our trip. They are free to use the hours of writing class for rest, relaxation, photography, painting, exploration on their own, unexpected adventures, or whatever else they enjoy doing while on vacation.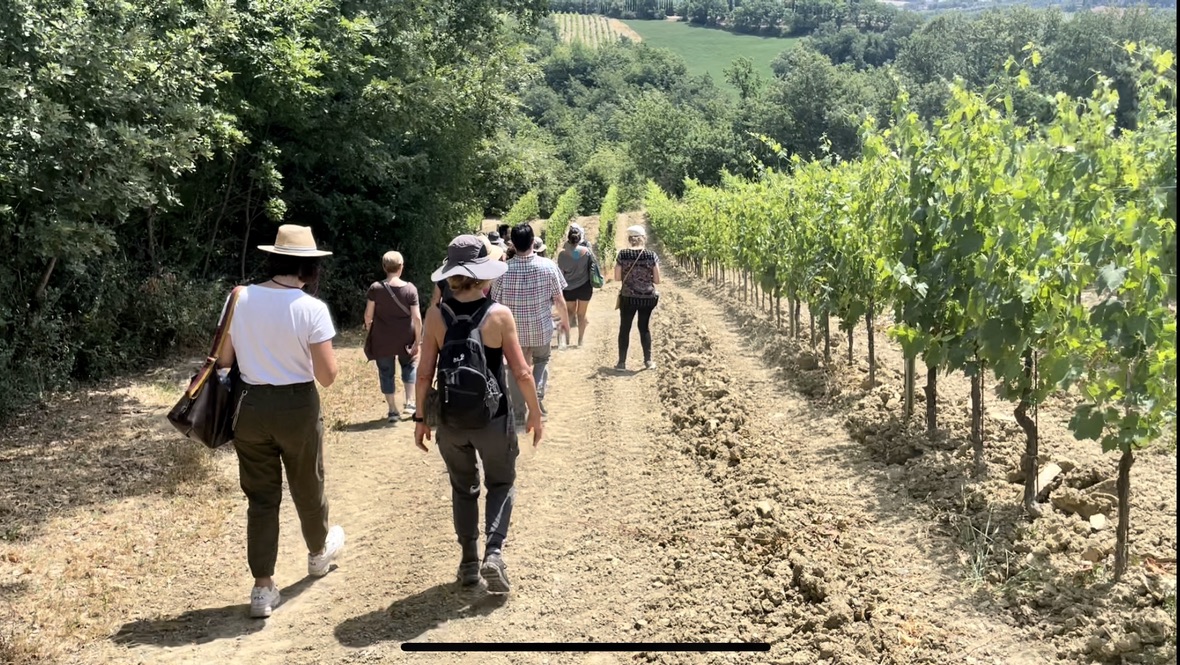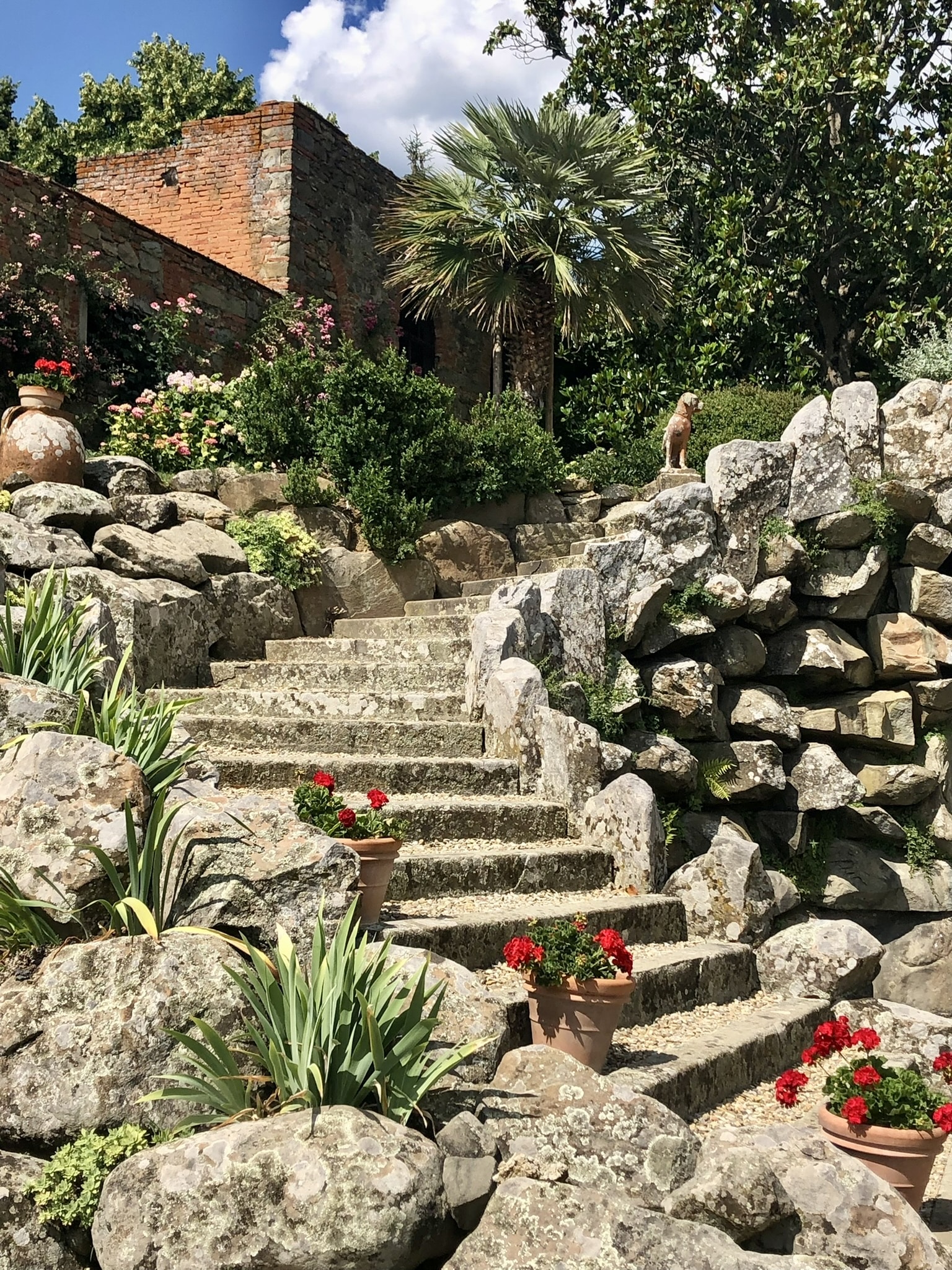 Physical Requirements: This trip is designed for anyone in reasonable physical health, capable of walking at a relaxed pace for one to two hours at a time, able to traverse uneven terrain without the kind of assistance we take for granted in the US, like hand railings or standard step heights. The Villa is filled with stone steps everywhere!
To see Italy at ground-level requires walking, and we will walk on dirt roads or cobblestone at various times during the trip. Plan to wear sturdy and supportive footwear: tennis or walking shoes.
Just about everybody will feel sleepy during the day from the time change, which is why we include midday siestas in the schedule.
Laura Davis: Writing Teacher
The author of seven non-fiction books, including The Courage to Heal, Becoming the Parent You Want to Be and I Thought We'd Never Speak Again. Laura's groundbreaking books have sold more than 1.8 million copies around the world. Laura has also worked as a columnist, talk show host, radio reporter, radio producer, blogger, editor and speaker. Words have always been at the core of her work and her self-expression.
Laura's newest book, The Burning Light of Two Stars: A Mother-Daughter Story, her first memoir, tells the story of her dramatic and tumultuous relationship with her mother from the time of Laura's birth until her mother's death. You can read the first five chapters for free here.
Laura has been mentoring and supporting writers for the past 20 years. It is truly the work of her heart: "I love teaching. I love watching my students find their natural voice and their rhythm. I love it when they find their true stories and discover the courage to put them on the page. I feel like a midwife as my students birth their stories, and I feel honored to witness their bursts of creativity and pure life energy pouring out on the page. Our writing circles are safe places where skills are honed, tears and laughter are welcome, and each writer is seen, heard and deeply known."
Laura leads weekly writing groups and retreats in the Santa Cruz, CA region and online, as well as retreats internationally. She has taken writers to Bali and Scotland, Greece, Vietnam, Laos and Cambodia. She documents these trips to the delight of many readers in her blog, The Virtual Vacation. You can visit Laura's media page to read, listen and watch her talk about her work.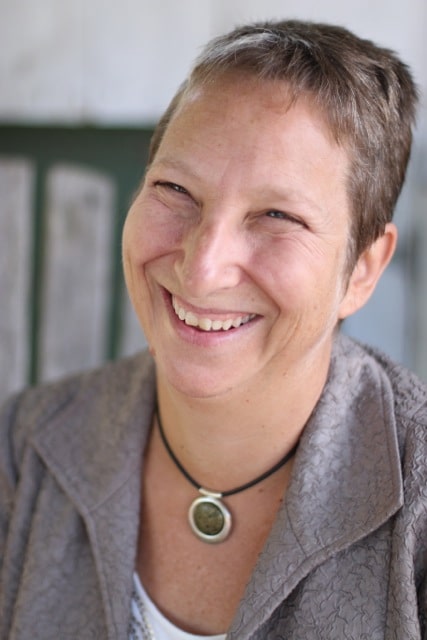 "Laura is a phenomenal, soul-based, sensitive, thoughtful, considerate teacher. She did a great job creating group safety and community."
—Si Steinberg, Boise, Idaho
"Laura is a master of her craft. Her prompts and introductory guidance really opened up my writing in a way that delighted me. I found Laura to be abundant with wisdom. Amazingly, she showed up for us fully when she wasn't well, and this is real leadership."
—Doug Wallace, Mill Valley, California
"I loved the writing circle-the prompts, the practice. Laura guides you and frees you to find your own voice. I learned some powerful new techniques I will take home with me. I feel energized personally and as a writer."
—Lucie Eggleston, Columbia, South Carolina
"Laura is my favorite writing teacher. She creates a safe environment and balances instruction with the freedom to be your own creative self."
—Joyce Bartlett, Marblehead, Massachusetts
"Laura is an incredibly gifted and talented writer and teacher. Her compassionate, no-nonsense approach provides a safe container for her students to explore their innermost landscapes. I loved the camaraderie and the encouragement I felt in her writers' group."
—Michelle Walters, Sacramento, California
"Laura enables me to tap into places that reveal things I didn't know about myself. Through her techniques, I have been able to transform and expand as a person and as a writer."
—Carol Foster, Santa Cruz, California
"Laura is an intelligent, compassionate teacher with the skill and resources to inspire a group of diverse people to write their truths and share them with each other."
—Annie Hampford, Connecticut
"Laura knows how to inspire the best writing. She taught me see with my writer's eye and to add more detail to what I notice when I travel. She taught me to jot down notes, guiding me to wonder and question. I will keep Laura's voice, her questions, poems and encouragement on my shoulder every time I sit down to write."
—Nancy Brown, Bonny Doon, California
"Laura is skilled at creating a safe environment in which to explore and discover your hidden stories. She helped me turn off my critic so I could more easily let my words flow."
—Tamara Myers, Santa Cruz, California
"Laura is solid and reliable. She believes in her own wisdom regarding the writing path and communicates her teaching in a way that brings others into the practice. I loved having the space and acceptance to be authentic in her writing circles."
—Kendra Dorfman, Santa Cruz, California
"Laura was born to teach her classes. She excels at it."
—Alaina Olson, Charlton, Massachusetts
"Laura sets up a stimulating framework for all writers. For me, it was her acceptance, even encouragement of deviations, of coloring outside the lines, that kept me juiced."
—Glen Brown, Santa Cruz, CA.
"I've done free writing before, but I've never felt so free. I was able to access content I usually avoid. Laura's class provided a phenomenal way to tap my inner resources and to gain access to deeper levels of myself. I loved reading to the group and being held by the group. What a magnificent way to grown through writing and as a writer!"
—Si Steinberg, Boise, Idaho
"Laura is a very gifted teacher, extremely skilled at creating a safe space for her students."
—Juliana Quinn, Columbia and California
"Laura is a seasoned skilled group facilitator, thoughtful and just flexible enough. I loved Laura's bag of writing tricks. I only wish I could have received more of them!"
—Kim Steinberg, Boise, Idaho
"Thank you, Laura, for all you do, all that you are and all that you help midwife into the world. I will carry memories of this trip with me always."
—Michelle Walters, Sacramento, California
"I find Laura gifted, creative, responsive, honest, real and dedicated. I appreciated her commitment to the group and to helping build a rich community."
—Brook Stone, Mill Valley, California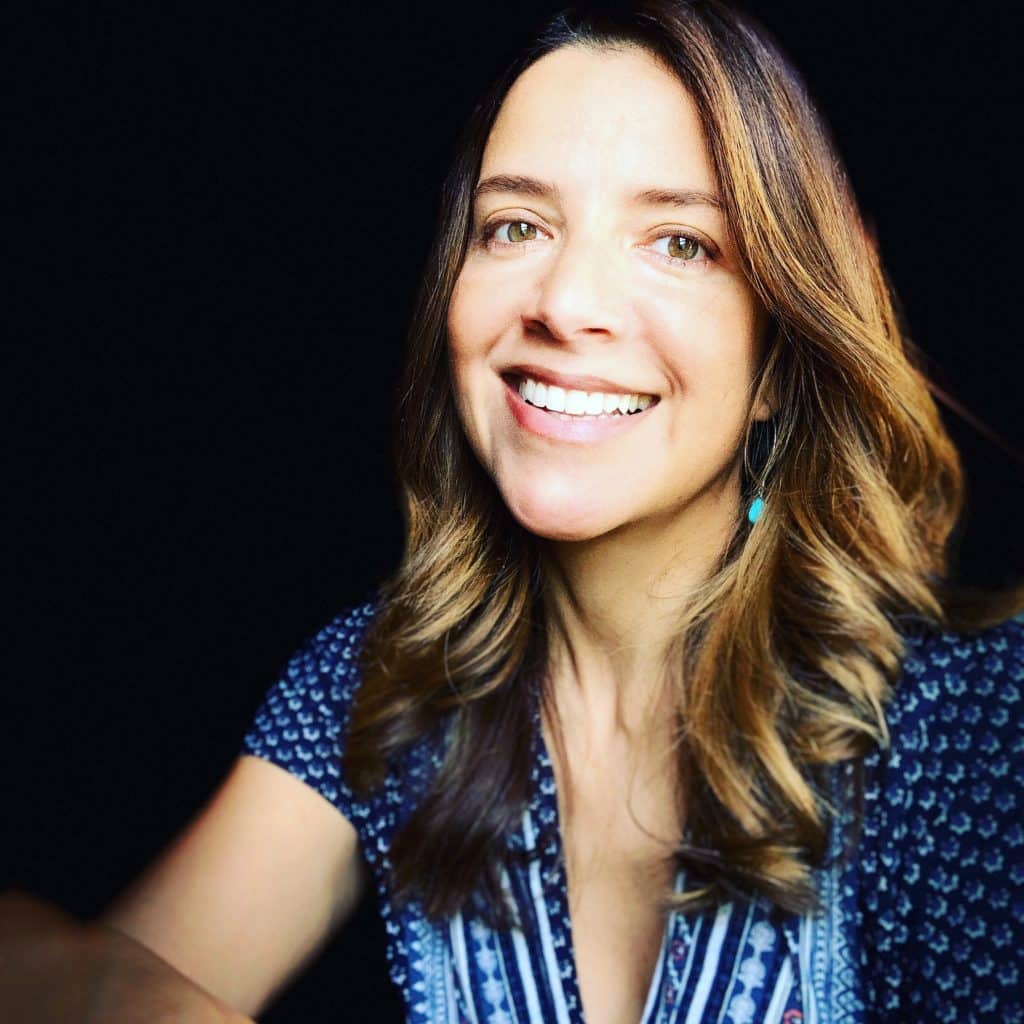 Graseilah Coolidge
Graseilah's passion for creating enriching educational experiences has been as diverse as her interests and background. She has led and organized international conferences and retreats for over 10 years. She has hosted events for a wide variety of groups and organizations such as the United Nations, the US government, the University of California, and many other organizations in the defense and space arena. Graseilah is the founder and host of Epic Gatherings, an international community of health enthusiasts and adventurers who come together every year to enjoy culinary and lifestyle pleasures in Italy.
Graseilah has a Master's degree in International Policy and Bachelor's degrees in International Relations and Economics. She's also an alumna of the Global Startup Program at Singularity University at NASA-Ames.
In her free time, Graseilah acts as a Transformational Nutrition ambassador and is on a mission to help people live healthier lives. Graseilah is fluent in Italian, Spanish and English. She is also proficient in French and Portuguese. She currently resides in Santa Cruz, CA with her beloved husband and continues to travel the world.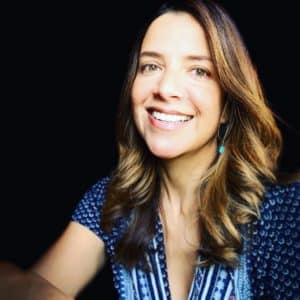 Praise for Epic Gatherings, Tuscany
"The retreat surpassed all my own expectations: from the food to the people, the mentors, and everything that I was learning everyday…I leave with so much gratitude and a full heart. This is the type of experience you want to have at least once in your life."
—Angela Cassasa
"It was so wonderful to start from the one feeling full of life energy and hope for the future. I mistakenly thought it would not be until "the end" of the retreat that I would feel the benefit. Rather, by the end my heart was as full as it has ever been. I came away with rich relationships, heartfelt revelations, and a sense of well-being I can share with the world around me."
—Kristin Farnum
"I love places with soul, history and heart, Epic Tuscany has all of that. It was truly an epic experience to live the Italian lifestyle and see why so many people are centenarians. I will definitely come back to this retreat."
—Dr. Liz Esalen
"I had an amazing time at Epic Tuscany. Being in such a majestic villa was one of the many highlights. Such a beautiful landscape with all the gardens, olive groves, vineyards and the old architecture… it really was epic. It was so special to be in a place with so much history that still keeps ancient traditions alive for making olive oil, wine and living from the land."
—Clay Burns
"This retreat was exactly what I needed to get away from my high stress job and reconnect with what's really important: uninterrupted life enjoyment, taking care of my body and sharing beautiful moments with awesome people. I'm SO coming back!"
—Carolina Fernandez
Karyn Bristol
When new students walk into their first yoga class, they often fear that they're not fit or flexible enough. They worry that they don't have the right body type or that they're too old, that injuries or physical limitations will stand in their way. But yoga has something to offer everyone. Whether you're young or old, large, small, or in-between, flexible or stiff, athletic or just starting to know your body, yoga can help you.
Let her show you how.
Karyn has been passionate about yoga for the past thirty years. She started studying yoga in midlife and it's been transforming her life ever since. Her practice has brought her physical well-being, a deep connection to herself, and a growing relationship to her own spirituality.
As an Iyengar yoga teacher, her greatest joy is watching students grow through the natural evolution of yoga in their lives, seeing it transform them in so many levels: increasing flexibility, reducing pain, healing mind, body and spirit, increasing joy, inspiring lifelong commitment to health and well-being.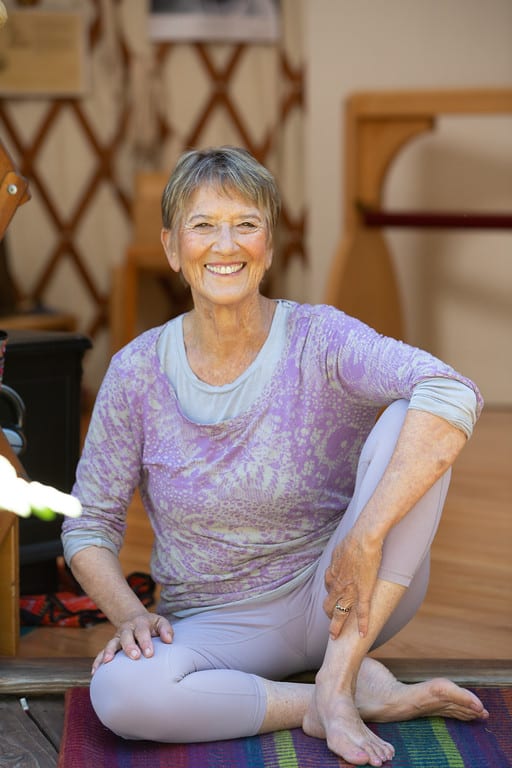 Let me share the gift of yoga with you.
About the role of yoga on this trip
On our daily outings, we will be traversing a variety of terrain—uneven steps and pavement, irregular paths, and cobblestones. There will be surprises for our feet and legs at every turn. Bringing balance and awareness as we walk is essential to our safety. Yoga will strengthen our awareness and increase our ability to stay balanced and nimble.
Starting our mornings with the strong inner and outer focus of yoga will set the tone for being present all day. This will translate into increased mental focus and greater sensory awareness in the moment, enabling you to savor the pleasures of the day with your full attention.
"Karyn is a knowledgeable and thorough teacher. She cares about yoga as a healing path. It felt good getting up for her class every morning."
—Kendra Dorfman, Santa Cruz, California
"I was afraid to do yoga every day. But the very first day, Karyn helped me adapt a post and set me up so I could join in while protecting my trick knee and my tight hips. I thoroughly trust Karyn as a guide, teaching me about my body and readying it for hikes, walks and bus rides."
—Nancy Brown, Bonny Doon, California
"Karyn has a deep understanding and passion for yoga—how it can create better health and comfort. She taught us a variety of poses and took us to new levels in a short time, with things we can take home and use."
—Tamara Myers, Santa Cruz, California
"Karyn is gifted in her Iyengar precision and works wonderfully well to build the class up from the foundation. She renewed and deepened my knowledge of the form."
—Doug Wallace, Mill Valley, California
"Karyn is the yoga teacher I wish I had at home. She is so precise and knowledgeable. I never hurt myself in her class—and each time, I have a wonderful yoga experience."
—Joyce Bartlett, Marblehead, Massachusetts
"Karyn is kind and patient. She gives great instructions. This was the first time I have every enjoyed yoga. I plan to continue when I get home."
—Elise Flowers, Columbia, South Carolina
"Karyn presented an appealing, accessible path of yoga as a life discipline, rather than as a set of discrete events. Her teaching was profound, deep, focused and clear."
—Si Steinberg, Boise, Idaho
"Karyn is an incredibly gifted and patient teacher. Her soft compassion and belief in her students was heartfelt and authentic. I loved yoga and Karyn's gentle guidance. My body did things I didn't know it could do. Karyn made a believer of me."
—Michelle Walters, Sacramento, California
"Karyn is an experienced and patient teacher with an open heart and a kind of gentle demeanor."
—Annie Hampford, Connecticut
"Karyn is a very thorough, proficient Iyengar yoga teacher."
—Juliana Quinn, Columbia and California
"Karyn's gentle knowledgeable teaching changed my opinion about yoga. I didn't think it could help my physical problems and now I know it can. The modifications Karyn suggested were perfect."
—Kim Steinberg, Boise, Idaho
"Karyn exudes and embodies what she teaches. She is kind and focuses on helping each student."
—Lucie Eggleston, Columbia, South Carolina
"I am a newcomer to yoga and have some physical limitations. Karyn was generous in adapting movements and poses to my needs."
—Glen Brown, Santa Cruz, CA.
Traditional Tuscan Cuisine
Taking time and enjoying 'slow' meals in community are invaluable components for aging gracefully, happily and fulfilled. This is an integral part of this trip's experience - and Italians are not new to this concept!
On most days, you will enjoy three daily multi-course meals during the retreat. Lunches will be served outside on the terrazza that overlooks the main garden. The dining room is located inside the main Villa - a seventeenth century room where you will feel like royalty!
The menu is filled with ancient Mediterranean flavors that Italian centenarians have enjoyed for generations.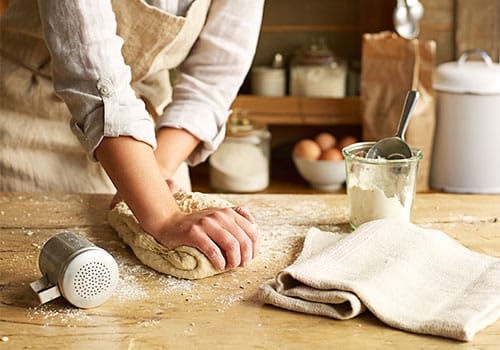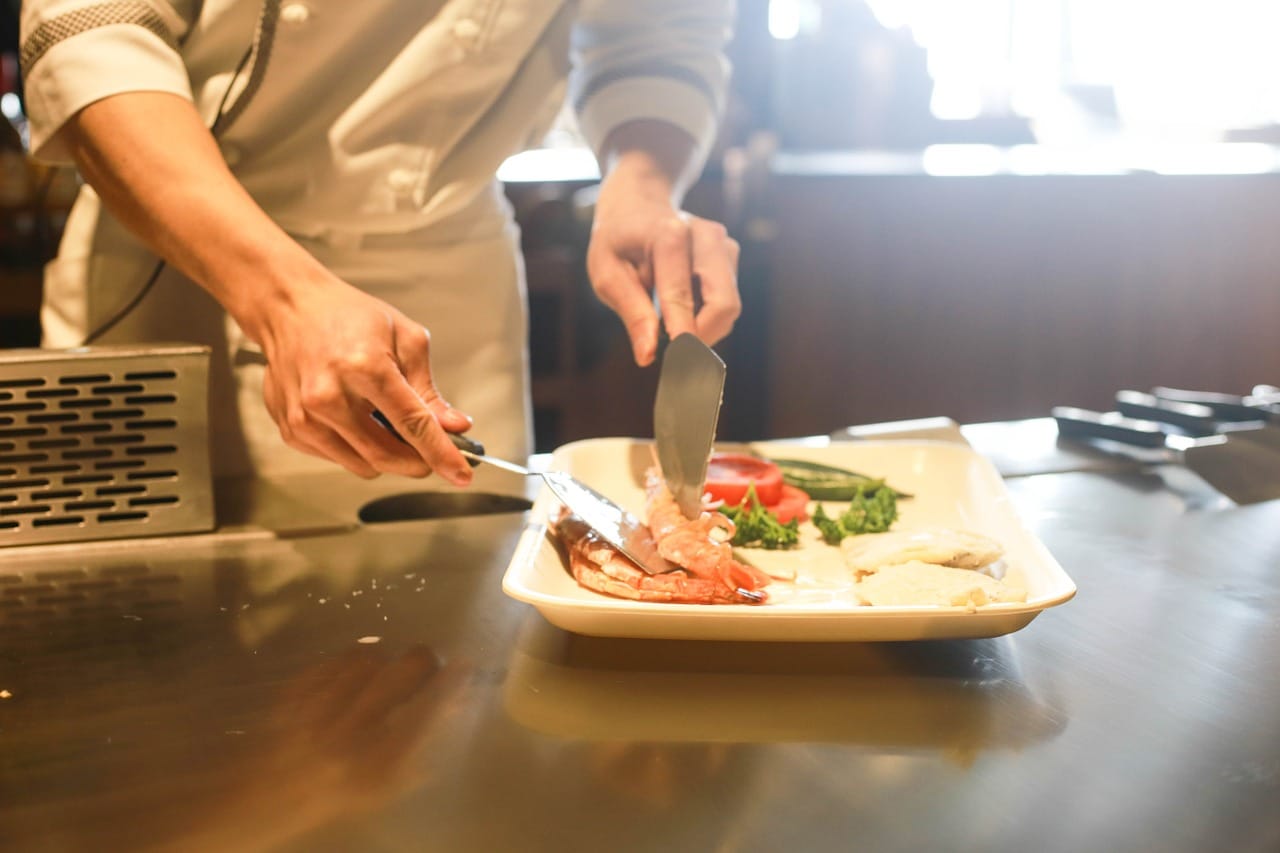 The dishes are a celebration of the Tuscan lifestyle. They strive for creating local traditional recipes - not following the latest fads.
They use organic, fresh, seasonal and locally-sourced ingredients.
*Please note that grains and grain products, such as bread and pasta, barley, spelt, oats, etc. are important and prevalent components of Italian cuisine. Our team is able to make reasonable accommodations for gluten and dairy free options upon request. However, if you have a severe allergy to gluten or any other kind of severe allergy, this experience may not be the right fit for you. Please be sure to discuss your needs with our team before making your reservation.
Click to view a sample menu …and just keep scrolling!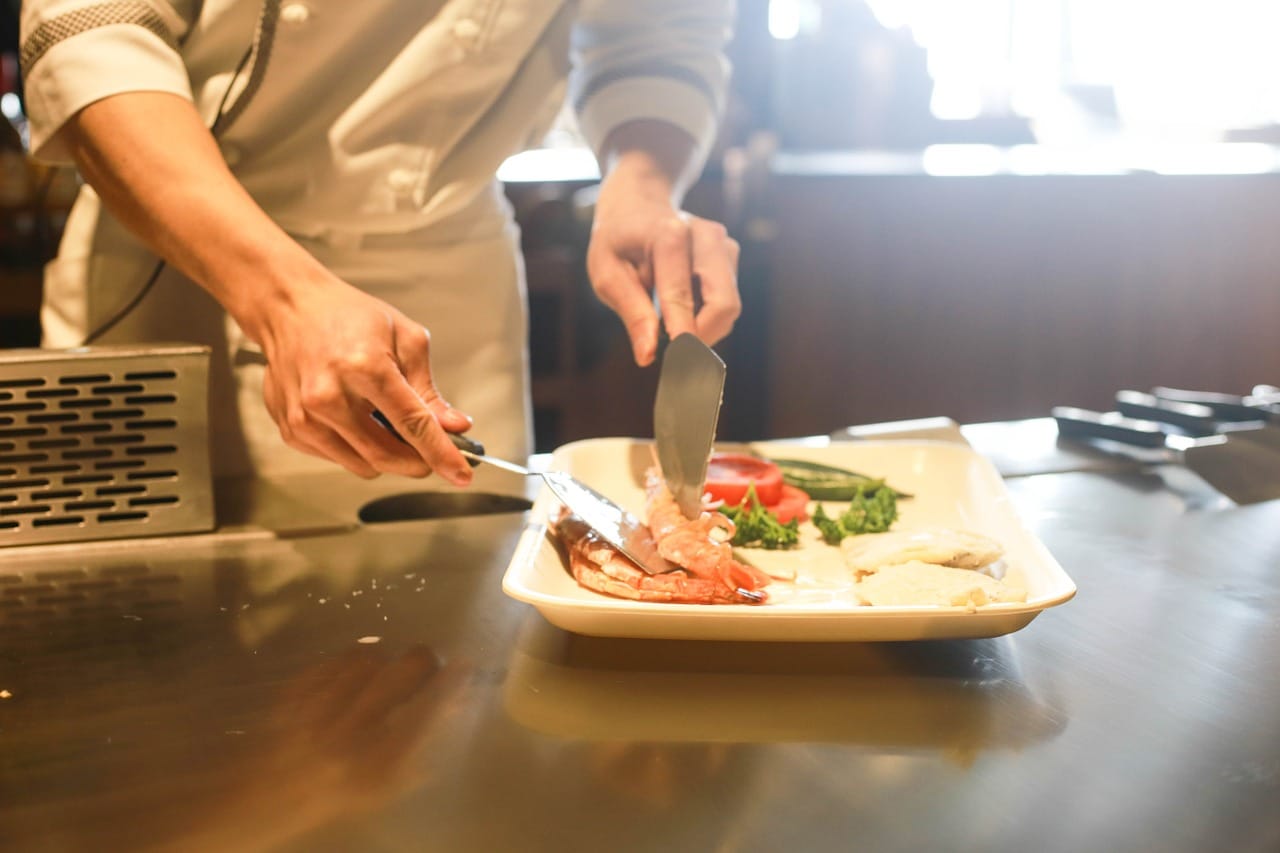 Accommodations are held in charming apartments with double or single bedrooms and a shared living-room with fireplace. Apartments are located in a seventeenth-century building attached to the main Villa, historically used as a convent. Its original structure has been meticulously and elegantly maintained for an authentic experience.
ALL 9 NIGHTS OF LODGING ARE INCLUDED WITH YOUR REGISTRATION.
Accommodations are simple with an old world charm. You'll feel like you've stepped back into the era of the "Grand Tour" with the beautiful period furniture.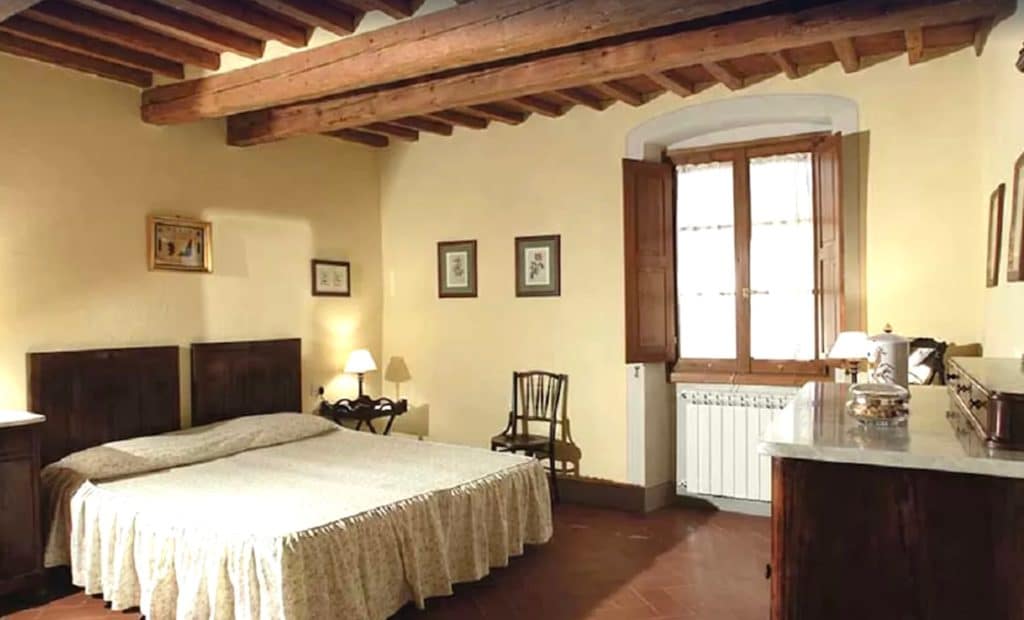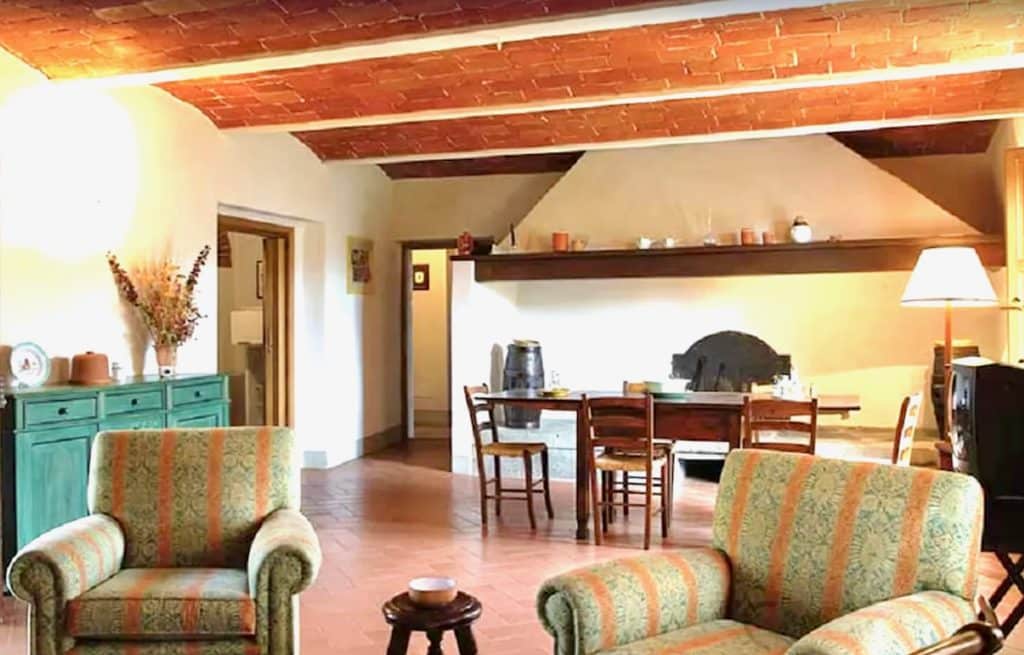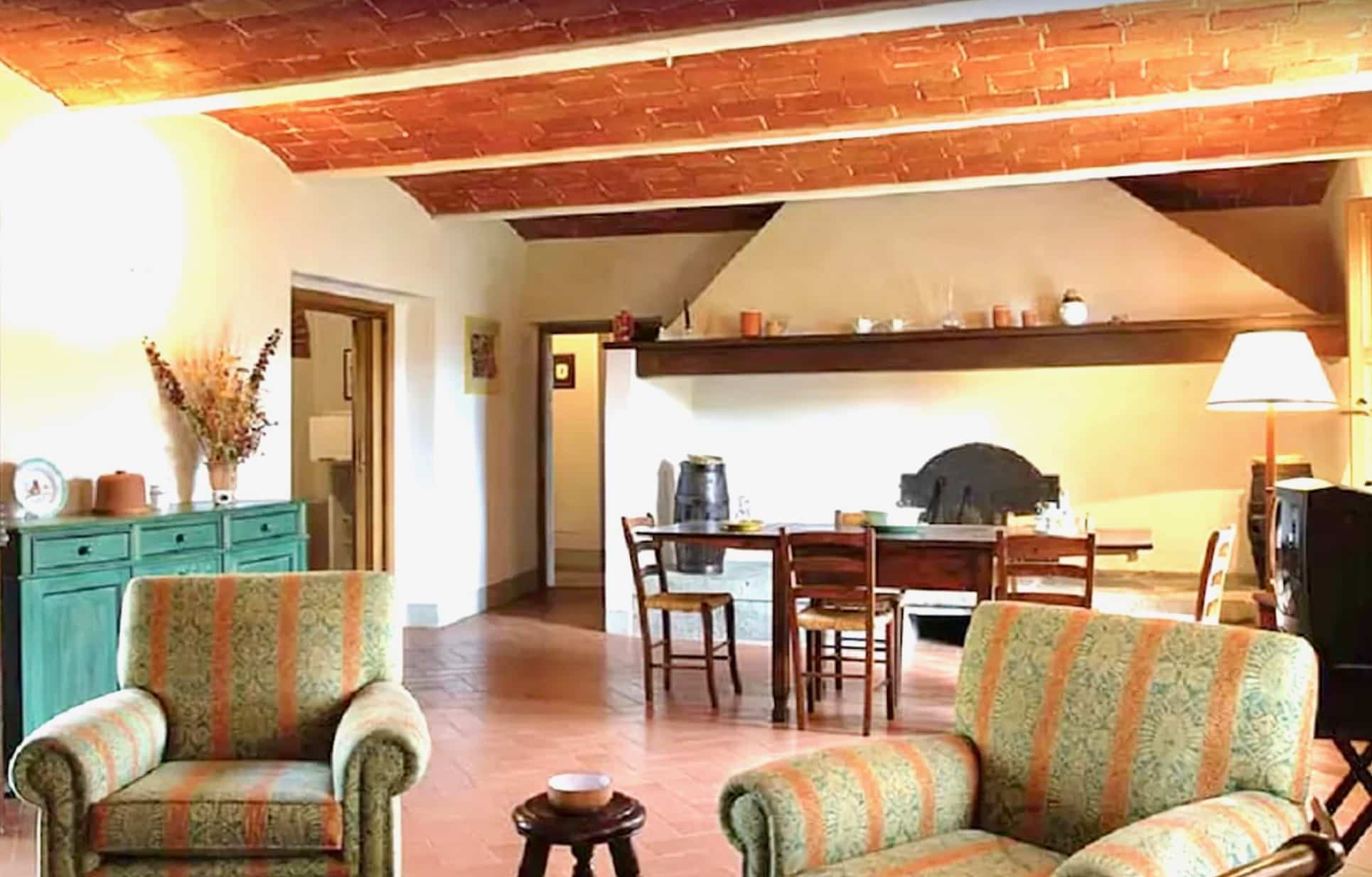 Participants will enjoy exclusive access to Villa amenities including the elegant gardens, stunning pool overlooking the Tuscan countryside and miles of olive groves and vineyard trails.
NOTE: We are limiting double occupancy to couples, family members and friends choosing to travel together. We will not be assigning roommates to solo travelers as we have on prior trips. If you are traveling alone, you will need to book a single occupancy room, with or without a shared bath.
There are three accommodation options available:
1. SHARED
Double-Occupancy Room with Two Twin Beds and Shared Bath
Per person based on double occupancy. You can bring a spouse or a friend. For couples, the two twin beds are pushed together, European style. Bathrooms will be shared with one or two other participants.
2. SINGLE
Private Room with Shared Bath
Per person based on single occupancy. Bathrooms will be shared with one or two other participants.
3. SINGLE PLUS
Private Room with Private Bath
Per person based on single occupancy. The private bathrooms are in the apartment, but outside of the sleeping area.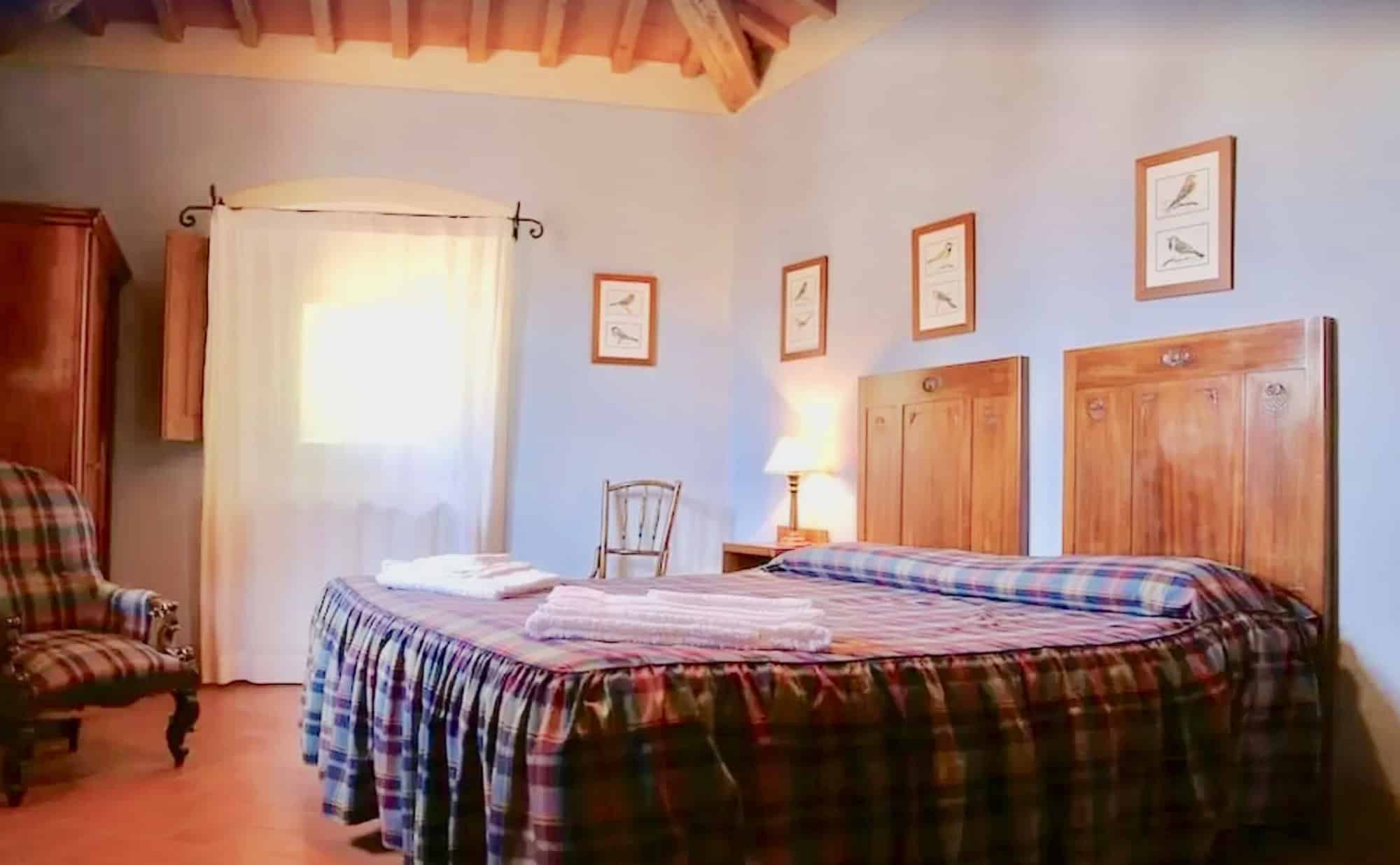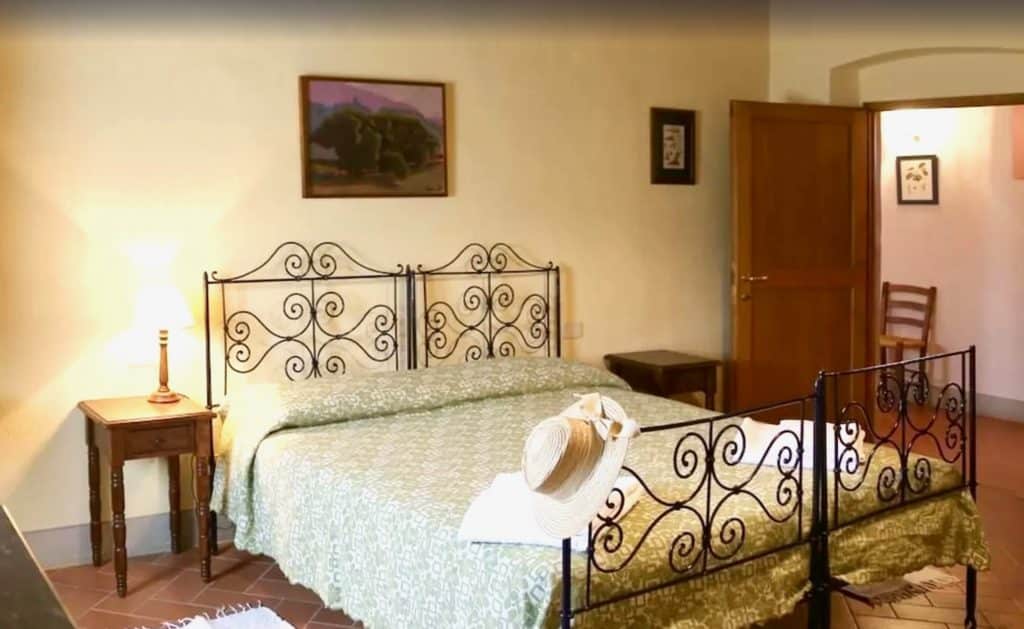 Florence: Pick-up and Drop off: Our remote piece of paradise is not easily accessible by public transportation, which is why we have arranged a complementary shuttle service to take us to and from the retreat as a group. Our pick-up spot will be close to central Florence, but just outside the city center to avoid traffic.
Please plan to be at our pick-up spot by 2 pm on May 23, 2023.
Pick-up Location: In central Florence, exact location to be determined
If you are coming from overseas, we suggest arriving in Florence the night before the retreat.
Round-trip transportation from Florence to the Villa is included in your registration fee. If you are unable to arrive at our pick-up spot on time, you'll need to arrange and pay for your own transportation to the Villa. In this case, please let us know as soon as possible.
On our last day, we plan to leave the Villa shortly after lunch. We should be back in Florence by 5 pm on June 1, 2023 (depending on traffic).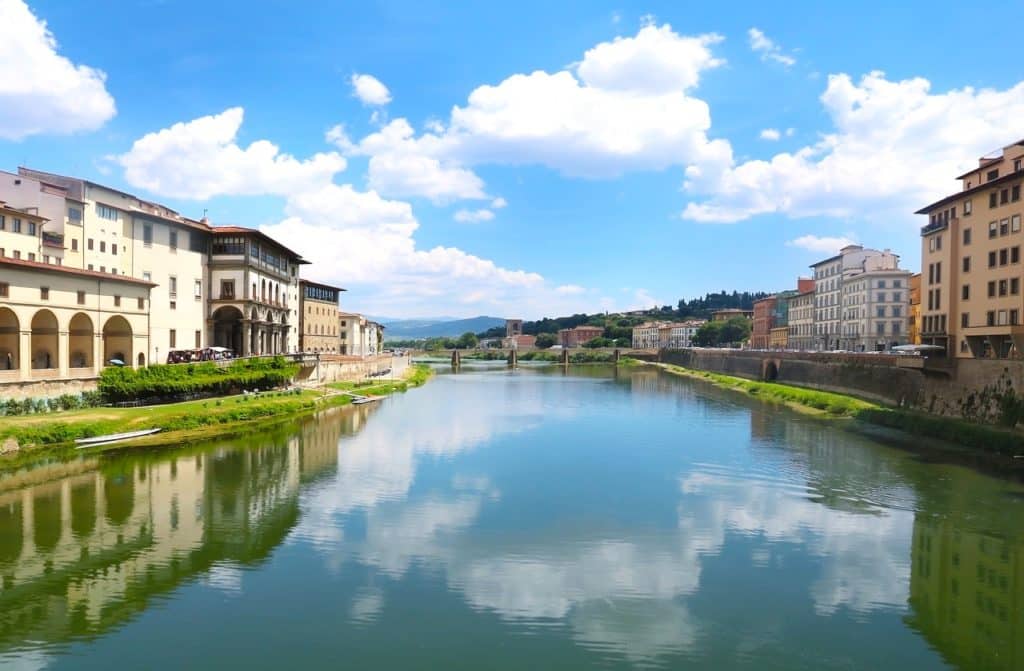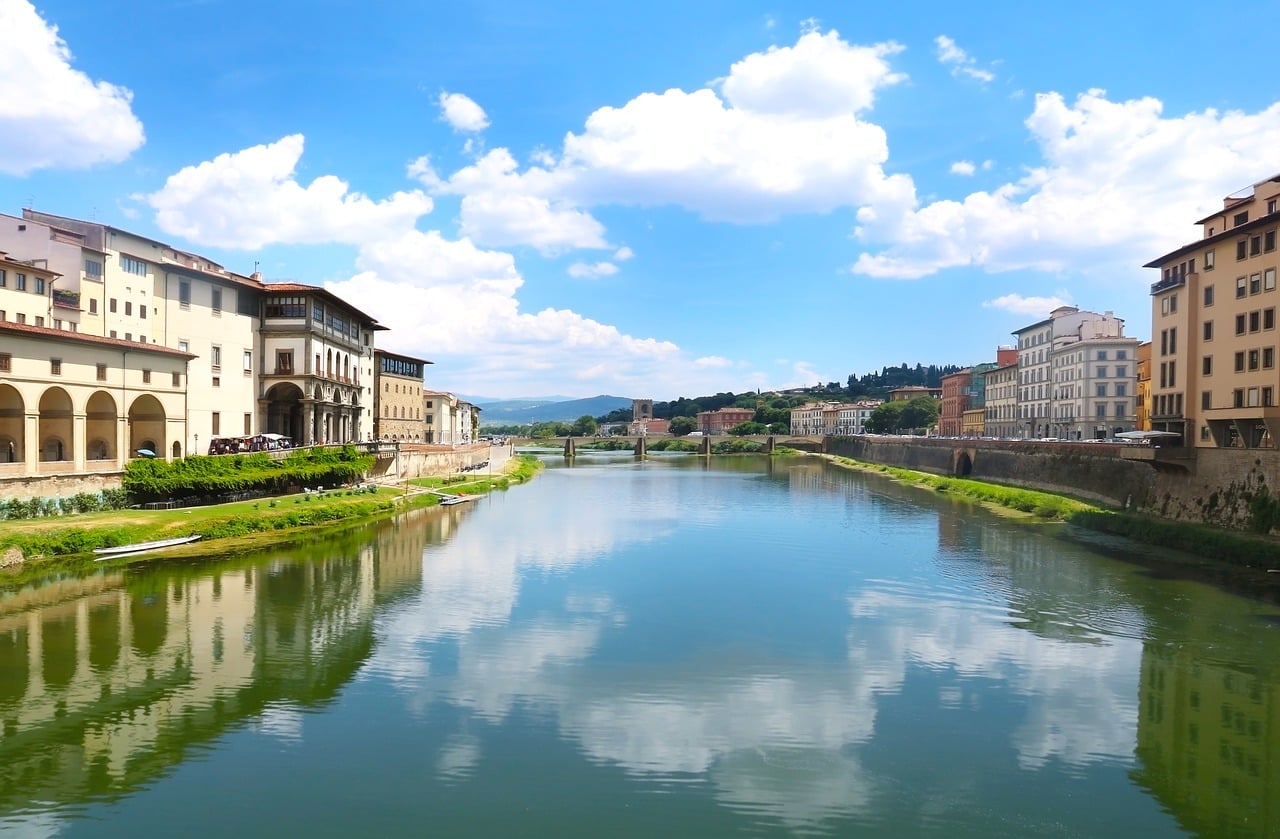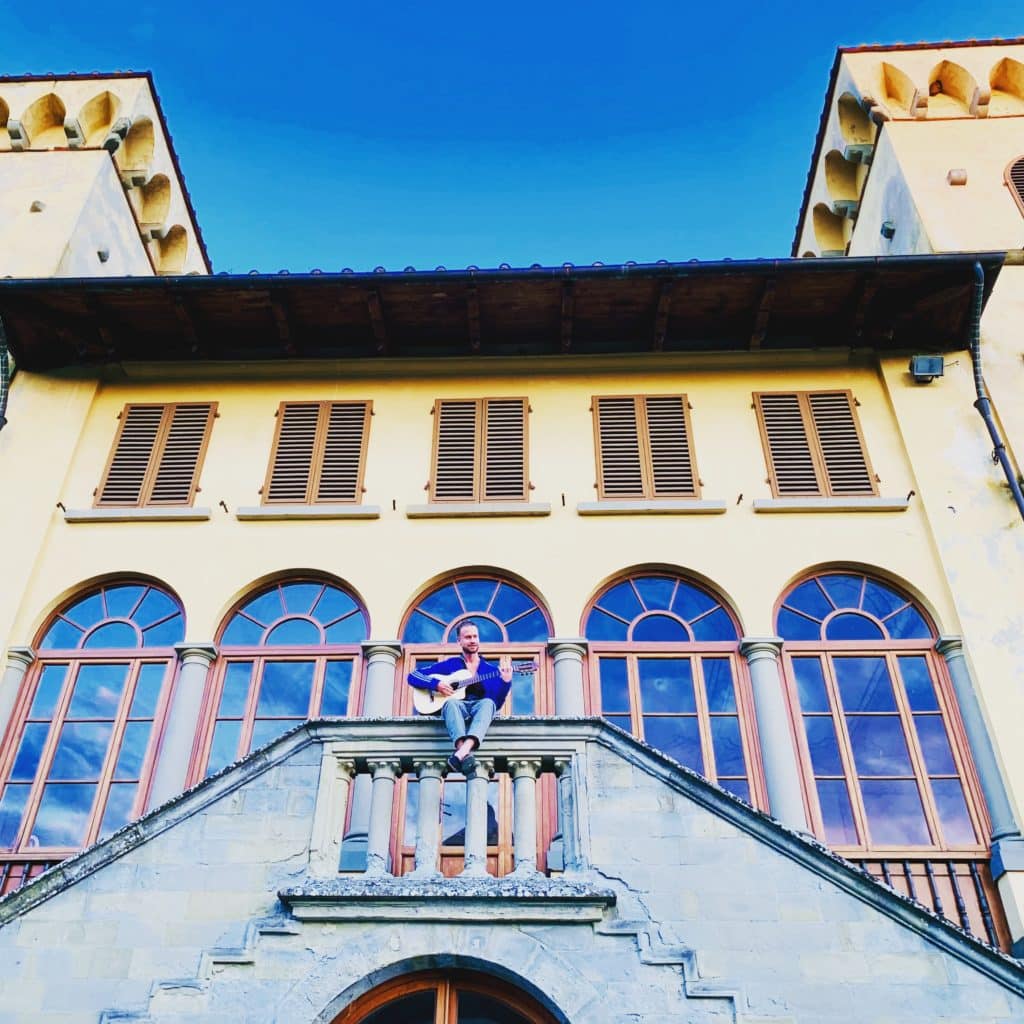 Please do not book your return flight in the morning or afternoon of June 1st. If you do, you'll miss our final closing session, and will also be responsible for arranging for and paying for your own transportation back to Florence.
TIP: We recommend that you stay in Florence at least one last night after the retreat.
We are currently finalizing details of an optional four-night, three day tour of Florence if you'd like to explore the city with us.
Dates: June 2-June 6.
Details will be available soon. You can indicate your interest on the form at the bottom of this page.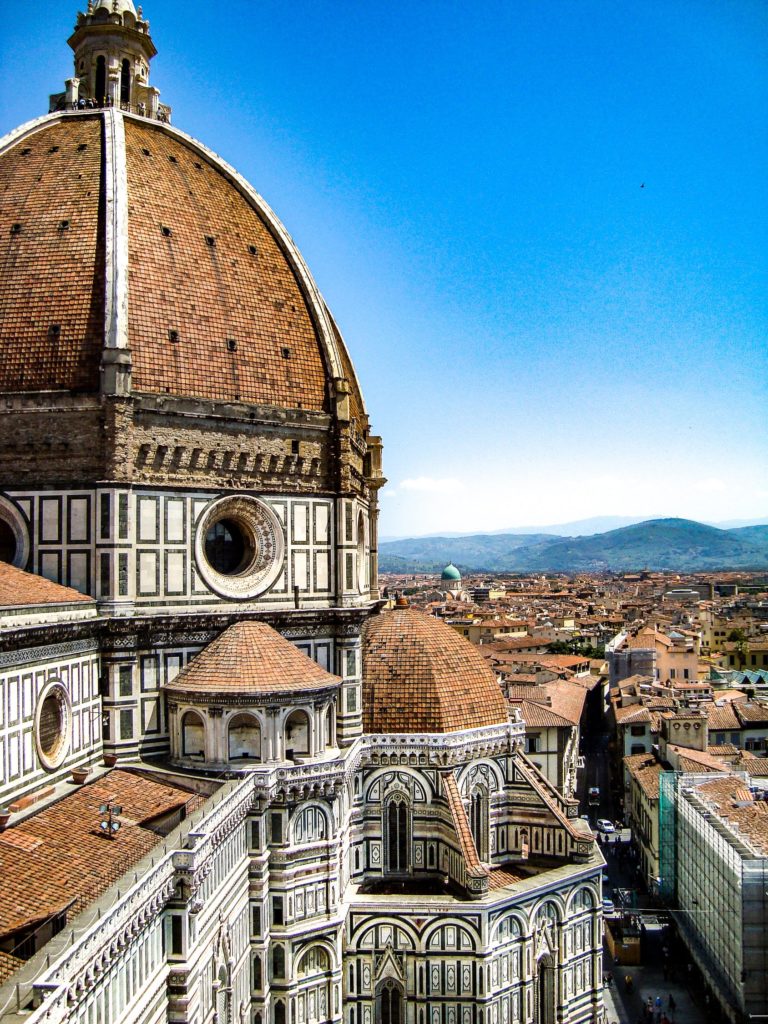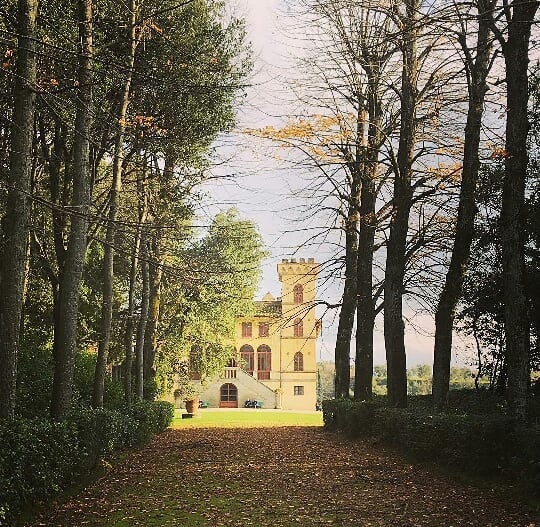 Flights: Most airlines will have you stop over in a major European city like Frankfurt, Paris, or Rome before flying you into Aeroporto di Firenze-Peretola (FLR)—the Florence Airport, also known as "Amerigo Vespucci" Airport. If you fly through London, try to avoid flying into Heathrow (LHR) and having to bus to Gatwick (LGW), which is 45 minutes away, without traffic.
Be sure to check on current covid travel restrictions and requirements for any country you're considering transiting through.
To check on the most current travel updates and rules for international travel, click here.
We encourage you to book your flights and arrange your travel insurance (including required Covid insurance) with a trusted travel agent. We recommend that you work with our travel agent, Linda Schwedock, so that arrival times, departure times, and ground transportation are coordinated. Linda can also help you if you want to arrive sooner, leave later, or add other destinations onto your itinerary.
Linda is available Monday, Tuesday, Thursday and Friday from 10:00 am until 3 pm Pacific Time:
Linda Schwedock
Pacific Harbor Travel
519 Seabright Ave #201
Santa Cruz, CA 95062
For now, email is the best way to reach her:
linda@pacificharbortravel.com
CST# 1014242-10
Travel Insurance: Travel insurance is required for this trip. It needs to cover any medical expenses that occur during your trip, including those related to Covid-19 and quarantining and should also cover trip cancellation, in case illness or injury prevents you from going on the trip. We ask that you register for our upcoming trip only if you are comfortable with our Covid-19 policies and procedures and agree to our responsible together commitment page.
Passports, Visa and Health: A passport is required, valid six months from date of entry. No special visas are required for US citizens. Stay up-to-date with Italy's latest travel health requirements here.
The Impact of Covid on Travel
We understand that deciding when to travel next is a personal decision that comes with both excitement and reluctance, especially now. Our goal is to help you feel comfortable and supported during your trip to Italy. At the same time, there are inherent risks integral to travel. We continually assess and manage for risks, as we always do, yet some risks are in our control and others are not.
With that in mind, for the 2022 Tuscany trip, we continually monitored Covid-19 guidelines from the CDC and Italian health departments and adjusted our policies and procedures to stay in alignment with changing guidelines. We tweaked our rules as we got closer to the trip, erring on the side of caution, to keep our travelers as safe as possible. 
In 2022, we rented the entire Villa so there would be no other guests but us. We required all our travelers to take a rapid test the morning before we were scheduled to meet so they could provide evidence of a negative test. We then stayed masked whenever we were indoors until the morning of the third day when we tested again. Once everyone tested negative a second time, masks came off for the rest of the retreat. 
We don't know what spring of 2023 will look like in terms of Covid, but we will once again rent the entire Villa and apply the same attention and diligence to the 2023 trip.
To check on the most current travel updates and rules for international travel, click here.
We ask that you register for our upcoming trip only if you are comfortable with our Covid-19 policies and procedures and agree to our Responsible Together Commitment.
How Many Participants Do You Accept at the Retreat?
We work on delivering an experience that is intimate, with enough time for quality interaction and support. We are taking a maximum of 16 travelers, a reduction from the last time we offered this trip. The trip has a 12 person minimum.
How Many Days Will I Need to Take Off?
We've found that the sweet spot for this retreat is 9 nights. You will need to take off 10 days for the retreat and 2 days for traveling on either side, for a total of fourteen days minimum. If you are new to this piece of paradise, you will want to explore Florence and all the charming hilltop towns nearby (before and/or after the retreat), so keep that in mind. We are also in the process of developing an additional Florence add-on to this trip that you can make part of your travel itinerary. If you prefer to travel outside of Italy, you can easily combine this retreat with other European destinations as well.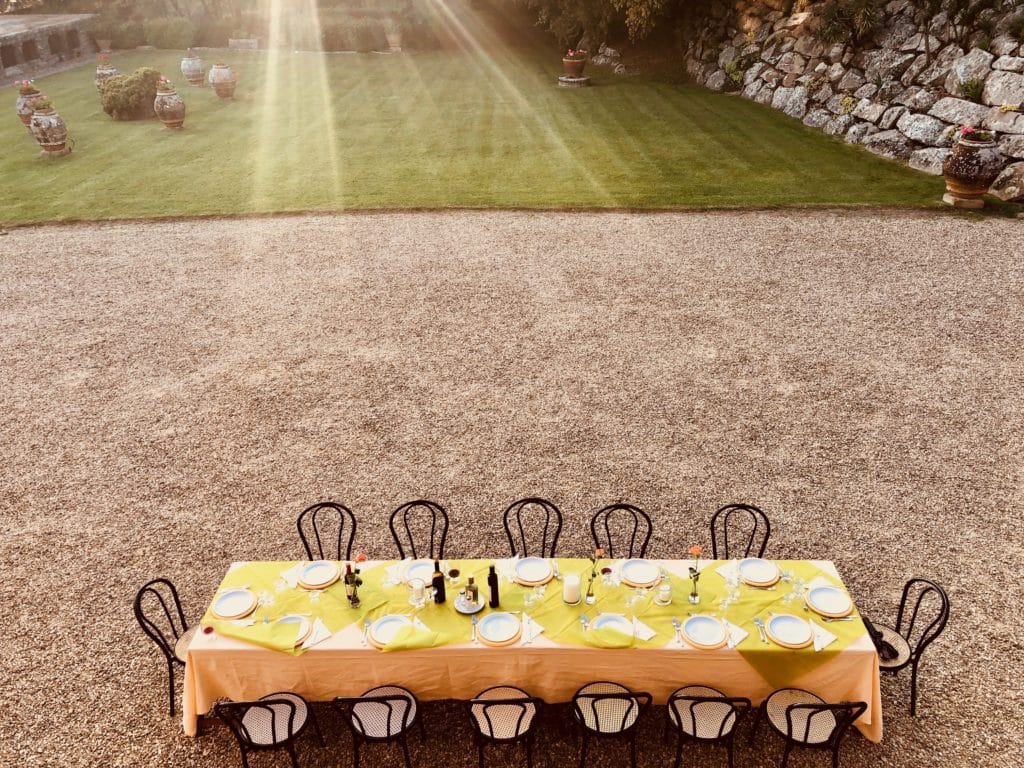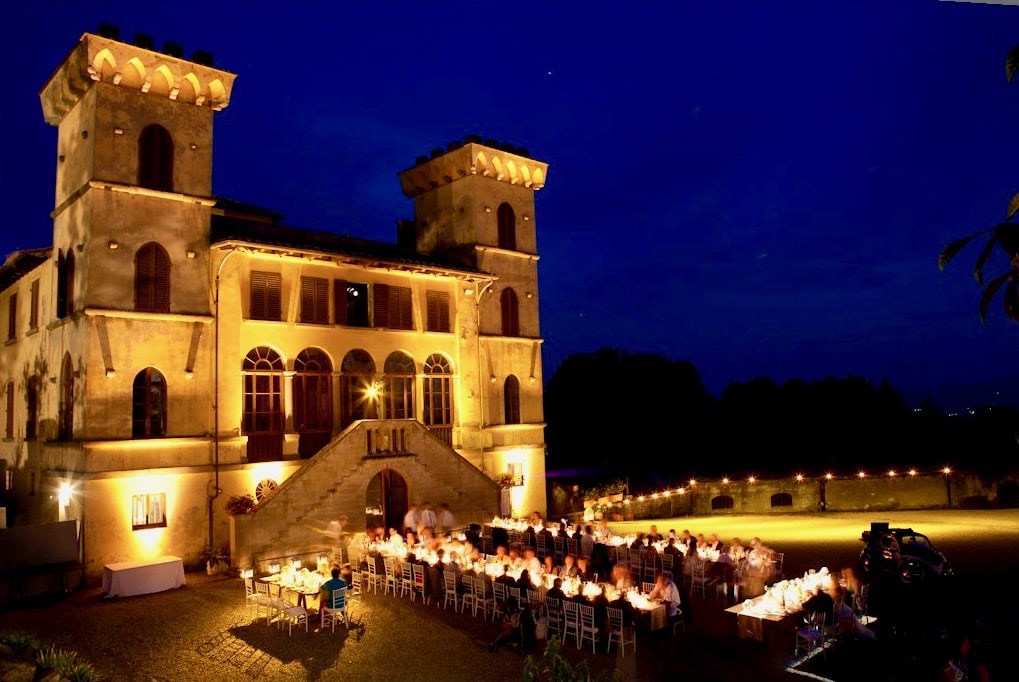 How Much Does It Cost Per Person?
Pricing varies on your accommodation selection. Please see registration section for price details. NOTE: The cost is the same even if someone is not participating in the writing portion of the trip.
Do I Need to Put a Deposit Down to Secure My Reservation?
Yes. Once registration opens, you may secure your spot with a $1000 deposit as part of your registration. You may do this by clicking on your accommodation preference and selecting the deposit option.
Should I Plan to Spend the Night in Florence Before Pick-Up Day?
Yes. That's always a safe bet. The courtesy shuttle to the Villa leaves on Tuesday in the early afternoon. The date and time are posted in the travel section.
For those traveling a long way, we encourage you to arrive in Florence several days earlier to help you adjust and get over the jet lag, as well as give you time to warm up to a new culture.
Can I Get a Direct Flight to Florence from the US?
No, most airlines will have you connect to a major European city like Frankfurt, Paris or Rome. Please refer to our travel section for more travel tips. Please consult with a travel agent about Covid restrictions for any country you are considering transiting through.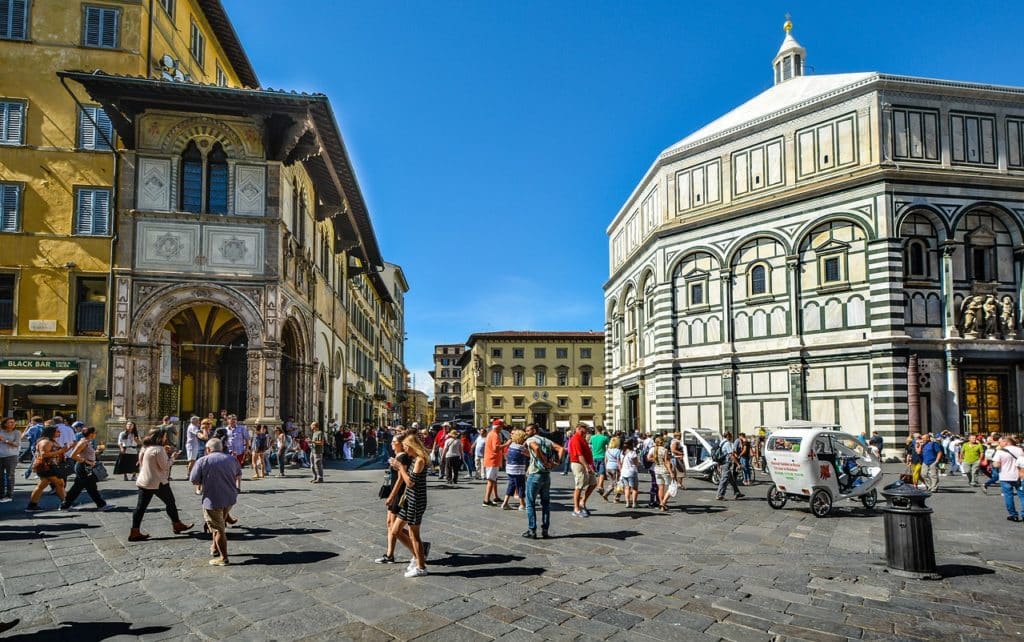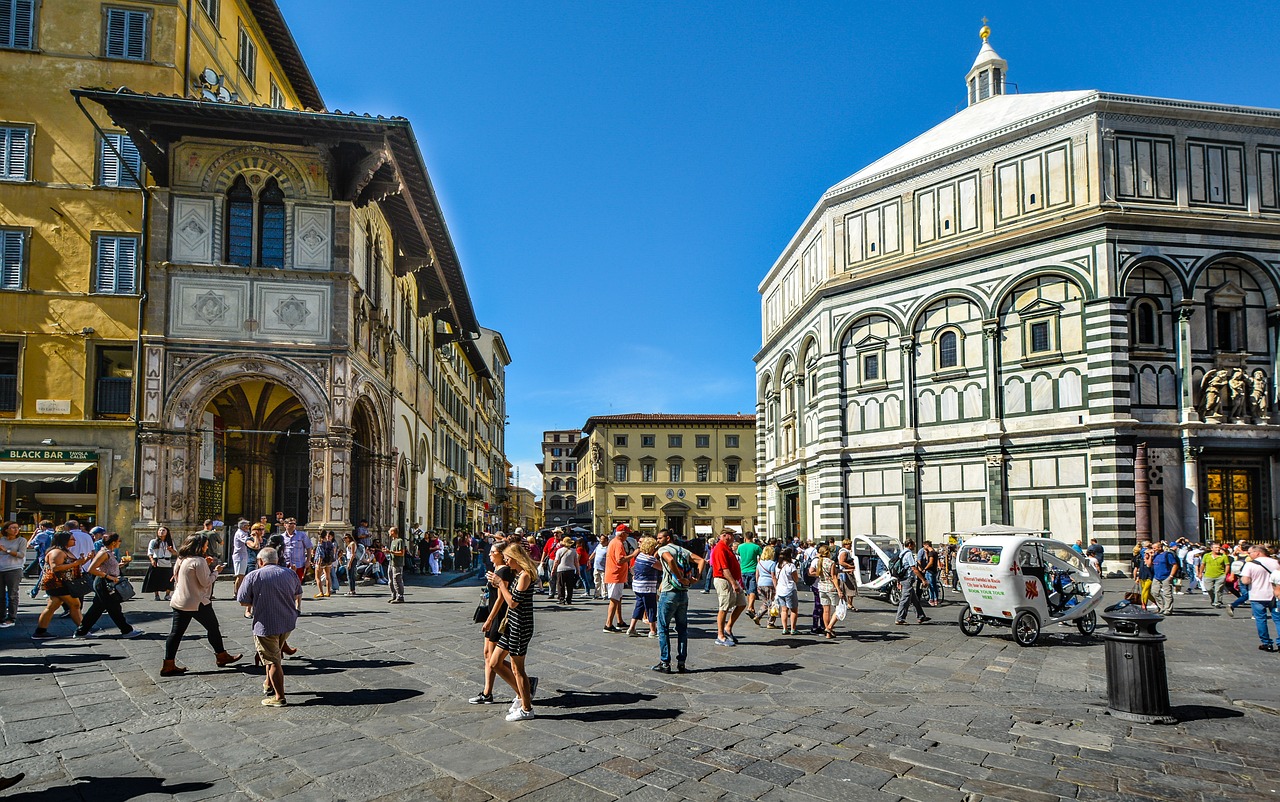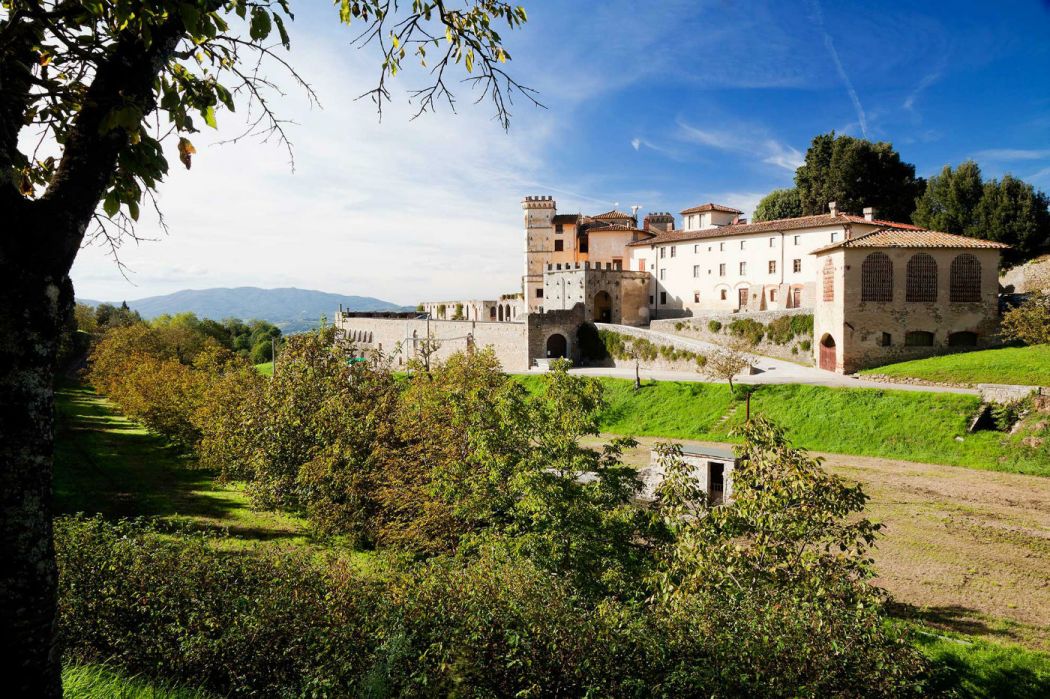 Can I Rent a Car Instead and Drive Myself to the Villa?
Yes. However once at the retreat, you will not need a car. If you are staying in the city center of Florence before or after the retreat, a car isn't necessary either. In fact, cars are more of headache given that most streets in Florence are for pedestrian use only. Renting a car for personal use is entirely up to you depending on what you plan to do before or after the retreat.
Can I Extend My Stay Beyond the Retreat?
No, it is not possible to stay at the Villa beyond our retreat dates.
I Still Have a Few Questions. Can I Talk to Someone?
Absolutely! We love hearing from potential participants and answering any questions you may have to see whether or not our retreats are right for you. Feel free to contact us.
Lodging for 9 nights at a tranquil charming Villa apartment
Round-trip transportation from our meeting point in Florence to the Villa. Please consult the schedule for pick-up and return info.
Writing workshops with Laura almost every day
Yoga instruction with Karyn every morning
Locally sourced traditional meals, freshly prepared by our Epic chef. Including:

A casual welcome gathering with aperitifs
Breakfast each morning
Daily lunches in the garden, except for two while we are out exploring the area
Family-style dinners inside the elegant Villa or outside under the myriad of stars (weather permitting)

Access to Villa amenities including the elegant gardens and stunning pool overlooking the Tuscan countryside
Cooking lessons on Italian cuisine
A truffle hunt with a professional truffle hunter and his dogs in the hills surrounding Montespertoli
Villa history and garden tour
A day trip to a picturesque hilltop town of historic significance in Tuscany
A tour to explore the making of organic, locally grown Laudemio olive oil
Local guides for many of the activities
Tips for activities and drivers included on the itinerary
A supportive, relaxed and nurturing environment
A wonderful experience of community and connection with a creative, adventurous group of fellow travelers
Multiple opportunities for deep relaxation, personal insight, pleasure, intimacy, adventure and joy.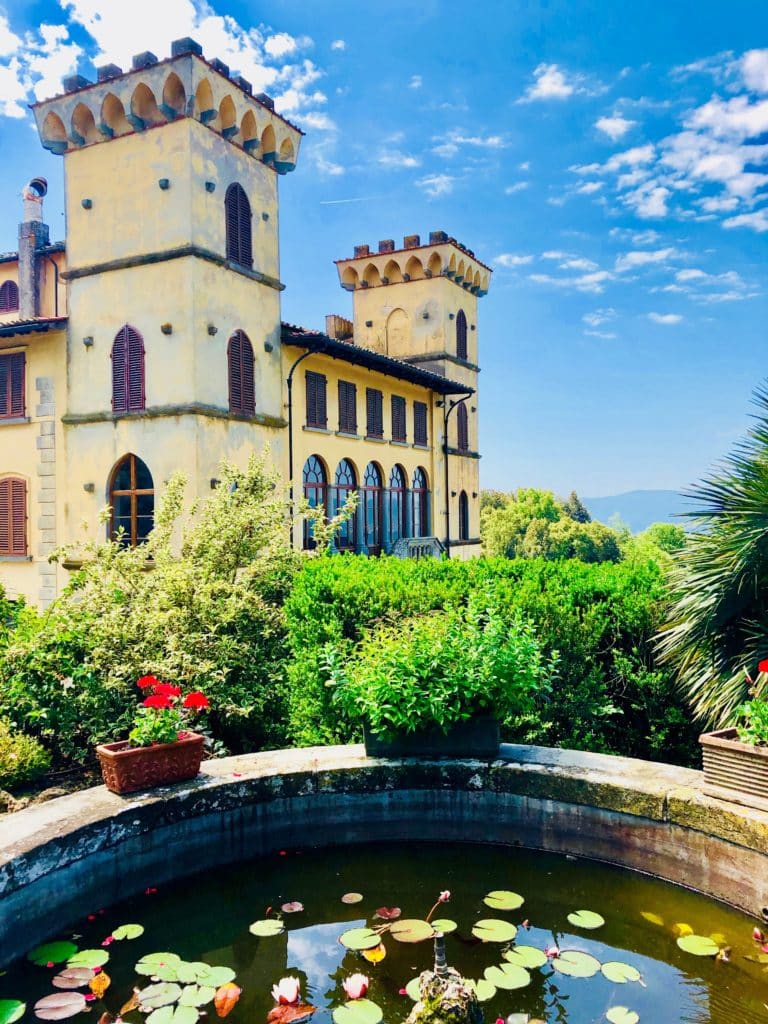 Round-trip flight to and from Florence
Overnight accommodations in Florence, if necessary for your flight itinerary
Transportation from your airport to our meeting place in Florence and back at the end of the trip
One lunch
Personal, medical or trip cancellation insurance.
Souvenir shopping
Personal phone calls.
Bottled water, alcoholic drinks not included in the wine tasting or extra snacks
Extra taxis
Covid testing if required
Personal laundry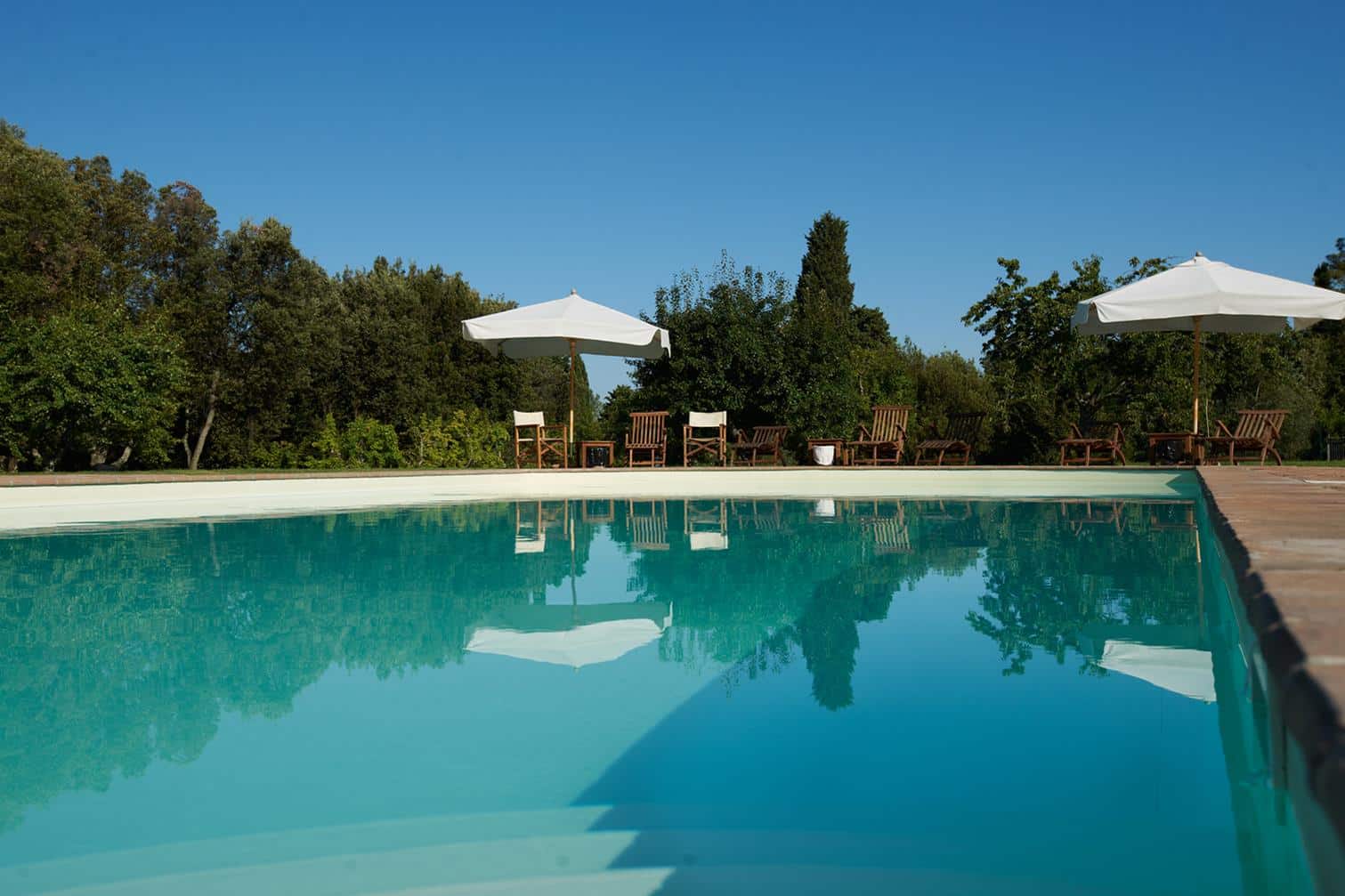 How Do I Sign Up For This Amazing Adventure?
Write, Travel, Transform... and Eat!
Your Investment:
These were the costs for the 2022 trip. The 2023 price will be finalized soon. The cost of single supplements will remain the same.
Cost: $6400 for double occupancy based on two people sharing a twin-bedded room at the Villa. Accommodations are European style; if you're a couple and want to have one bed, it may be two twins pushed together. Bathrooms for the double-occupancy rooms are typically outside the bedroom, shared with one other room.
Single Room Supplement: There are two types of single room upgrades. The first is a single with a shared bath that costs an additional $600. The second is a single plus with a private bath that costs an additional $950.
Roommates: We will only permit a limited number of shared rooms for those who are already coming with a relation or friend (pending availability). We will not be pairing solo travelers as roommates on this trip.
Size of Trip: This is an intimate vacation, limited to 16 people, with a minimum of 12. If the minimum number is not met, you will receive a full refund. The Writer's Journey LLC will not be responsible for any additional expenses incurred, such as nonrefundable airline tickets or passport fees.
Payment Schedule: A non-refundable deposit of $1000 is due with registration. The final balance of $5400, plus any supplements will be due February 1, 2023.
Cancellations and Refunds: The initial $1000 non-refundable deposit will be forfeited in all cases. After February 1, 2023, there will be no refunds. Exceptions to this cancellation policy cannot be made for any reason, including personal emergencies. Travel protection insurance will provide your only option for recouping your investment in the trip.
We reserve the right to cancel the trip (due to lockdowns, natural disasters, border closures, or unforeseen acts of god). We will notify participants a minimum of 40 days in advance of the start date and everything you've paid directly to The Writer's Journey LLC will be refunded—minus $500 administrative fee. We require this fee because arranging international programs is a complex process which requires us to make advance preparations and payments regardless of whether we run the trip or not. For this reason, we recommend that you purchase "Cancel for Any Reason" travel insurance coverage and always do your due diligence about what's being covered. This can be included in the international travel protection plan that purchased through your travel agent.
Once you complete your online registration, you will be mailed a confirmation packet that includes releases and a medical information form that you will need to complete and send back by return mail in order to complete your registration.
Join Us Next Spring in Tuscany in 2023!
Do you have a question about this retreat?