My favorite part of getting ready for this trip (aside from picking up a very thick wad of brightly colored Balinese rupiah at the bank) has been saying "no."
For the past few weeks, I've been divesting myself of obligations and saying no to new work, new projects, new requests, and new ideas:
"No, I'm sorry, I can't read your manuscript."

"No, I'm sorry, I can't meet with you."

"Oh that's a really good idea, but I'm going to have to pass right now."

"I agree. It's unfortunate that you just joined my class and now I'm taking the summer off. But I'll be back in the fall."

"Call me in September about that."

"I'm not interested in doing that any more. I'm moving in new directions. I'm sorry."

"Look, if you want to do that, go right ahead. But I don't think it's going to work, and I don't want to be part of it."

"I haven't decided if that's something I'm going to continue. Check back with me in the fall."
In the midst of saying "no" to other people, I'm well aware that the person who requires the biggest "no" of all is myself. All those wonderful, creative ideas that I always seem to have—the ones that seduce me, but require 80 hours of work to manifest—I've started to say no to them, too.
It reminds me of the time I went to visit my hippie cousin, Miriam. This must have been thirty years ago. At the time, Miriam and her family were living way up on top of a mountain in Boulder Creek on a piece of land called Omland. Every spring, they had an annual party, and all of us—family and friends—would hike 1/3 of mile, pretty much straight up a mountain to get there. Miriam would be waiting up top with a ladle full of water, to "water the guests" as they arrived.
One year, I arrived early to help, and Miriam was running around panicked, her to-do list clutched in her hand. She had to carve the little triangles on top of the watermelon boat, sweep the dirt floor of the outdoor kitchen, make the fruit salad and add hibiscus blossoms to the punch. There were just too of items on Miriam's list.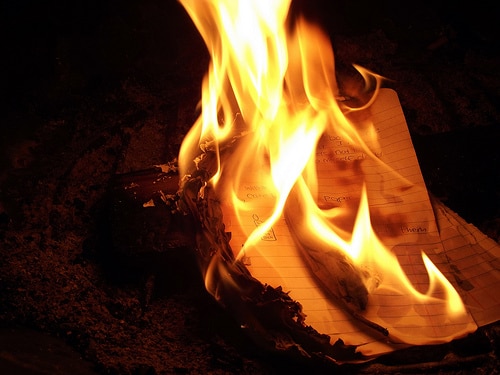 "I know what to do with that," I said. And I took the list from her, lifted the black sooty cast iron lid of one of the burners of their old wood-burning cook stove and tossed the list into the fire. Miriam looked at me in shock and then burst out laughing. "Oh, I feel better," she laughed. "I feel a whole lot better."
Now, as my departure looms closer, my to-do list is getting shorter. Even before my official vacation begins, I've had more time for friends, more time to read, more time to cook.
I think, "Why don't I live this way all the time?"
I guess that's one of the many questions I'm going to have to ponder on this journey.