Last week, during my first full day in Serbia, while Dusica and I were strolling along the Danube talking about the history of Incest Resources, she had us go into a little restaurant with colorful light fixtures on the tables and walls covered of bright, cheerful paintings. She was making a reservation for a meeting a month from now, in June, and for that night, a whole month away, there was only one table available. She snatched it up right away. On a lark, she also asked if by any chance, there happened to be a table for the coming Sunday night, my last night in Belgrade. And miraculously, on short notice, this very popular restaurant had a place available for four. Once again, she grabbed it.
Now, five days later, it was Sunday night, my last night in Belgrade. We'd wrapped up the retreat, everyone had gone back to their homes in five different countries. I had some time to rest back in the Excelsior Hotel in the late afternoon, then Ivana escorted me back to Incest Trauma Center where I did an hour-long video interview about the history of The Courage to Heal, the backlash against it, how my thoughts about the healing process had changed over time, and how it all looked now, in the rear view mirror 30 years down the line.
Afterwards, Dusica, Ivana and I, met up with Lilija, and the four of us headed out in a cab to the banks of the Danube. All afternoon, I'd been trying to figure what time our dinner reservation was, but the details remained sketchy. Nobody would tell me. Finally as we strolled along the Danube at 8:30, I asked more directly. Dusica finally replied, "I wasn't sure when we'd be able to come, so I just told them, 'We'll come in the evening.'" I could feel my mind bending a little at the concept of "We'll just come in the evening," but at Reka at least things just weren't precise or hurried; there wasn't a 7 o'clock seating and a 8:30 seating. When you make a reservation, you were in for the whole evening. Whenever we showed up, we'd have a table waiting for us. That was all there was to it. There was no attempt at turnover in this restaurant. When you showed up, that was good enough. And the restaurant would be packed.
Dusica was still explaining the lay of the land, "You order food. You look up. Your waitress is dancing and not bringing you what you ordered. Your order is on standby. Then later, eventually, she comes with a smile and brings you your food."
Approaching the restaurant, the Danube was much busier at night than it had been in the daytime.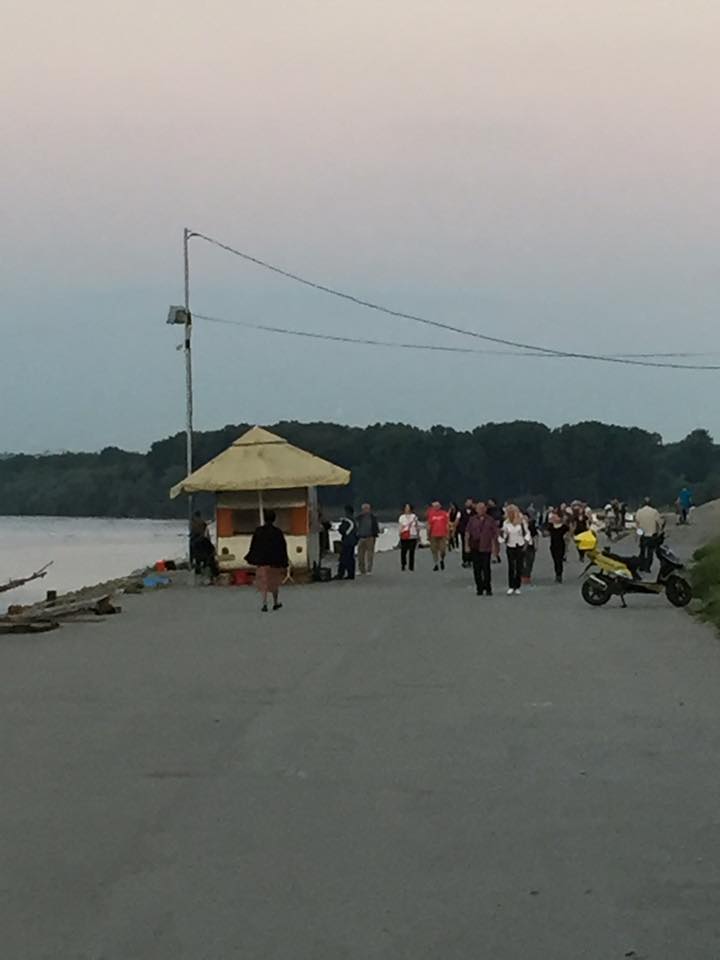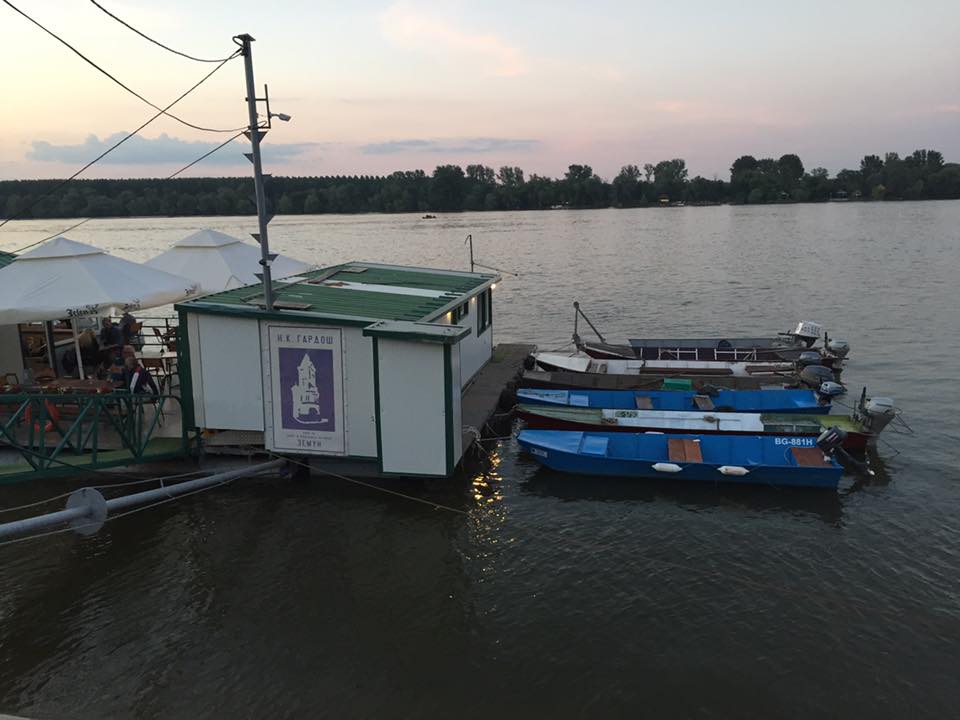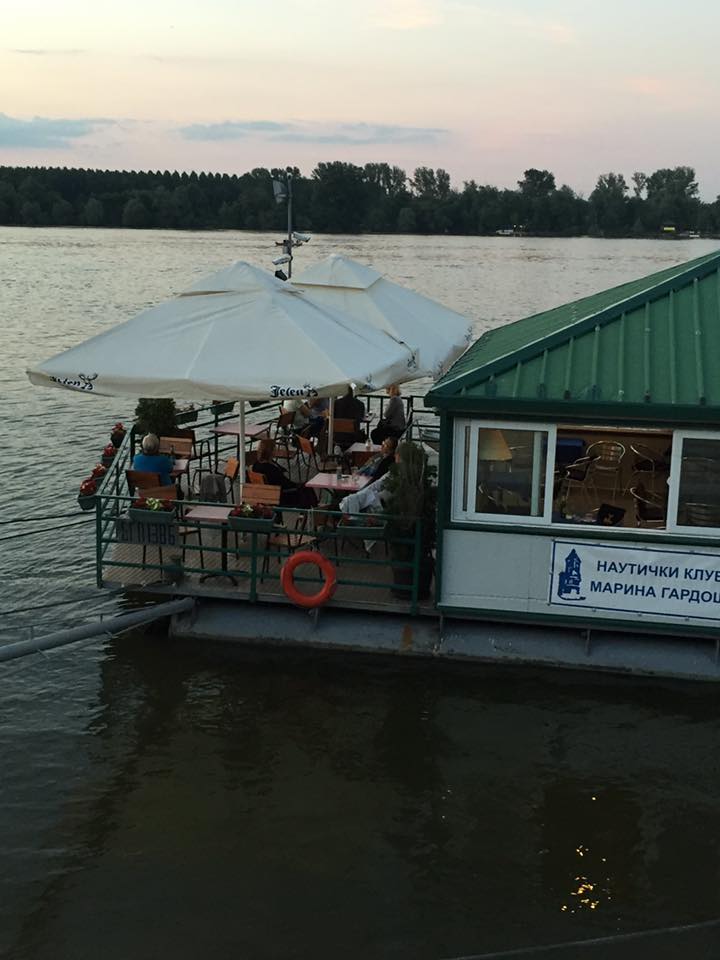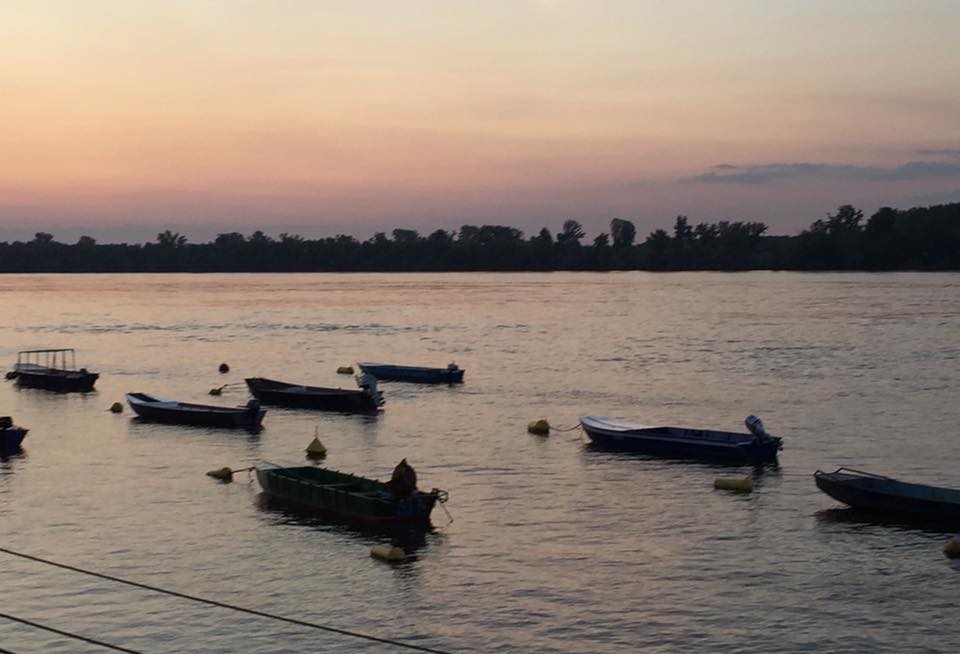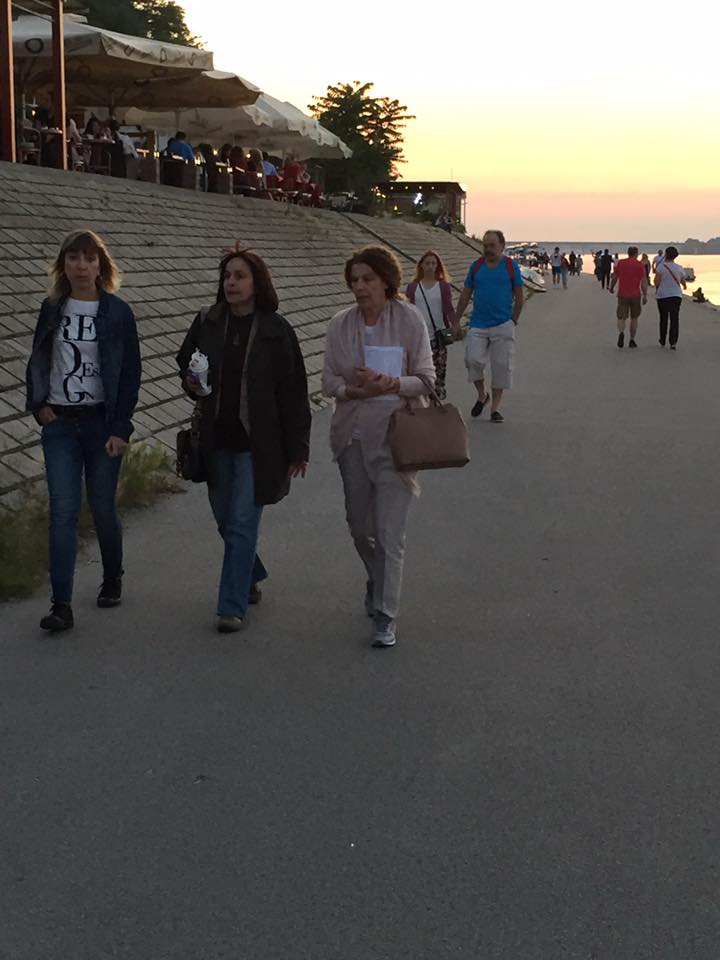 As we approached Reka, it was just as charming as I'd remembered it: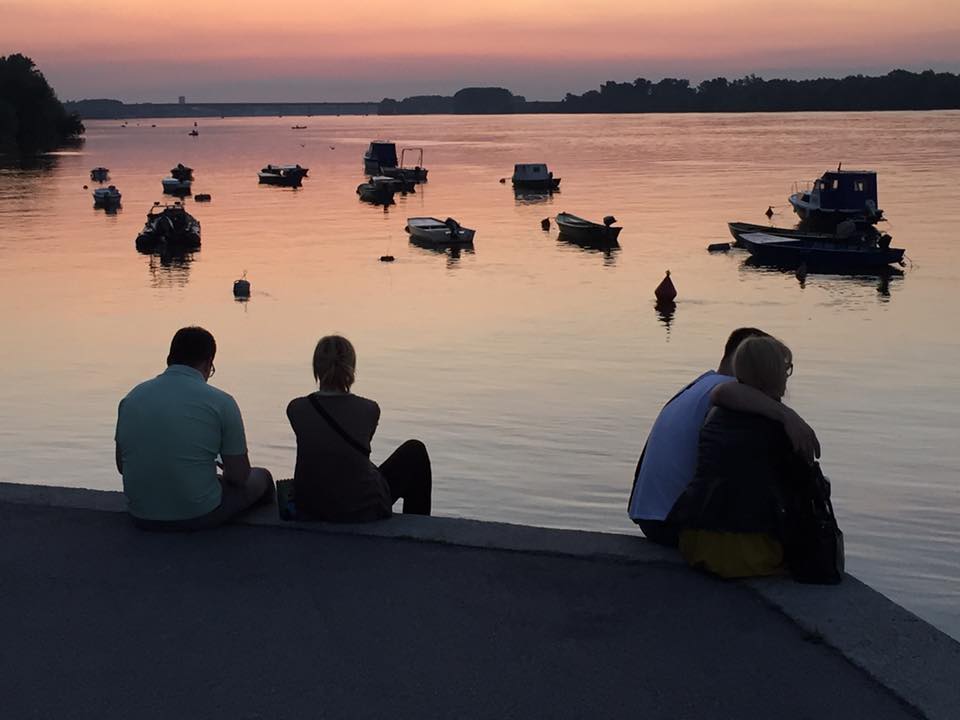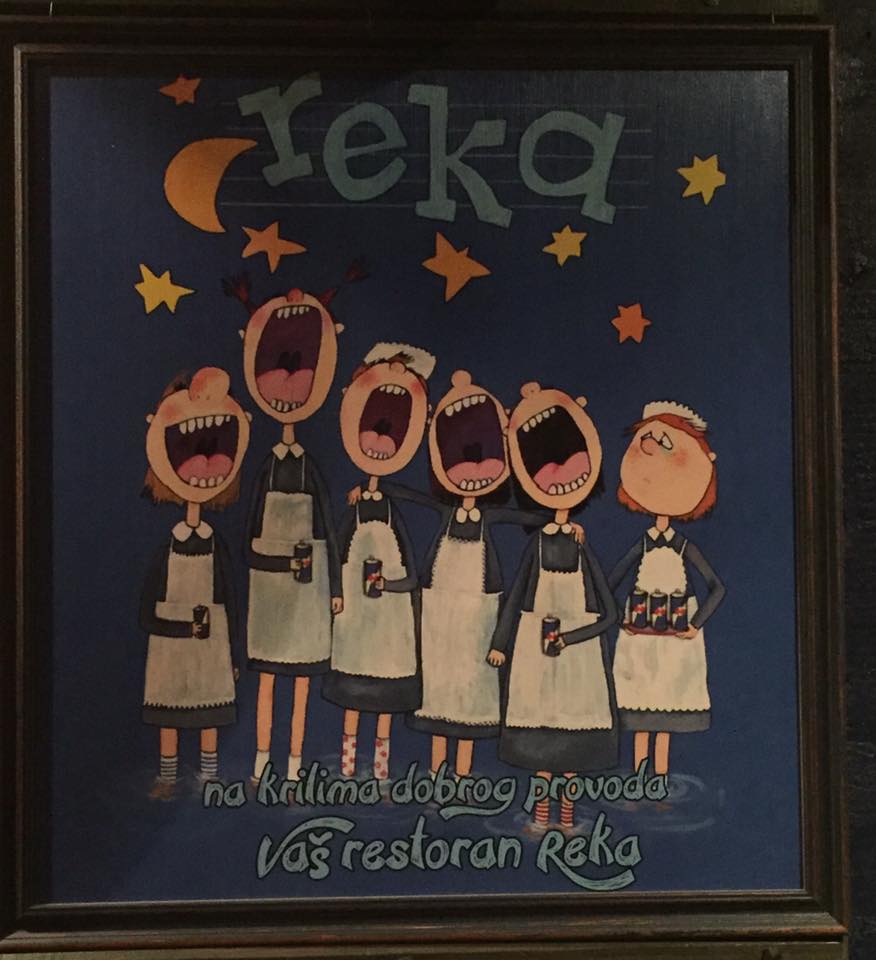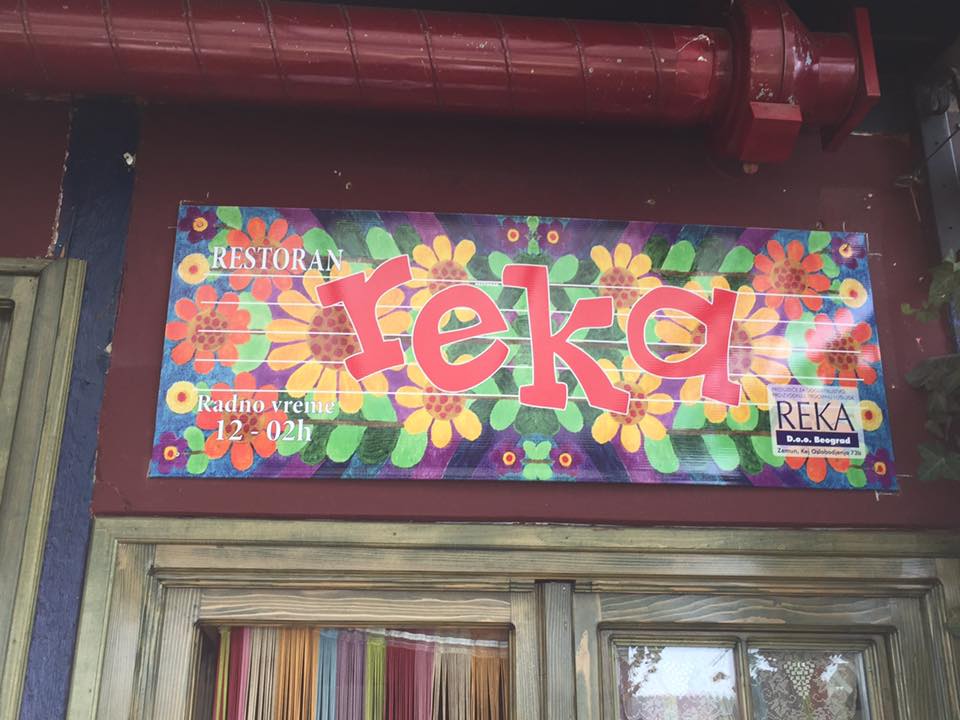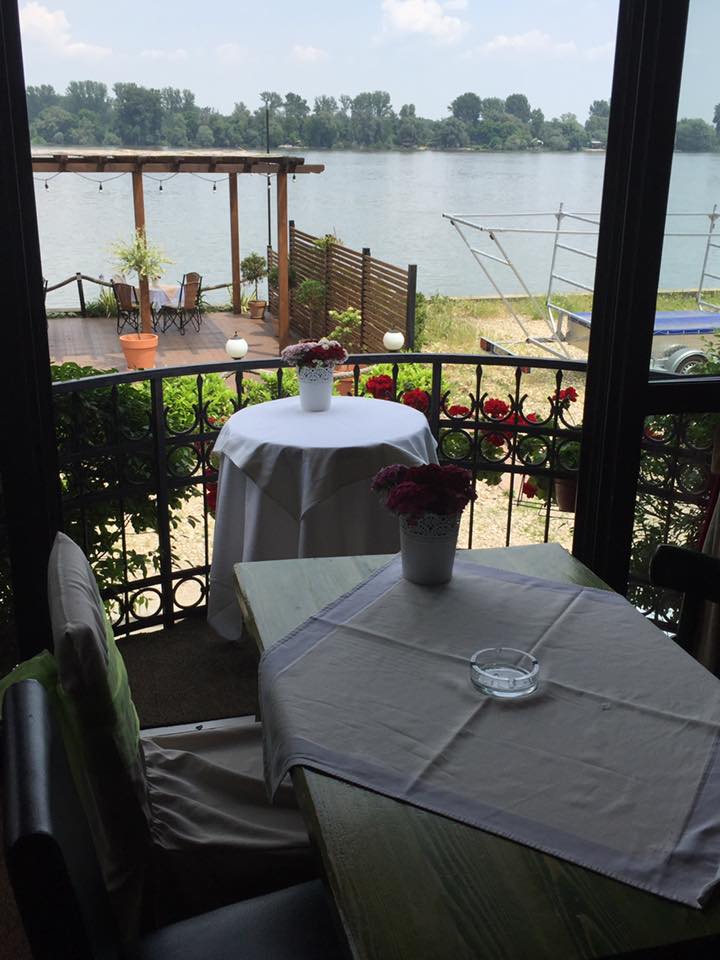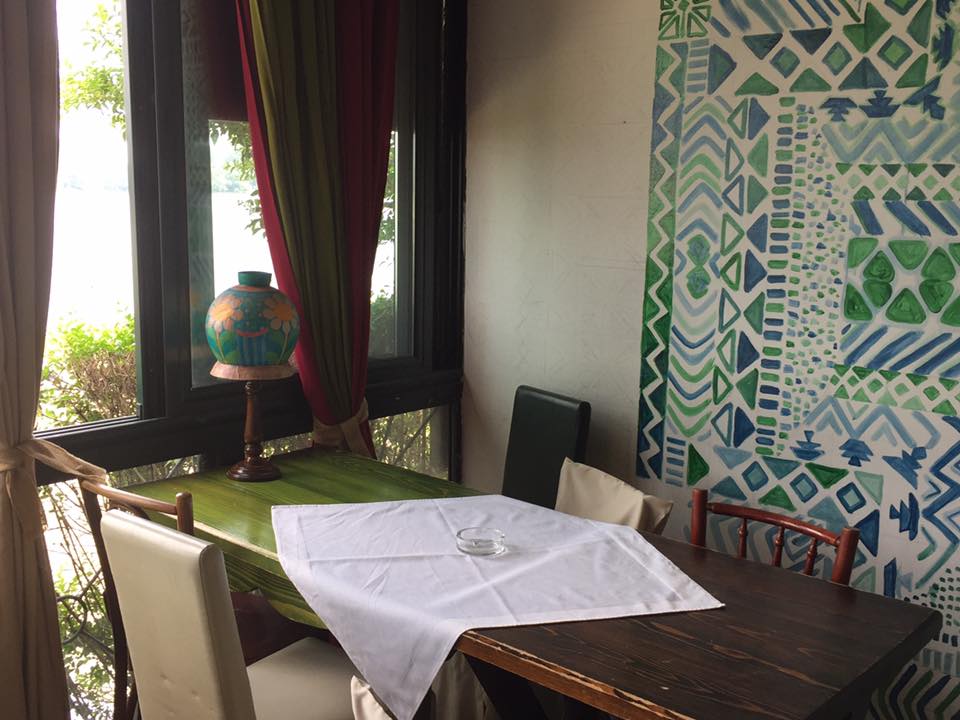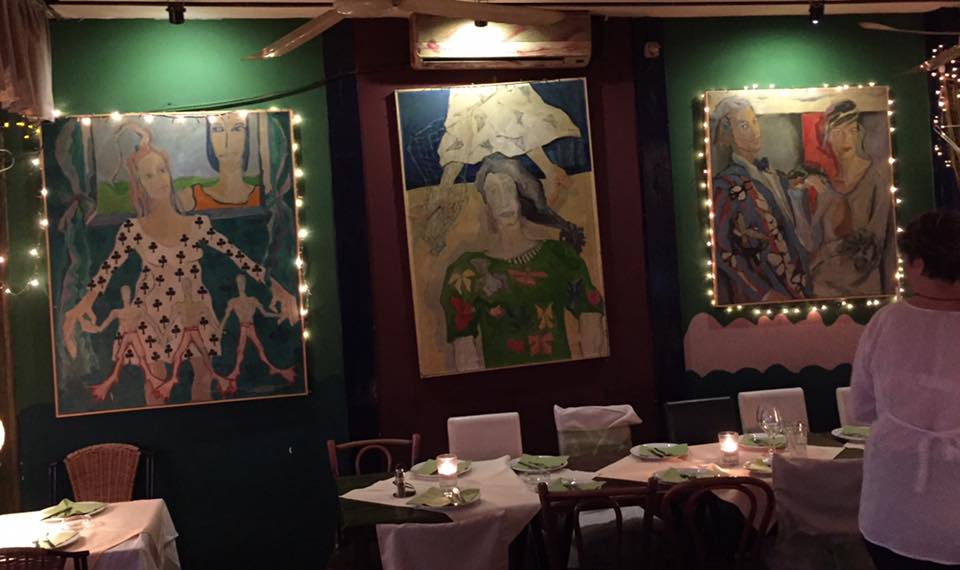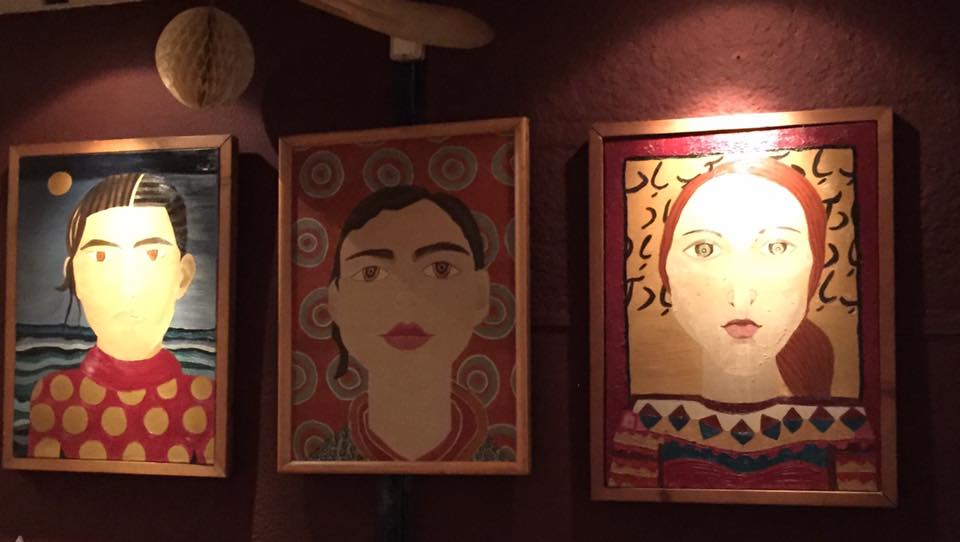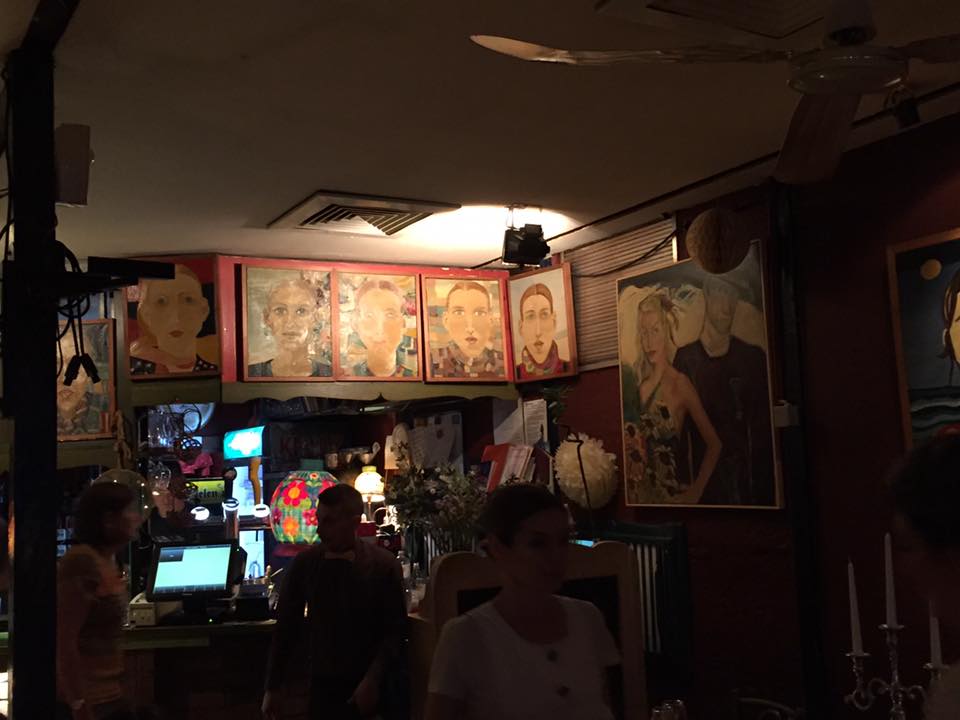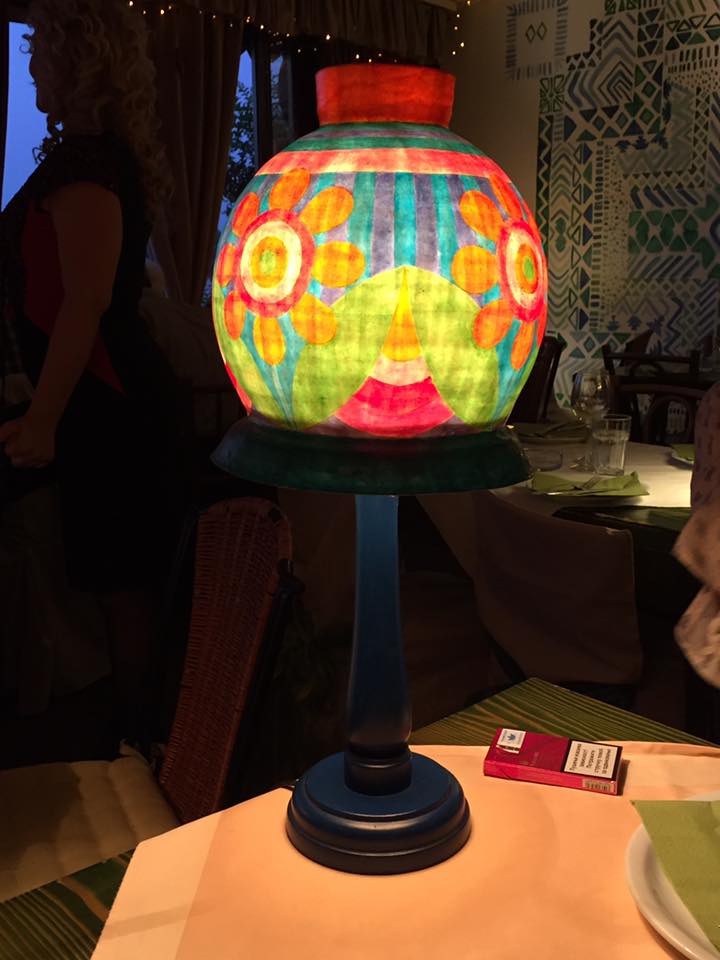 We were seated quickly, especially for showing up whenever we felt like it. The restaurant was fully booked, but still only half full and it was almost 9 PM. When the waitress came over (the one who apparently would be dancing later) she was wearing a billowy apron covered with a pattern of tiny pink and red flowers with little tiny green leaves. She took our drink order. I order plum rajika. In the book I'd been reading about the Balkans, they were always drinking plum brandy. So that's what I ordered. Apparently it's very strong. In the novel I was reading, drinking raja was described of like something one did in an opium den. Once you started, there was a danger that you would never stop.
What the hell, I thought. When in Serbia….. We'd finished the retreat. I done the interview. My work was done. All I had to do was get on an airplane in the morning. I could afford to try the local fire water.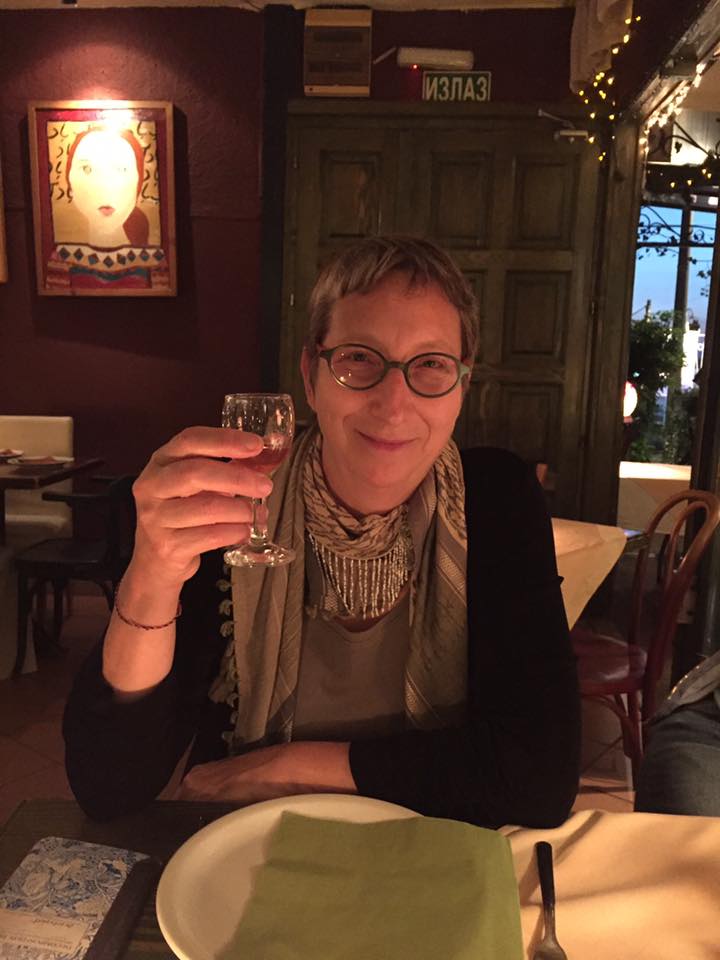 The other women looked at me as I took my first sip. "Is it strong?" one of them asked.
"I don't know. Not yet. I've only just had one sip."
Lilija and Ivana: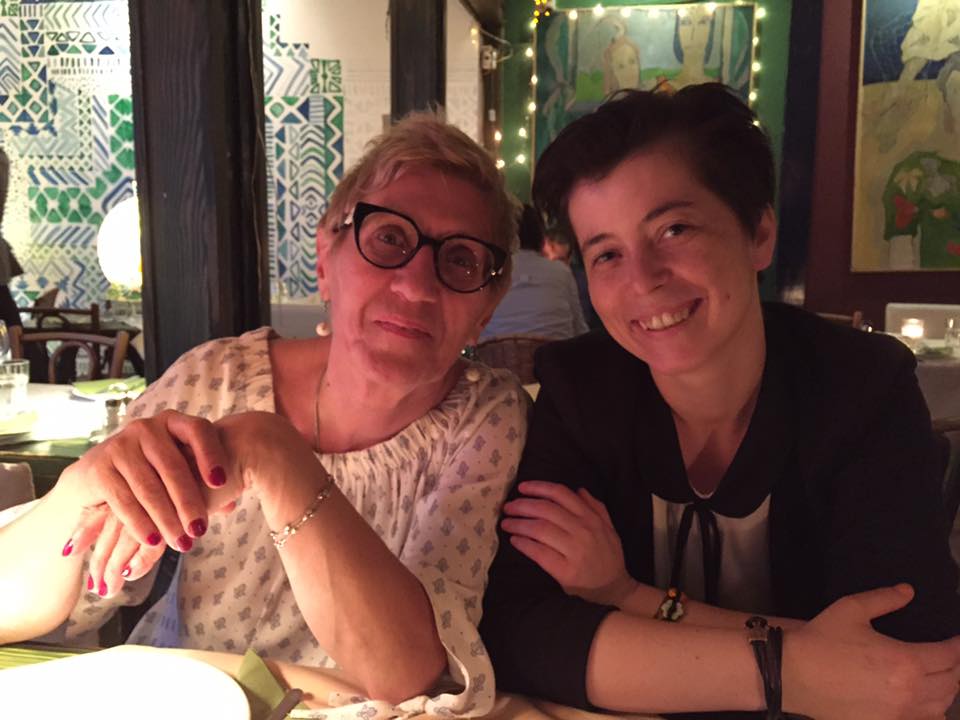 As we perused the menu, deciding what to order, Dusica pointed out a man across the restaurant wearing a black tee shirt with the back ripped out, revealing his bare skin. She said that meant his wife had just had a baby—as in a brand new baby. Like today. Like maybe just a few hours ago. And now, he wasn't in the hospital with his wife and his newborn, he was here at Reka, with a majorly ripped black tee-shirt, celebrating. Was this a Serbian version of handing out cigars?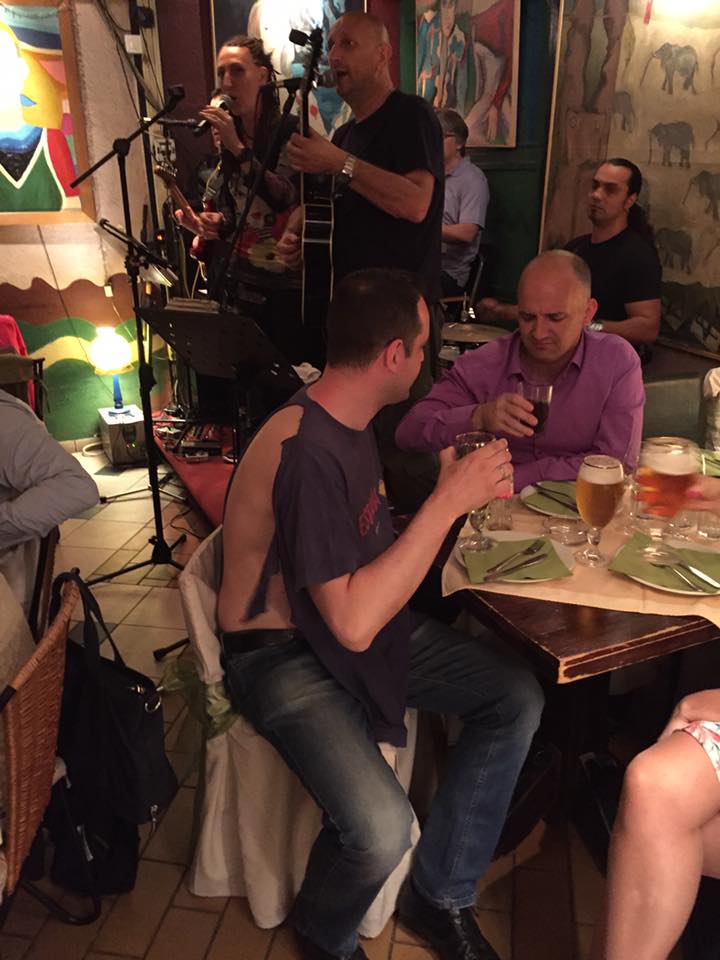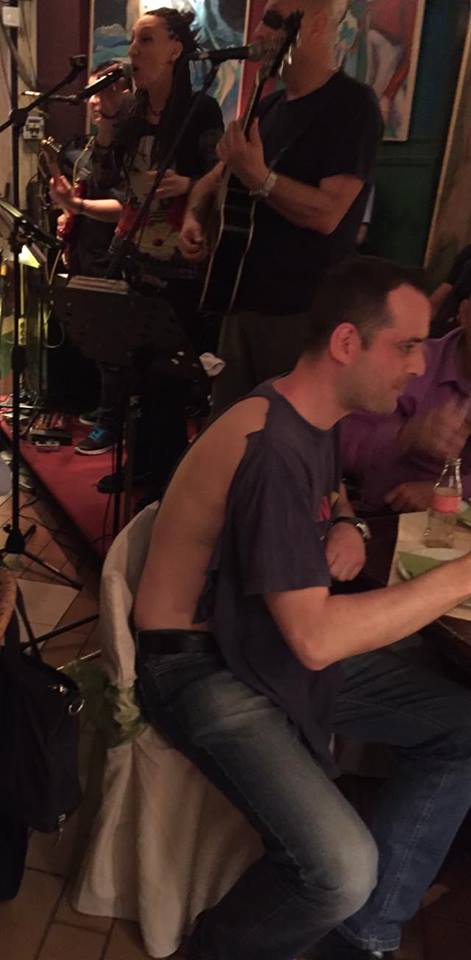 My hosts insisted that I try the local fish soup so they ordered me a bowl. I also ordered as appetizer kajmak, which I'd fallen in love with the week before. It looks like butter, creamy and yellow and soft, and when I first tasted it, I simply assumed it was "the best butter I've ever had." But no, kajmak (or kaymak) is closer to clotted cream, and it is made with "the milk of water buffalos, cows, sheep or goats in Cental Asia, some Balkan countries, Turkic regions, Iran and Iraq." In Serbia and Croatia, it's served as a "new" cheese that is made from unpasteurized, unhomogenized milk—on bread, on hamburgers, with simmered beef shank meat or tucked in pita bread with sausages.
Apparently when left to ferment, it turns yellow. All I can say is, the first time I encountered it, it was so good, I couldn't stop slathering it on bread and eating it. And so I ordered it again. That and a salad with beef on it: biftek salata na fokači. And the fish soup. The soup was delicious.
Fish soup: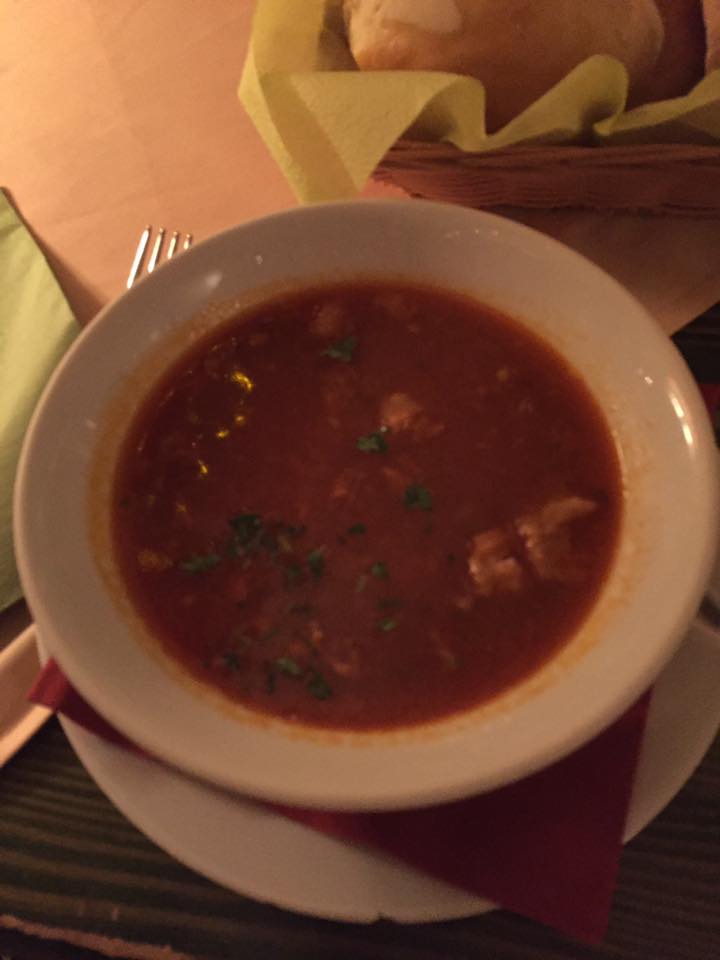 By 9:20 the place was filling up and the house band, La Luna, started to play. They were very, very good.
By ten, all the tables were all full and the crowd was getting rowdy. It was a bit weird to me that this was a Sunday night. Wasn't Monday a work day? The answer came, "It's like this every night. Every night but Monday when they're closed, it's like this. You can always count on a good time here. People come here to celebrate."
It was impossible to converse over the music, but the food was terrific, the drink wasn't affecting me as much as I'd thought it would, and the crowd was fun to watch.
By 10:15, people were up dancing all around the tables. And if they weren't dancing in the aisles, they were pretty much all dancing in their seats. t'd taken off my jacket. It was getting hot. I was getting hot. People were standing and singing back to the band. I'd polished off two whole scoops of kajmak, almost entirely by myself. I had ordered my second glass of plum rajika.
If I were a tourist, I'd have never found this place.
At 10:07, our waitress was up dancing and it wasn't clear when I'd get my second glass of rajika or when the bubbly water would finally make it to our table. None of us cared. Ivana leaned over the table and with her big smile said, "My heart is full!"
My heart was full, too. This was an excellent choice for my last night in Serbia.
By 10:15, our small table was completely surrounded by dancing people. I was staring at the last sip of my second plum rajika and only about halfway through my salad. At the table an arm's length from ours, a woman of about 50, with a neat short haircut and dyed blond hair, got up to dance—well, no, she wasn't really dancing, she was gyrating—wearing bright red tight jeans with a thin white belt, an orange jacket with gold metal studs along the collar and down the front, alongside the buttons. Her eyes were lined with black and she wore shiny gold earrings, a short white scarf around her neck. Her very active (yet trim) bottom was perhaps an inch from the edge of our table, so close that I scooted back the candle and the sparkling water from the edge. When the band started a rendition of Blue Suede Shoes, her sweeping red booty got even closer. Her moves were consistent—definitely a lot of hip action. I couldn't stop smiling. She was having such a good time!
By 10:45, wall to wall bodies were clapping and jumping and shouting. I don't think I could have made it to the bathroom if I'd tried. Dusica doesn't dance, but Ivana and Lilija, were going to town, seat dancing. As the band wound into a spirited version of "I'll Be There," the woman in red, took off her scarf and was swinging it around as she did her big metronome booty dance right in front of my face. I wish I could have caught a video of her, but it would have been too rude—and the light just wasn't good enough.
My companions urged me to have dessert so I tried, topli kolač od jabuka sa sladoledom—an apple desert with a crust, some kind of soft creamy cheese filling and ice cream. It was good, but it made me homesick for Karyn's apple crisp.
At 11:15, when the band came back after their first break, three little girls got up and sang a couple of numbers with the band. It did seem late for children on a school night, but maybe it was a special occasion, maybe it wasn't a school night, and maybe this was just how things were done is Serbia.
By 11:45, Lilija and Ivana were going to town with their seat dancing and singing: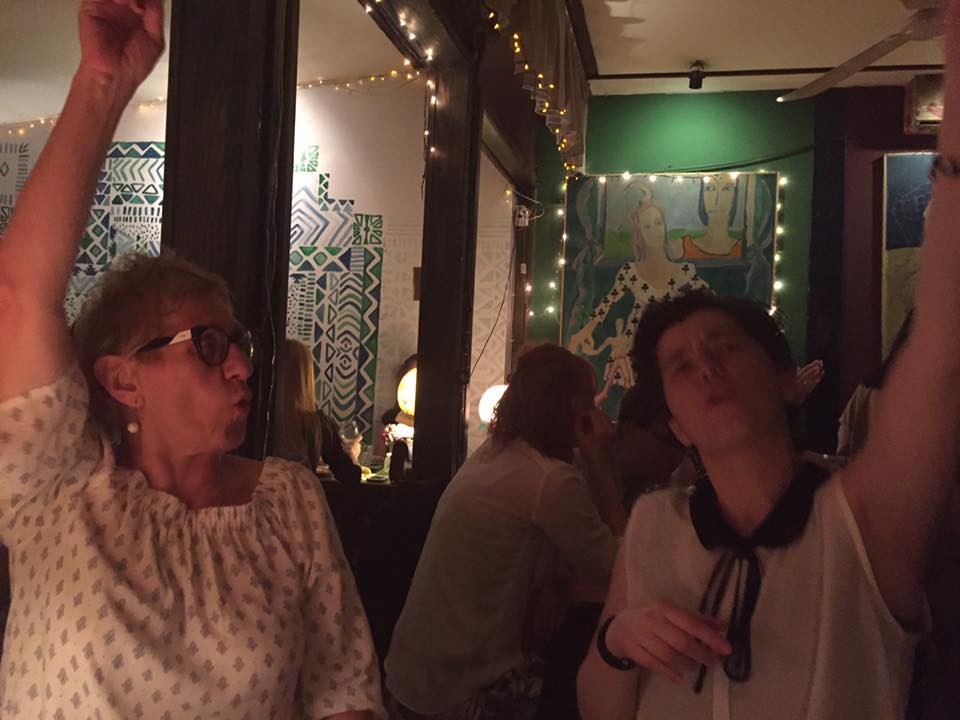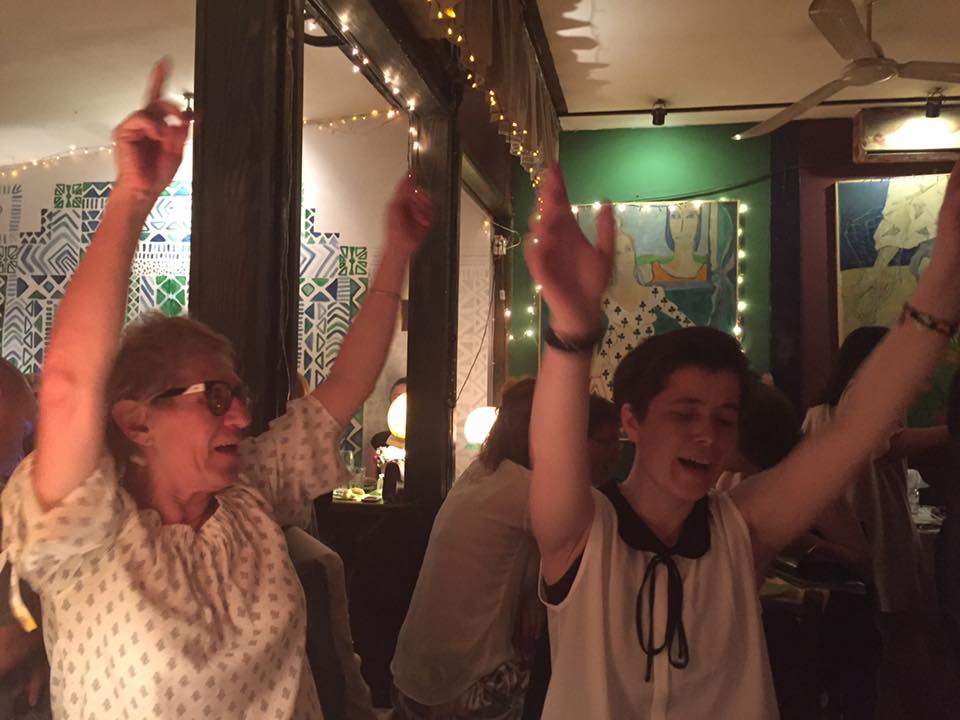 At 12:15, Miss Red and Orange Energizer Bunny was still cranking it out, while smoking. But I was fading fast, definitely the first one at our table to show any inclination of wanting to call it a night. By the time we finally walked out into the night, the restaurant showed no signs of emptying. The party was still on.