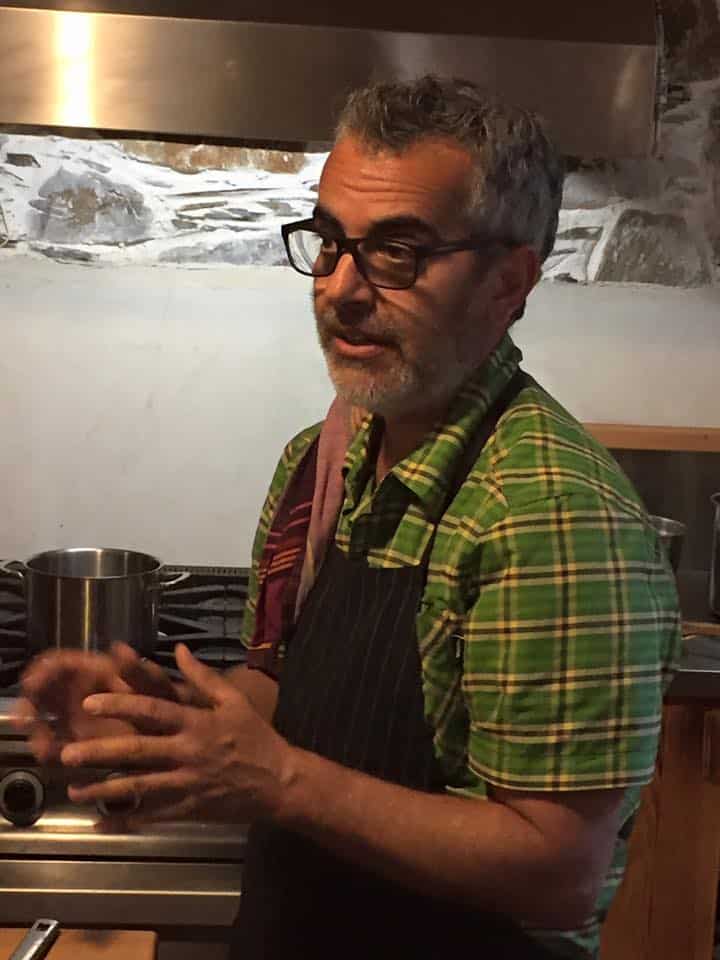 I love the rhythm of our life here in Millia. I love being in one place for four full days, waking up to yoga and writing class every morning and then sharing lunches and dinners together, sitting at the broad wide wooden table with different seatmates at each meal, getting to know each other while savoring the fresh local food.
Yesterday afternoon at 4, half of our group took a cooking class in the basement, in Millia's second kitchen, adjacent to our writing room. We filed in, put on aprons and washed our hands with olive oil soap. It was hard to believe that such a luscious oily soap would ever wash off our skin, but it did, leaving my hands clean, my palms soft and pliable.
When we were all ready to begin, Tassos, who owns the place, began his instruction. He wanted us to know that the Greek kitchen and the Cretan kitchen are not the same as the Mediterranean kitchen. "We use far more vegetables. We always use fresh ingredients from the garden or the market. We don't preserve or store food for later. We don't have a plural of food. We've learned all the ways to cook and eat what's grown here. The Greek kitchen is very simple and humble, using only the freshest, seasonal local ingredients."
Apparently, we'd just missed chestnut season; if we'd arrived a few months earlier, everything we ate would have included chestnuts. Now, most of the menu items featured local wild greens.
Tassos led us around a large butcher block counter, introducing us to the ingredients we'd be using to make dinner for ourselves and the rest of our group: oregano, mint, celery leaves, carrot, onion, two kinds of tomato, two kinds of beans, zucchini, potato, pumpkin, a creamy blend of goat and sheep cheese never to be replicated away from Crete, a heaping pile of small black chewy olives they make here (and that I've grown to love), and fresh goat. And two bottles of fresh virgin olive oil, pressed right on the property.
The real gold in our kitchen," Tassos told us, his dark eyes gleaming, "is locally produced olive oil." The same oil I'd been dunking my fresh bread in at every meal. I don't eat any wheat at home, but here, despite my pledge to avoid the bread at every meal, I am unable to resist. The bread they bake fresh every day is a thick crusted whole wheat which they deliver in overflowing abundance to our table in woven baskets, accompanied by plates of olives and small white pitchers of olive oil. And once I pour that olive oil on my plate, I can't help but reach for another chunk of bread to dredge in the yellow-gold liquid on my plate.
As Tassos set down the oil, he explained the menu that we were going to create:
boreki: a baked vegetable casserole with layers of thinly sliced potato, zucchini, pumpkin, mixed goat/sheep cheese with fresh miint, topped with cherry tomatoes, and of course olive oil.
tsigaragasto: goat with olive oil: the goat was carefully cleaned, then seared in a LOT of olive oil, salt was added and then it was cooked slowly for a couple of of hours.
fava: a smooth bean paste made with yellow split peas, carrot, onion and of course a LOT of olive oil.
dakos: a snack and Tassos' favorite breakfast: take a piece of hard twice-baked barley bread, pour olive oil on it to saturate, grate half of a fresh tomato on top of that, dab on the goat/sheep cheese, sprinkle with lots of fresh oregano, pour on more olive oil and top with diced cherry tomatoes. We ate these before dinner with olives and a shot of local alcohol, brewed on site. They were better than any bruschetta I've ever had.
Cooking together was fun and we all felt a sense of accomplishment at creating the meal that our compatriots would eat. I like to take cooking classes in every country I visit, and this was one of the better ones.
Once everything that needed more cooking had been taken to the round outdoor oven to be finished up for our dinner, Tassos held up two half empty bottles of olive oil. "We used less than a liter of olive oil. A woman from the village would have used double." Tassos informed us that his family of five uses 70 liters of olive oil a year, "and we don't consume very much. Many families use twice as much." And they eat 50 liters of honey a year. "We start the day eating honey with a spoon."
Is that why the Greeks skin glows so much?
Two hours later, we sat down and our food was served back to us, family style, along with an added salad and dessert.
Check out the pictures and captions below:
Olive oil soap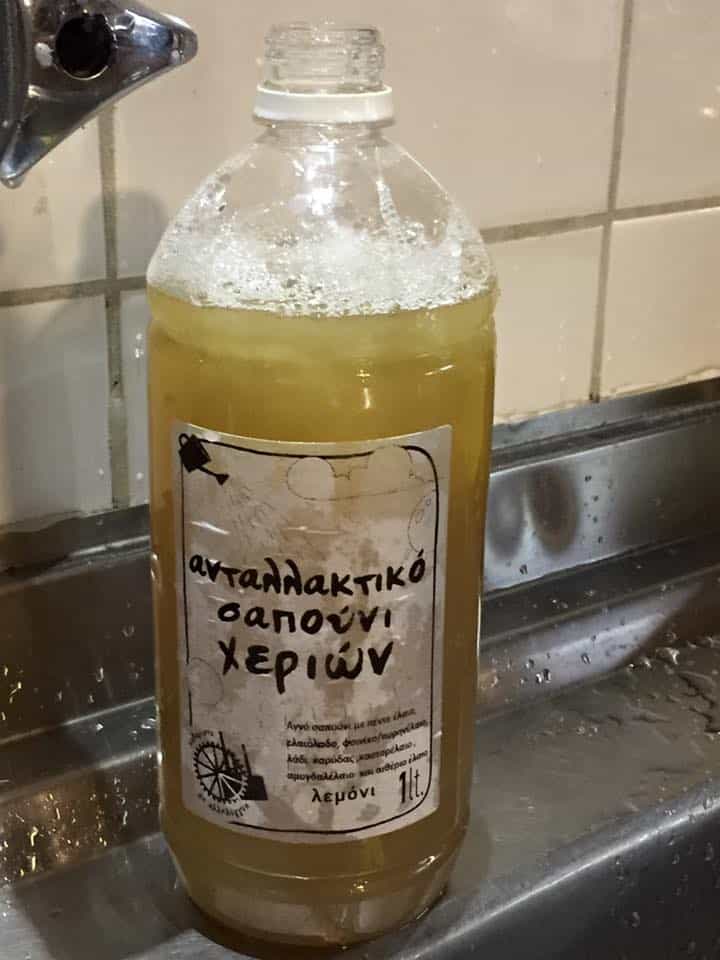 Washing our hands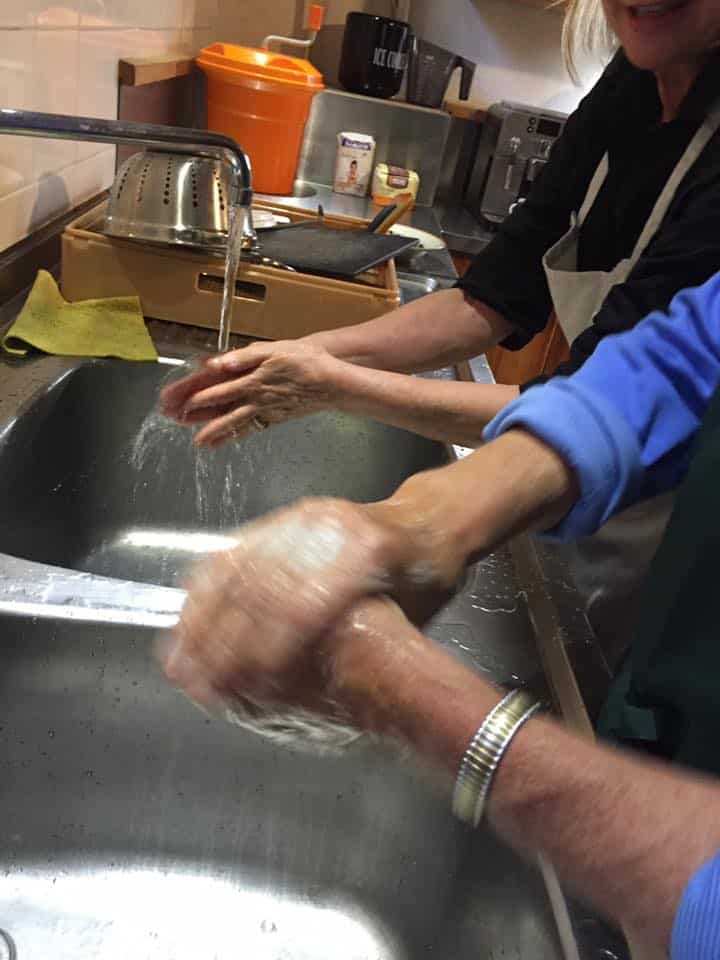 I love this face!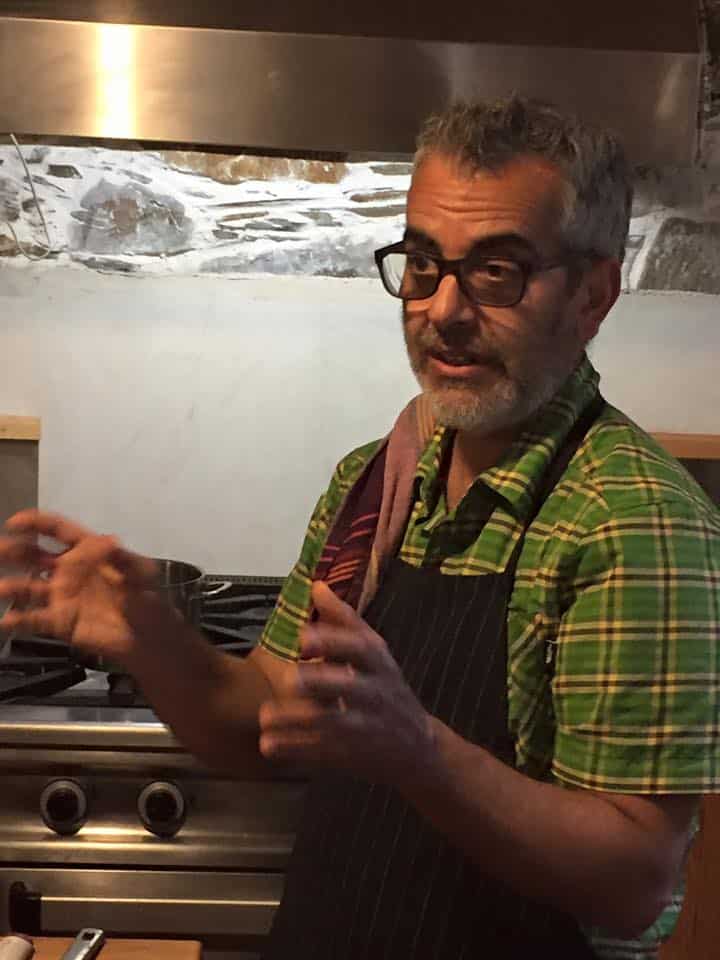 Fresh veggies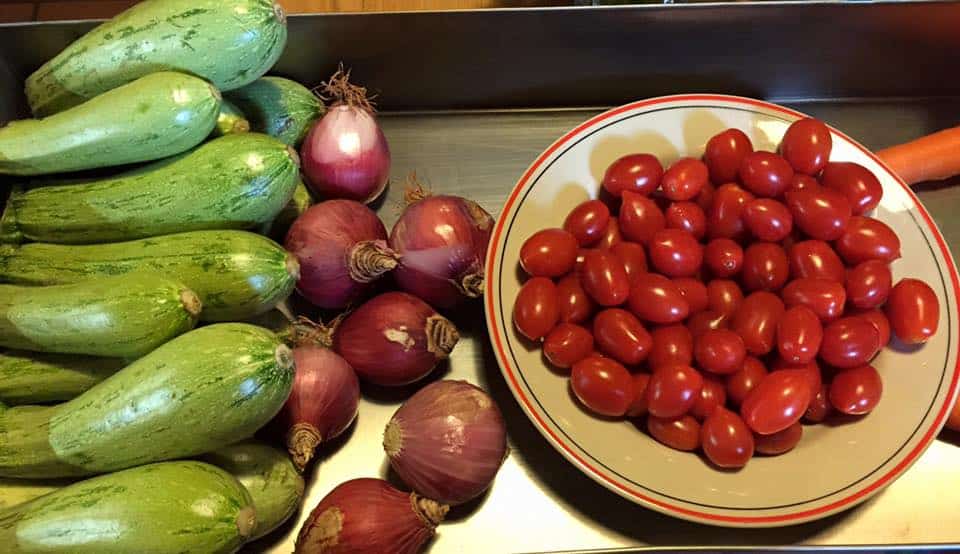 Mint, celery and tomatoes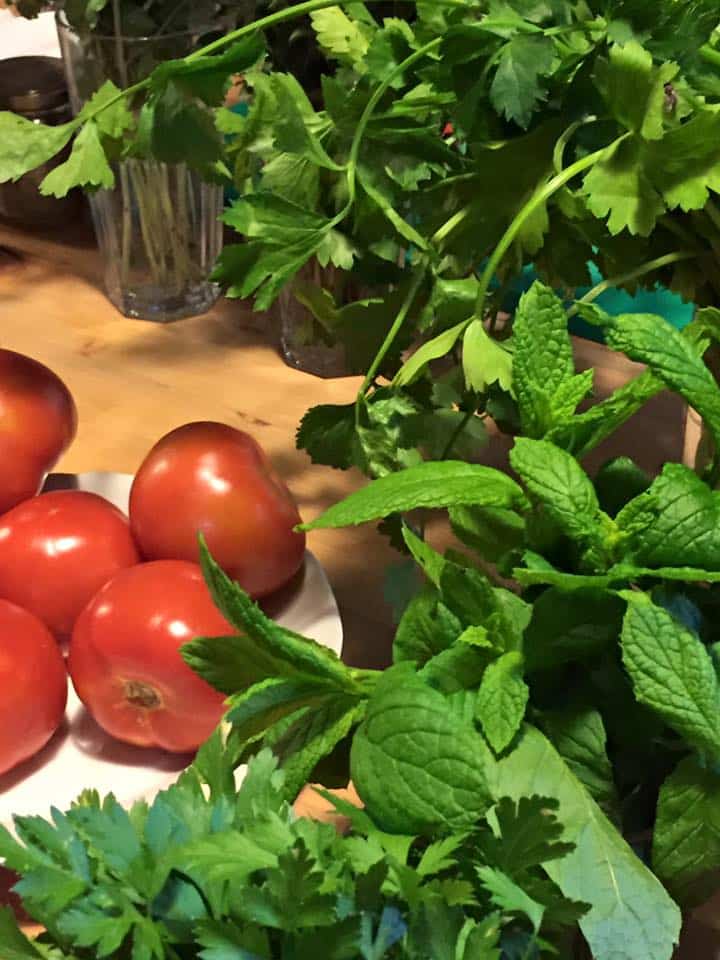 Goat/sheep cheese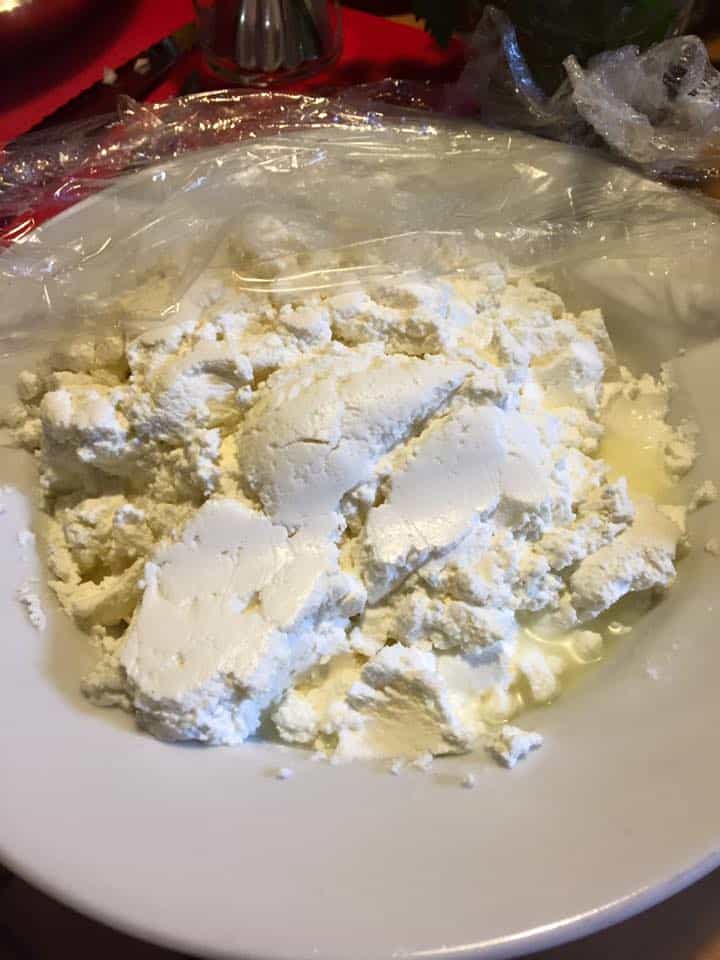 Cooks at work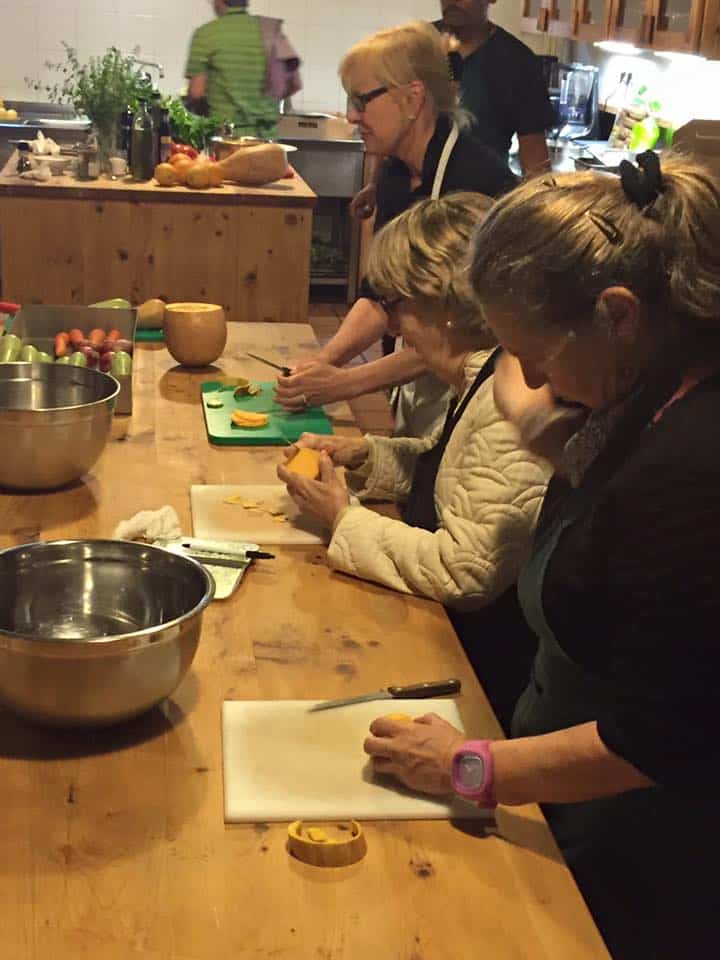 "Slice them so thin you can see through them."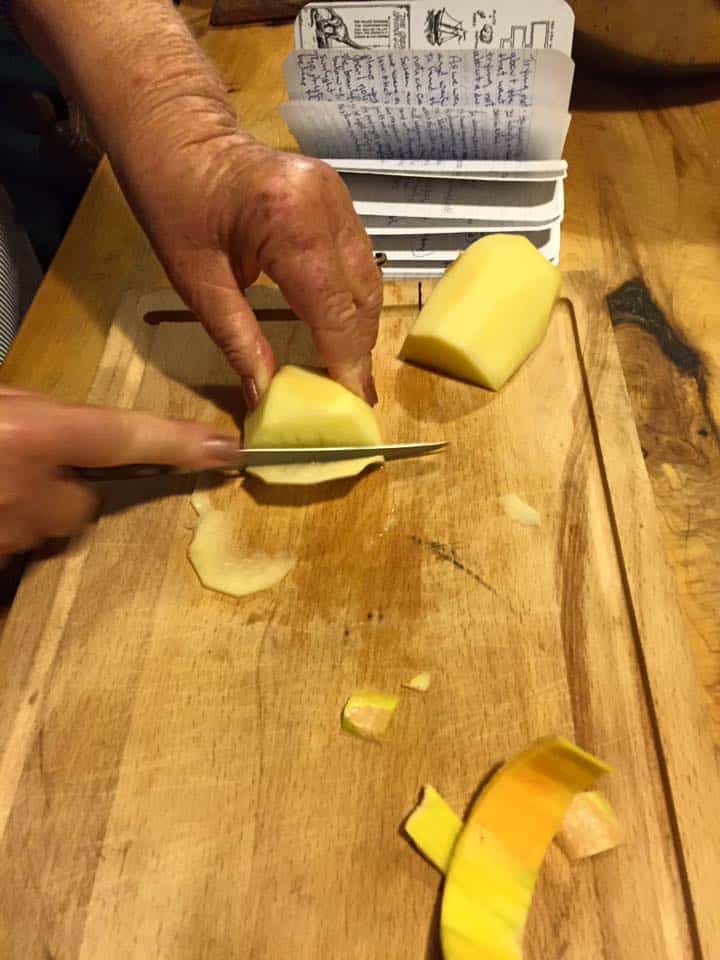 Adding the cheese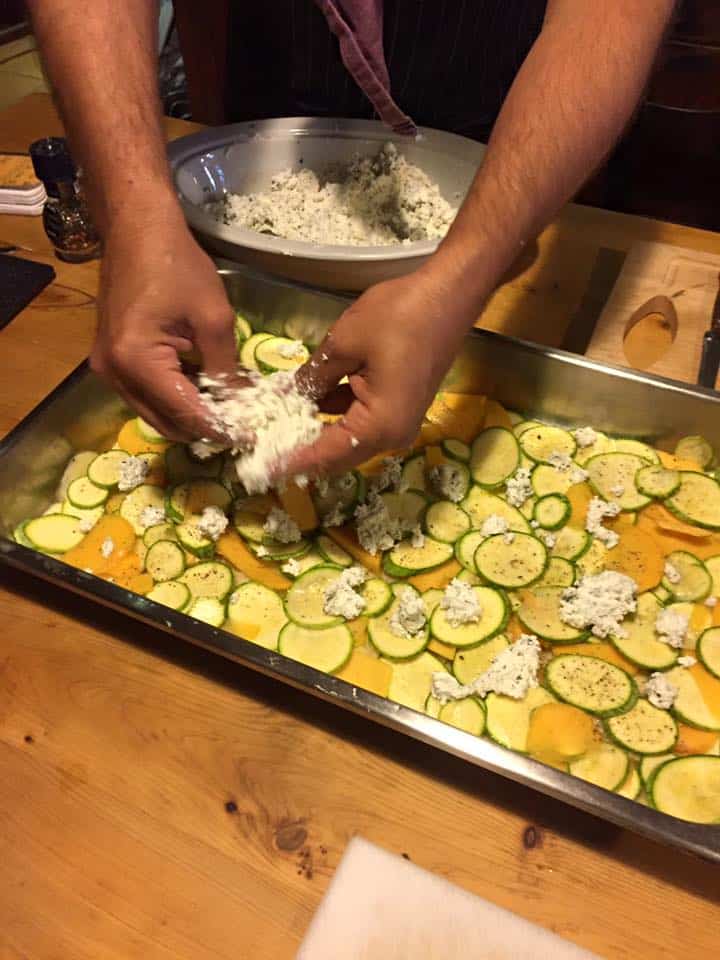 Making the layers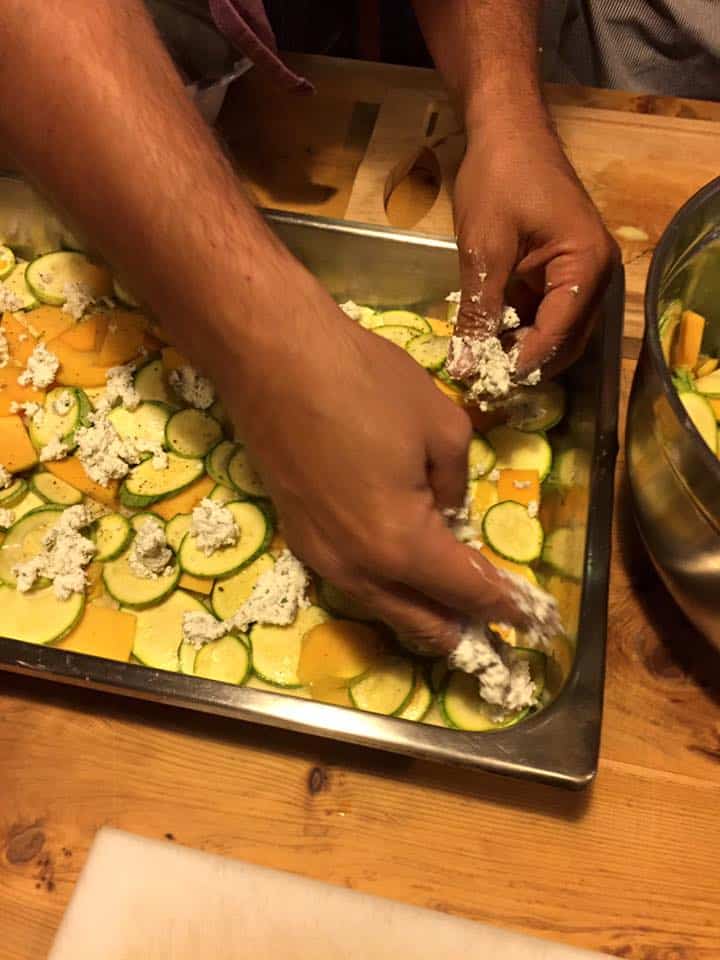 Topped with tomatoes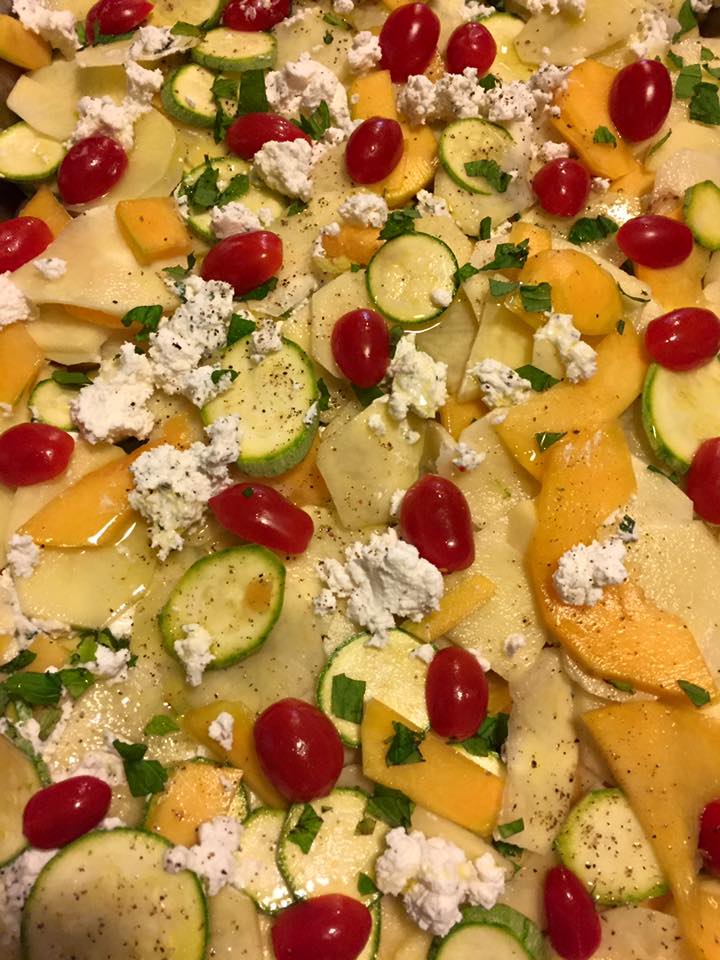 Smelling it to see if it's right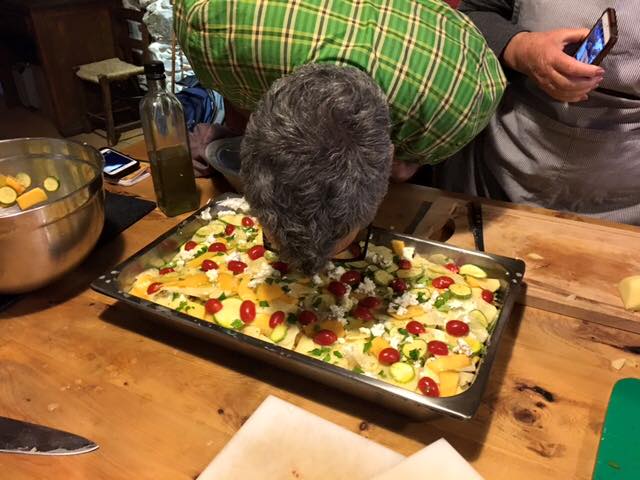 Making our snacks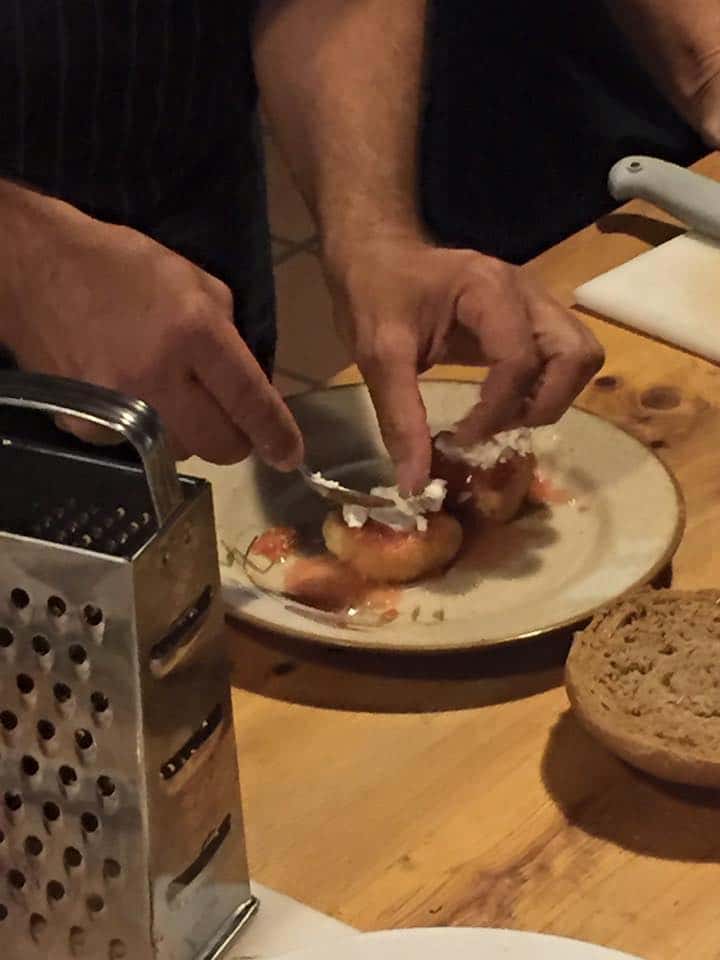 This was mine…yum!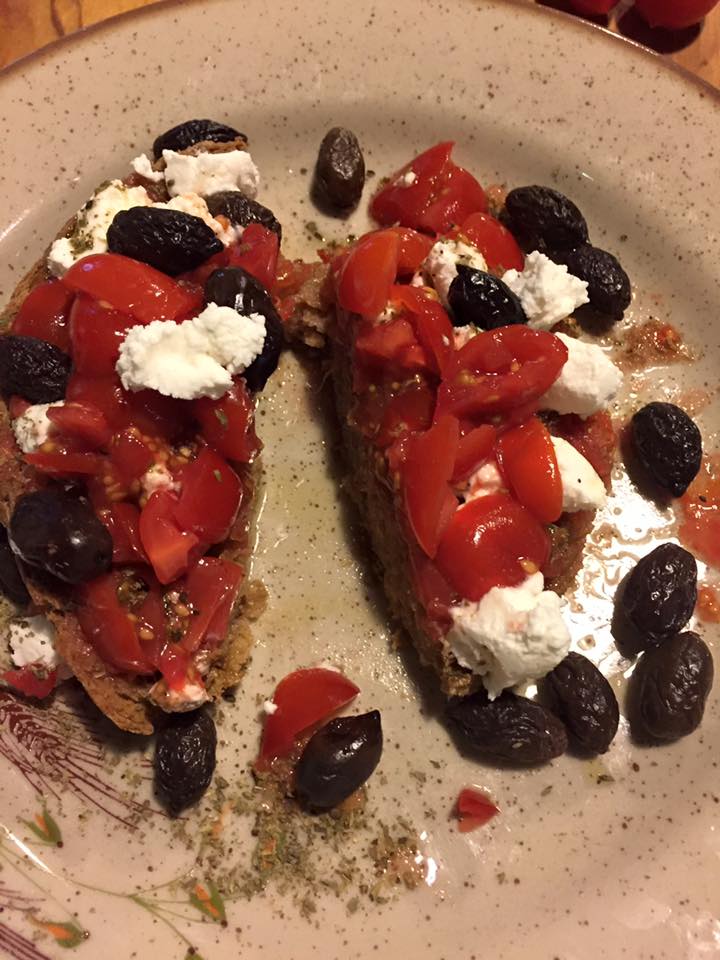 Cooking class in peofress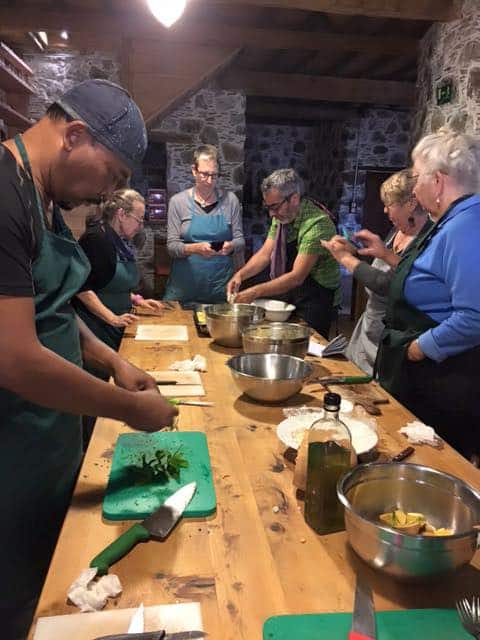 Dinner salad…the start of a feast