Ever since I've arrived in Belgrade, the women of the Incest Resource Center have taken exquisite care of me. They have fed me, filled my mind and heart with stories, introduced me to their food, drinks, and culture and walked me all around their beautiful city. They've answered my endless questions (yes, I did have a past life as a reporter and a talk show host and am pretty incorrigible that way), put up with my American intrusiveness and faux pas, and laughed with me at the foibles and pleasures of cross-cultural communication. But until today, I've never been alone—except in my comfortable hotel room late at night and in the mornings. I haven't spent a cent of my own money (or in those a dinar of own money), visited an ATM or so much as walked across the street by myself.
I've also still not really made the time zone adjustment. I've stayed up late every night. When I get back to my hotel at night after a full day of new people, new sights, new experiences, new, new, new…I need time to unwind. After being with people all day, no matter how welcoming and wonderful they are, the introverted part of me demands time to putter, to respond to urgent email, to read, to text with my sweetie back home, to wash out my underwear and socks, to read the news, to have some personal space, so I've never gone to sleep before 1 AM. And no matter what, my body wakes up at 5:00 or 5:30. I've either been able to go back to sleep—or not. This morning—definitely NOT. When I looked in the mirror, I saw huge bags under my eyes and I felt a heaviness behind my lids. I've eaten lots of new foods and more meat in the past few days than I typically eat in several months. My body feels sluggish despite the joy of walking everywhere.
Tomorrow, we head out of Belgrade for the start of our four-day writing retreat—what I was brought here to teach–and I want to be sure to feel rested and to have my equilibrium. So when I texted Dusica on What's App this morning to check in, I told her I wanted to take the day to write, to nap, to rest and if had the energy to go out later—to venture out on my own.
There was nothing on our joint agenda until 5 PM when we were heading to a party at the US Embassy (more on that later—in another post). I was sure that party would lead to another late night. And of course, while I'm here, I want to see, hear, feel and experience everything—but even though I love travel, sometimes you just need a day of rest.
So after breakfast, I came back upstairs and got back under the warm covers to write. And a couple of hours later, I took a little nap and a shower…and I still had a couple of hours before I had to get ready for the embassy party. So there was time for me to set out on foot alone.
Before I felt safe wandering off my by myself, I had to get a little better oriented. Lilija had been kind enough to bring me a paper tourist map my first day here and I'd been carrying that around, but I prefer a GPS for navigation on foot. I used HERE in Beirut, but for some reason I couldn't successfully download the maps from Serbia.So I downloaded one on Google maps instead so I could navigate my way back and forth to the hotel. My daughter had coached me on how to do that. But now I had to figure out how to "drop a pin" so I could have the location of my hotel saved so I could find my way back to it. I didn't really have a clue how to do that.
When you ask your children to help you, at least when I ask mine to help me do something technological, they get impatient and simply take the phone out of your hand, do a few magic swipes or clicks and do it for you. Of course, that doesn't help me learn how to do it myself.
I'd what's-apped my daughter to ask her how to drop a pin yesterday and she told me, but her directions for saving the location of the Hotel Excelsior once I'd pinned it were not panning out. So over breakfast, I googled "how to save a dropped pin in google maps on an iPhone 6" and voila, after a few dubious links, there were my instructions. Moments later, I'd successfully saved the location of my hotel, so wherever I walked in the city, I could get turn by turn walking directions back to my hotel. I was set.
But by the time I'd napped, written my blog post, taken a shower, and figured out how to use Google maps, I only had an hour leftover to take my walk. An hour wasn't much for a solo adventure, but figured I'd still get some exercise and enjoy the streets of Old Belgrade. I set my time for half an hour so I'd know when to turn around. And I took off across the street.
There was a lovely park there so I figured I'd cut through it. Five minutes into my walk, I tested out Google Maps. I found my dropped pin with only a bit of difficulty, but when I tried to navigate back to it, Google maps wouldn't give me a walking map without a WiFi signal. Damn. I guess I'd have to be careful, pay close attention to my surroundings and not wander off too far. I decided to walk in a grid so I wouldn't get lost. It's not even that I was opposed to being lost–sometimes great adventures happen that way. But I had to be back by 4:30 to dress for the Embassy party.
As I walked through the park, I kept seeing people eating ice cream, and I began remembering that wonderful, creamy vanilla I'd enjoyed with Dusica by the side of the Danube. I began tracking the ice cream eaters, looking for people whose cones looker more fuller and more new. Pretty soon on a side street, I discovered a shop with this sign. I Scream Rolls. WTF?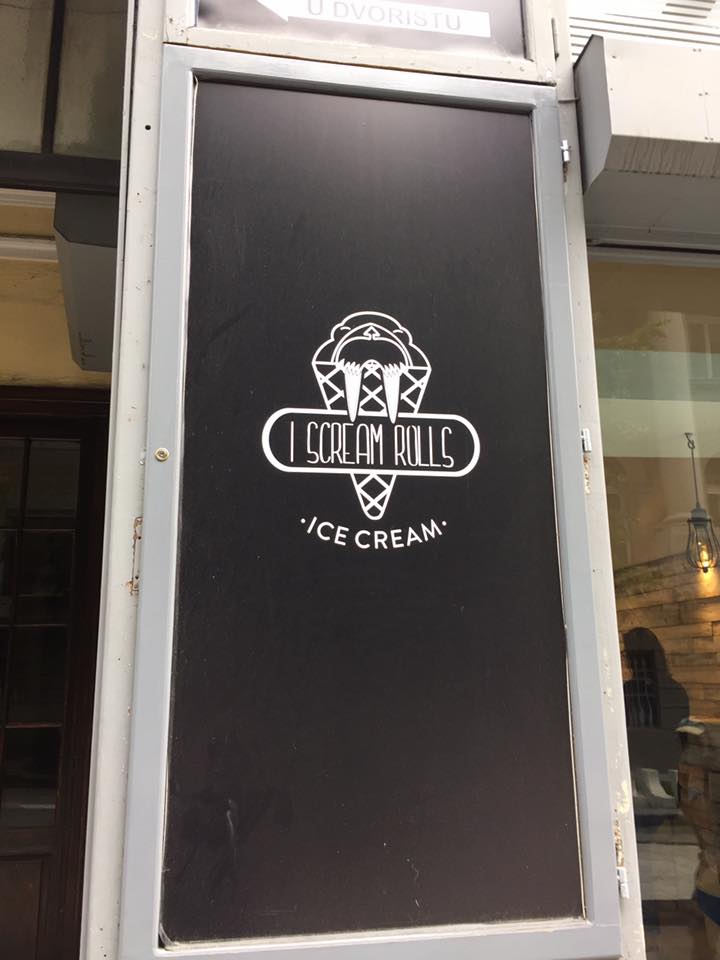 I looked at the counter and couldn't figure out what to order. There were no tubs of ice cream, no spigots from which soft-serve ice cream could come. There was just a strange array of ingredients and the words on the outside of glass case were of no help to me. "Can I have vanilla?" I asked tentatively to the young man behind the counter.
"We don't have vanilla here," he told me. "We have milk." I wasn't sure what he meant. I figured we were having a language glitch. But he got across to me that I had to pick my own ingredients and that he would make my ice cream. I was a bit uncertain about this, because I was still craving that soft white creamy perfection. I even considered leaving the shop and trying to find a better one, but then I committed to the experience.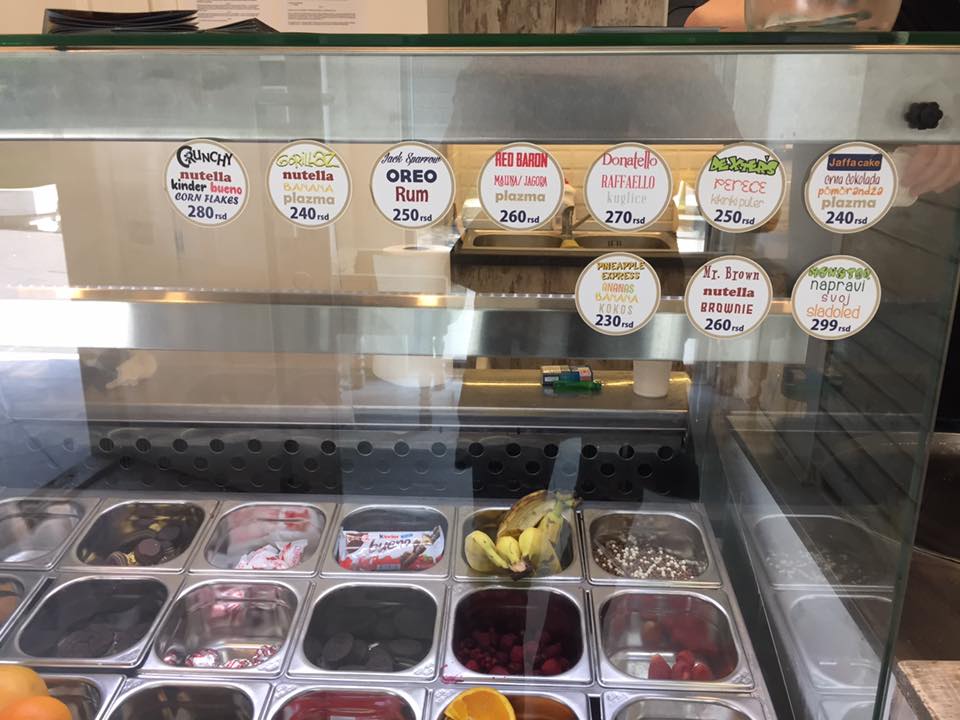 I looked down at the ingredients. I could recognize a coconut and a banana, so I said, "I'll have coconut and vanilla."
"You need one more," he said. "How about Nutella?"
When I paused, he held up a red candy bar, one I'd never seen before. "This is Serbian candy. Chocolate and banana."
"Sure," I said. You can't go wrong with chocolate. Then Stefan went to town and boy was I ever surprised.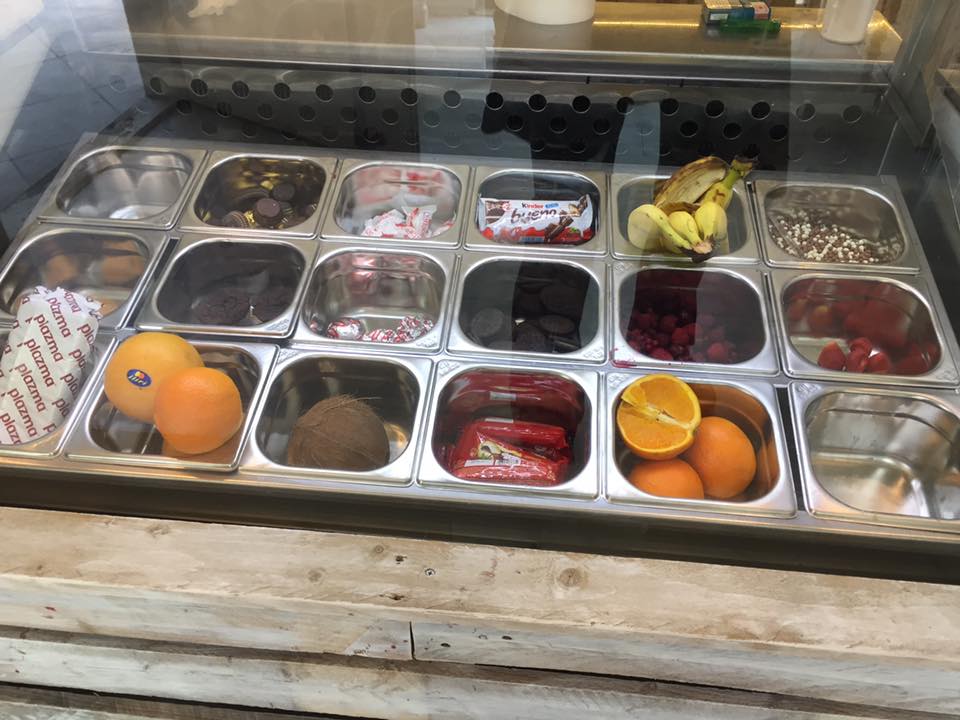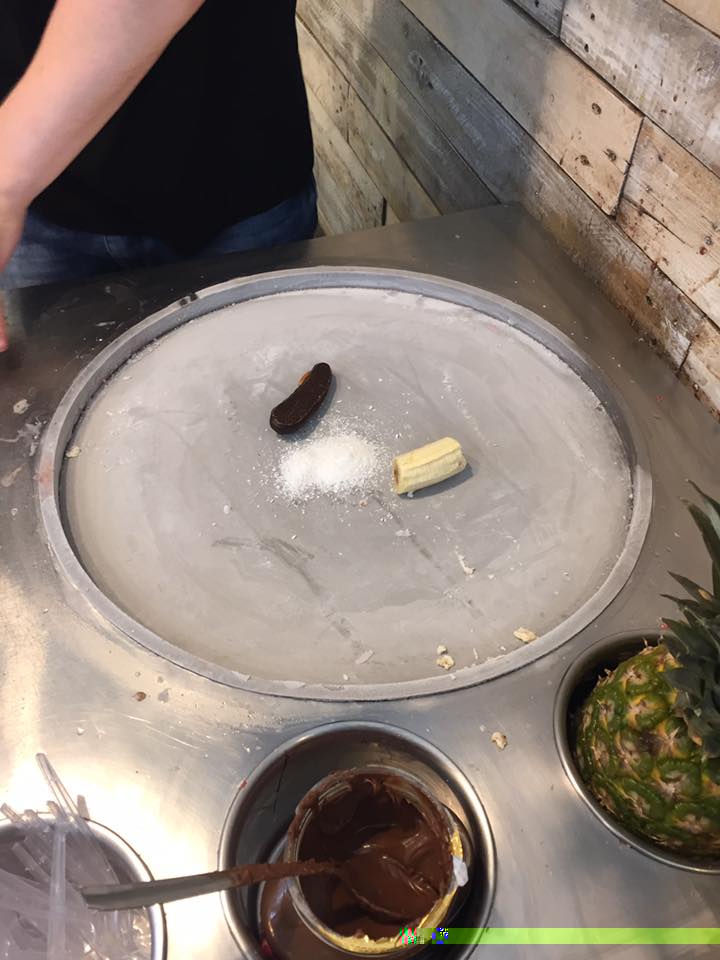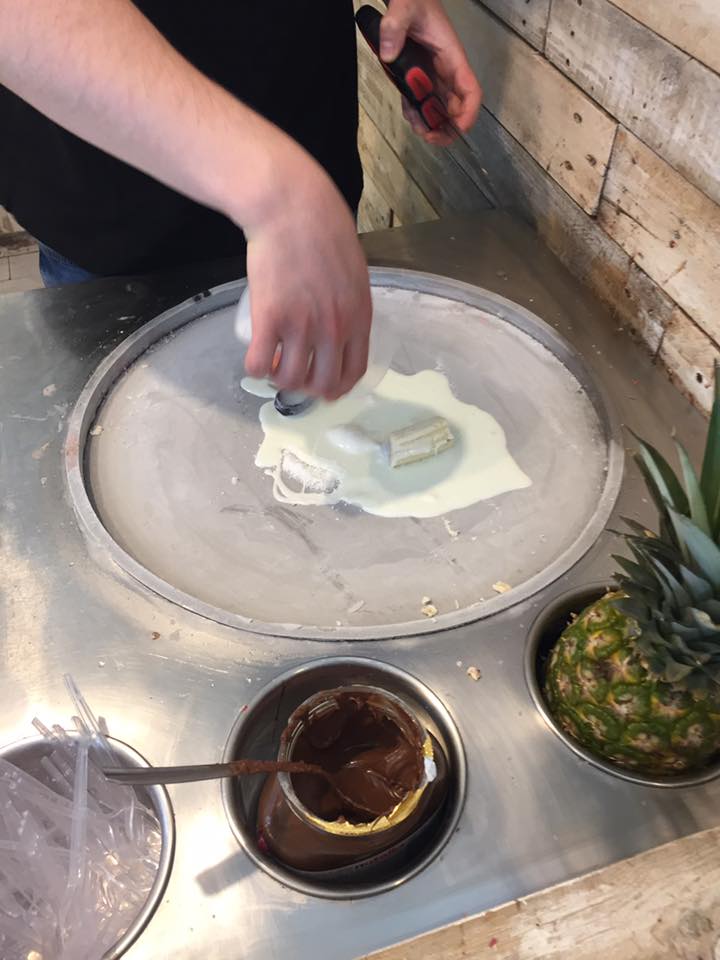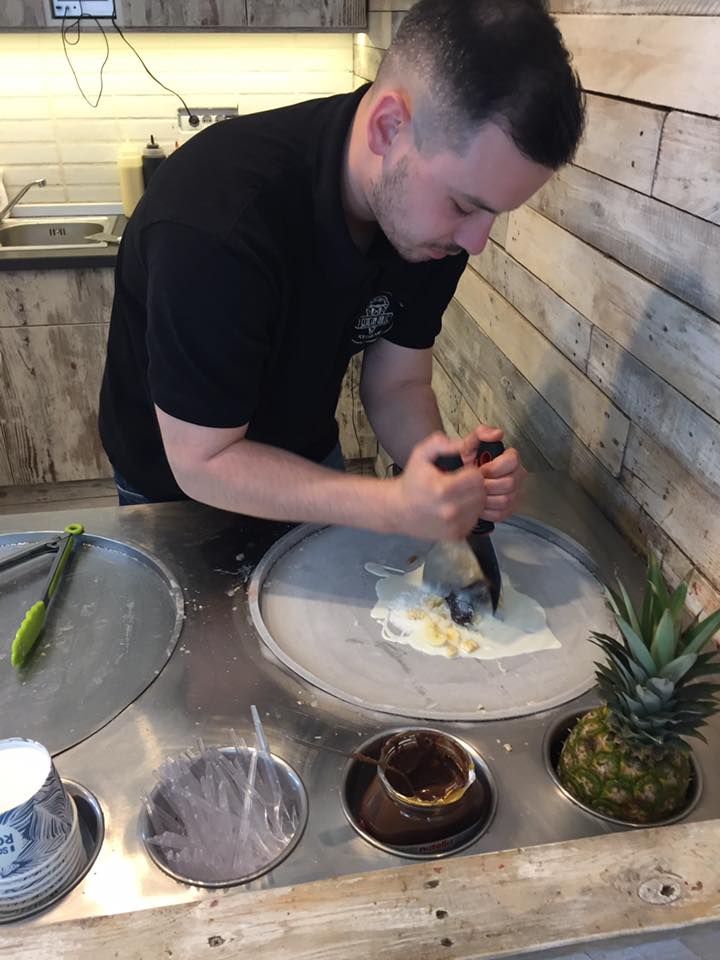 Check out this video!
Voila!
When he proudly handed me my rolls of freshly made ice cream in a cup, He told me is was "Thailandian ice ream made the Serbian way with Serbian ingredients."
He said it cost 300 dinars and I pulled out a 200 dinar note and a 100 dinar note, colorful bills so new to me that they looked like play money.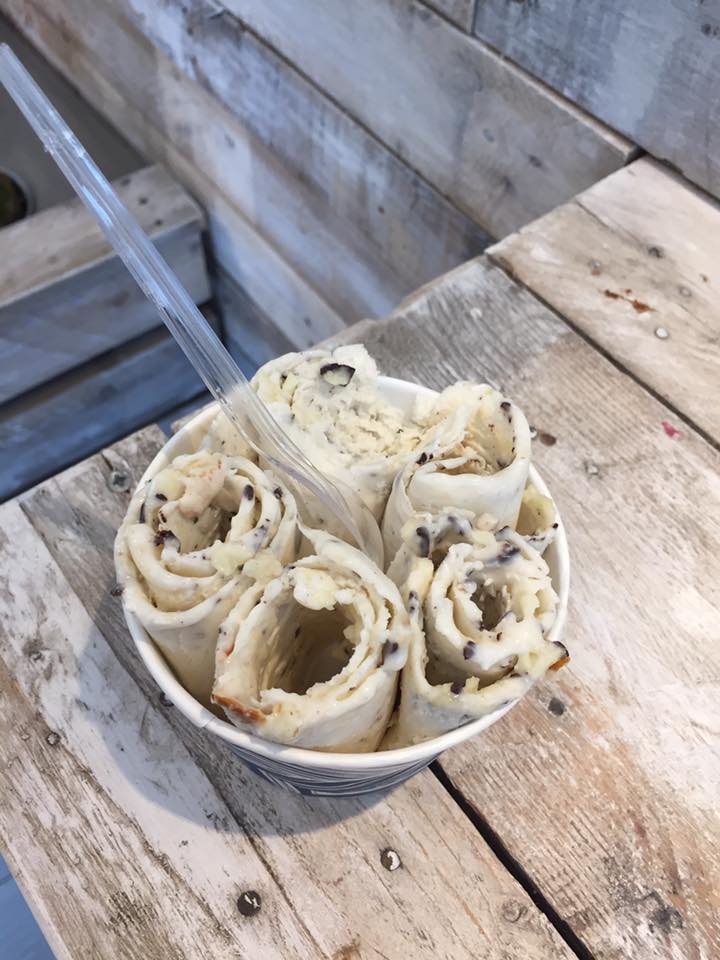 We chatted about where I was from and how long I was in Serbia and what I should see. I told him I was blogging my trip and he asked me to send him a link to my post. Then he gave me a free candy bar which I tucked in my purse for the next time I needed a chocolate fix.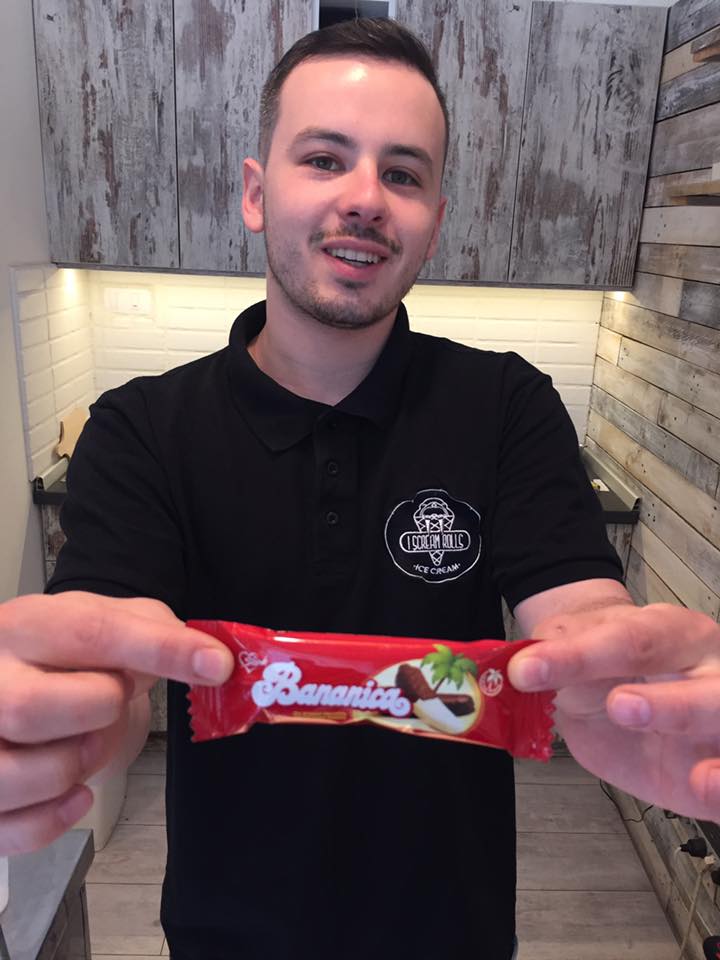 I guess I'd had my adventure after all.
P.S. The ice cream was delicious and unlike any I'd ever had.