We are at the heart of this retreat–the time when the writing gets real and down to the bone, when true words are spoken, when risks are taken, bonds formed, when we become a living, breathing creative community.
We are tracking each other hour by hour. Laughing and crying and hiking and eating and writing together. Every day, I see breakthroughs and breakdowns. Everywhere I walk, people are writing and reading, engaged and connected. And when they're not writing and reading, they're outdoors, savoring the glorious sunny/windy majesty of Bolinas, nature absorbing the intensity of the words that have been written and spoken.
At this point in the retreat we are ending our focus on uncertainty. Every transformation includes a time of uncertainty, limbo, unsteady ground. We leave behind the known, the safe, the familiar and we open the door to the unknown. Yesterday we wrote to the prompt, "I am standing on the edge of….."
And tonight our first prompt was, "When I stop searching for exits." And the truth couldn't pour out fast enough on the page. We wrote, we gathered, we breathed, we listened as one writer after another slayed us with the truth of her words.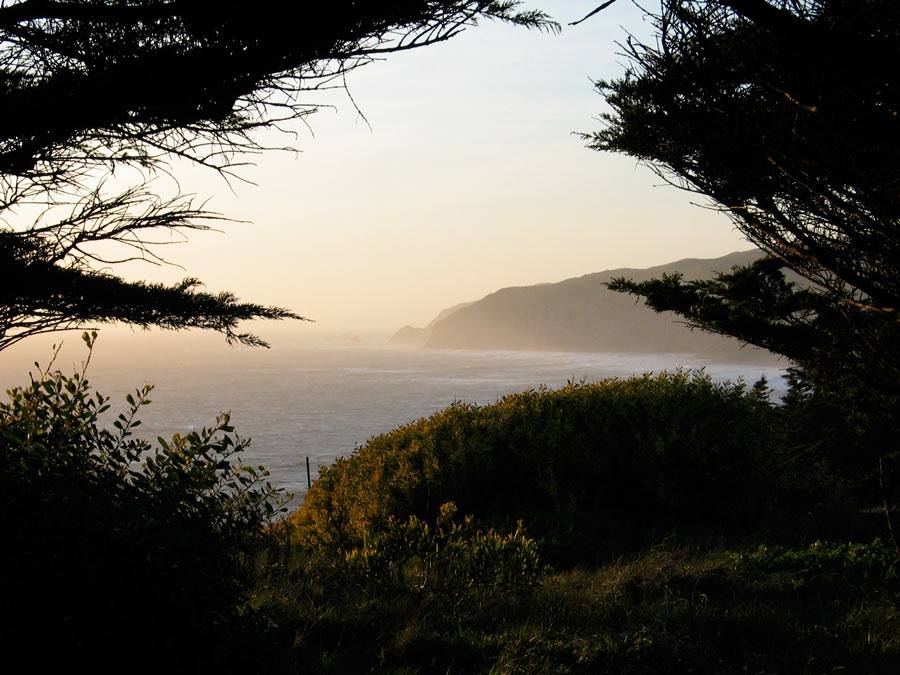 Nancy and David and I read lots of poetry today, because poetry is often the best expression of the liminal state of uncertainty. One of the pieces we shared was this edited version of Maya Stein's This is Not the Time:
"Because it is gray outside and I can tell the sky wants to break, inside I am breaking, too, untethering the last bits from their hiding place, unlocking the final doors, peeling the skin from every sadness I lost myself to.
"I am falling toward an unfamiliar trust, an unexpected faith that it is possible to be held so gently you can hear your cells breathing their relief. Even if this is not the time to explain how, I will only say that it does happen, that it is real, that such a moment is waiting for you, quiet and patient, waiting until you finish your exhausted laps, your mad dashes, your fury, your magnificently unruly longing, the credos you call out to keep yourself safe from whatever pain you think is coming, your hasty disappearance from the table, your plunging fist into the wall, your journals scribbling their resolve to keep the seams from tearing, this moment is waiting for your eyes to stop searching for exit signs and your body to stop bristling from the cold, waiting until your lungs flag from the effort of running away.
"I don't know when it will come, only that it will, that there is a place when the weight of holding back and staying safe is too much to bear. There is something in our flesh, despite our best efforts to contain it, begging for release.
"Even if this is not the time, there is a time, and it is neither mirage nor miracle but the exquisite intelligence of incremental molecules finding themselves in the clutter and cacophony of so much dust–because they will, they will, not because we've earned it or won the big prize but because this is what they yearn for, that falling and finding, that letting go and letting in.
"So even if this is not the time, there will be, there will, and then it will make a ludicrous kind of sense. You'll see how far you had to come, how far you've had to go, how much you had to break to break free. You will see the wisdom of those laps, that lurch, that fury, that fist, those aching scribbles, how you needed every last one of them like words need their syllables first, like love needs its heartbreak first, like leaves need the roots first to let them go. This is not the time, but it's coming, I promise you. It's coming."
We are now in the heart of this retreat. The most tender, sacred time. The time when change comes from the depths. The time when patterns break. When choices are made. When we uplift each other and break each other's hearts.
Laura will be offering this retreat twice in the next year. Click here to visit the retreat page.