Doesn't this couple look happy? Aren't they beautiful? Well, I'm not.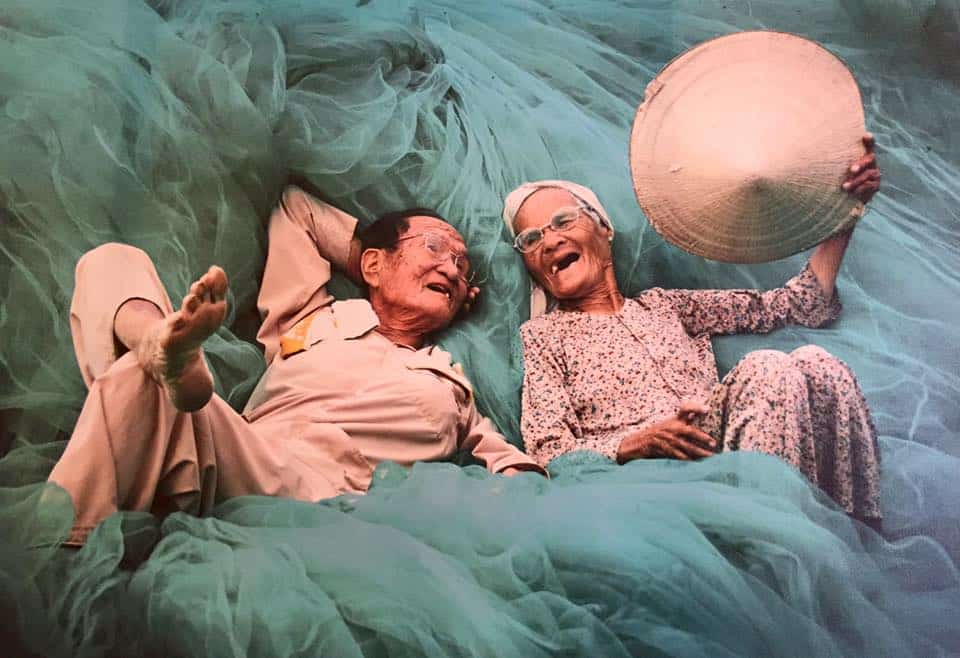 Apparently while Joanie and I have been savoring the sounds, smells (yes, even those) and tastes of Vietnam, the weather gods have been interfering with my son Eli's arrival in Vietnam. He's stuck in the Midwest–ice and snow.
After all these years of leading Write, Travel, Transform trips, Eli said he wanted to come along on this one, along with his sister–and of course my partner Karyn and I were thrilled that our two youngest kids would be joining us.
Both Eli and Eliza go to college in Boston. Eliza's a sophomore and Eli's midway through a year of grad school. Living in California, we're always jonesing to see them more, so the idea of traveling with our young adult kids in Vietnam, Laos and Cambodia put us in parental heaven.
Eliza flew home to California last week for the holidays and is departing on a flight tonight from SFO with Karyn and some of our workshop participants. But Eli didn't come home for Christmas. He had the chance to meet his girlfriend's extended family in Indiana and he wanted to do that. So his plan was to fly out to San Francisco early this morning from Indiana, (or was that supposed to be yesterday morning…after crossing the international date line, it's so hard to tell!) transfer in Chicago, then get to San Francisco in time to join their 1 AM flight to Taipei.
I'd always been worried about that connection–winter, Chicago, snow, you know? But Eli had 12 hours of wiggle room before making the connection in San Francisco to catch the EVA air flight. He wanted to visit Jenny's family AND come with us to Vietnam, so that was the plan. I crossed my fingers and tried not to think about it…too much.
I woke up this morning to the news that Eli's flight had been canceled. Along with a few hundred others. Thousands of stranded travelers. There is no way Eli is making it to tonight's flight in San Francisco. In fact, once we started texting back and forth this morning, it became clear that he wasn't going to be able to make it to San Francisco until December 31st, three days from now, which puts him in Hanoi on the 2nd of January (adding in the day you lose in transit).
ARE YOU F$&KING KIDDING ME@!??
Note to self: Breathe in, breathe out. Breathe in, breathe out. Let go, Laura. Remember Joanie and her missing passport at the San Francisco airport? Just channel Joanie.
Remember, Eli's the one having to deal with all of this. All you have do is get up and enjoy another sumptuous breakfast hotel in Hanoi and decide whether you're going to the Ho Chi Minh museum today.
In the scheme of life, nothing terrible has happened. It's a missed flight. A change in plans. Eventually, Eli will meet us. And this will just be a good travel story…someday.
Right now, Eli is driving back to Indiana on three hours sleep. When I asked him if I could tell this story on my blog, he said yes. In fact, he offered to supply me with some of the details of just what he's been through for the past 12 hours.
Here is Eli's account:
Wake up at 5:00 AM, brush teeth, pack. Leave with Jenny and Mark (Jenny's dad) for the airport at 5:45. Eat four tangerines in the car.
Arrive at airport at 6:15. It's tiny — one terminal. The short-term parking was $2/hour. I decide not to check my bag (it's borderline carry-on/check size). This was a good idea. Jenny and Mark accompanied me in, and waved at me through security. I take four tangerines with me.
Arrive at my gate at 7:15, in time for my 8:45 flight.
Board plane at 8:30 (we're fifteen minutes late). The flight is half an hour long. Plenty of time to make my 12:15 connection! Look, there's a text message! My connecting flight is delayed an hour! (it now leaves at 12:24. Cool, makes up for the delay on this end.)
… half an hour later: announcement that they have run out of de-freeze fluid. Meanwhile, my connection has been pushed back to 1:00. I tell Jenny that my flight is delayed. She says if I get stuck they can come collect me again. Eat my four tangerines.
… half an hour later. "We regret to inform you that we won't be taking off; the rain is coming down and freezing faster than the antifreeze can unfreeze it. We'll leave in an hour or so". (Still have time to make my connection: At this rate we'll leave at 10:00, and get in at 10:30.)
… After sitting around for an hour: Looks like I'm going to miss my connection. Better wait in the enormous rebooking line. Actually, that's huge. I'll try calling first. United rep on the phone says I'm totally sunk. It's not happening. Can't do it. Earliest I can get you to SF is 2:00 AM. I decide to try the gate attendant.
It's now around 1:00. I have made it to the front of the line. I have a flight out of SFO at 4:00 PM on American. We're scheduled to begin boarding at 2:00. All is right in the world. I spend the next hour and a half making an origami flower for the gate attendant.
2:30: Gate attendant comes over. Thanks me for the lovely flower. "But I'm sorry, I don't have good news." Goes to intercom: "We will now begin boarding at 3:00; the weather in Chicago is un-landable" (It's more or less fine where we are, in South Bend). I can still make it. Barely.
3:30: "This flight won't be leaving until at least 7:00 PM."
At this point I give up. I tell Jenny to please come get me. I get an Amtrak ticket for midnight. It will get me within an hour's drive of them at 1:45 AM, at which point they'll pick me up.
I spend another two hours in line to get my flight changed again — I can't just change it online, because my flight isn't officially cancelled.
5:30: Call and get my Eva air flight changed.
6:30: Realize I haven't eaten anything except tangerines all day. Go get real food.
7:00: Realize that the Amtrak station isn't in the airport, it's three miles away. Mark says he'll get me a cab. I do not have to walk three miles in the snow. And, I didn't need to spend another hour in a different line to get my checked bag, unlike those poor f**kers who check bags.
And that was approximately my day…Eli
Now he's on his way back to South Bend.
Will he make it in time to get on our boat cruise on Ha Long Bay? We leave early the morning of the 2nd, so probably not. I have no idea what we can do to help him at this end, but I have a new project to work on–getting Eli to us.
I guess he's going to get to know Jenny's relatives a lot better than he thought. But we will miss him in Hanoi!
Pray to the travel Gods for us.