Before I went to bed last night, I decided to email Dr. Wayan and invite her to be a part of the online Roadmap community since she's so enthusiastic about writing. This is what I sent her:
Dear Dr. Wayan,

It was such a pleasure to meet you. I felt so cared for and also, I loved your spirit and your energy—and your smile. You were so warm and welcoming.

I send out by email writing prompts (suggestions for writing) every week, and there's an online community where people can post their writing if they like.

In any case, I thought you might enjoy the writing prompts. If you want to get them every Tuesday morning (might be Wednesday morning in Bali), all you have to do is sign up in the top right corner. It's all free.

Here's the link:

https://lauradavis.net/roadmap

If you want to see what people are writing in response to the prompts, you can click on the little comments button.

I'd love to stay in touch.

Warmly,

Laura
And this is what I got back from her, shortly afterwards:
Dear Laura Davis

Thank you very much for your attention,I think when I receive your email,I still imagine your face and your smile also…so I am glad to see you,very lucky to me can understand how strong spirit of writing. I am agree with you. That's one of therapy for everyone. Of course I will follow you in this activity, all will improve our spirit and feeling also our life…very very nice. Okey dear you are be a inspiration to me,everytime I wish write what do I feel, hope it will be become a habbit….okey my best friend,good night and have a nice dream to you.

Warms regards with love
Putu suati

Sent from my BlackBerry® smartphone from Sinyal Bagus XL, Nyambung Teruuusss…!
I love that email—especially the last line, "sent from my BlackBerry."
I certainly hope I see Dr. Wayan again.
Last night, I also tried to stay awake until the last (largest) group of travelers arrived, but they were delayed and I fell asleep. But at long last, they pulled up in two vans—one for them, one for their luggage. We got everyone settled in their rooms. Many of them couldn't see where we were until morning—what an amazing view to wake up to!
After morning yoga, here was our first breakfast as a group: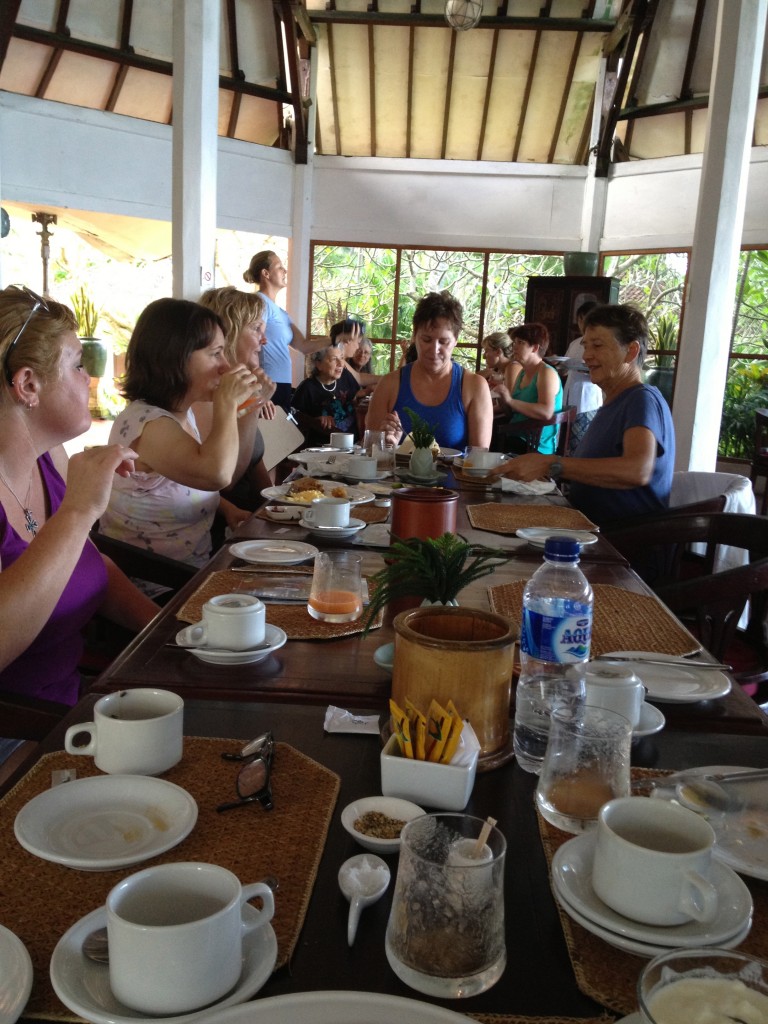 Our first activity for those who wanted to go was a snorkeling trip. Here's the crew helping everyone on board.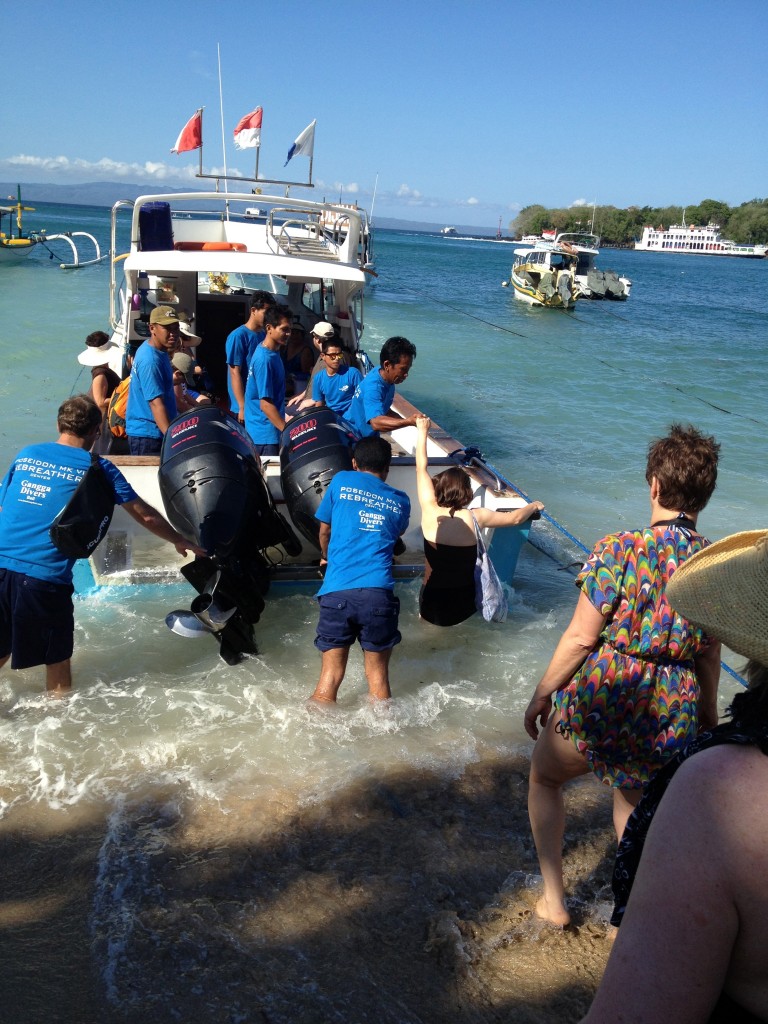 Here we are heading out: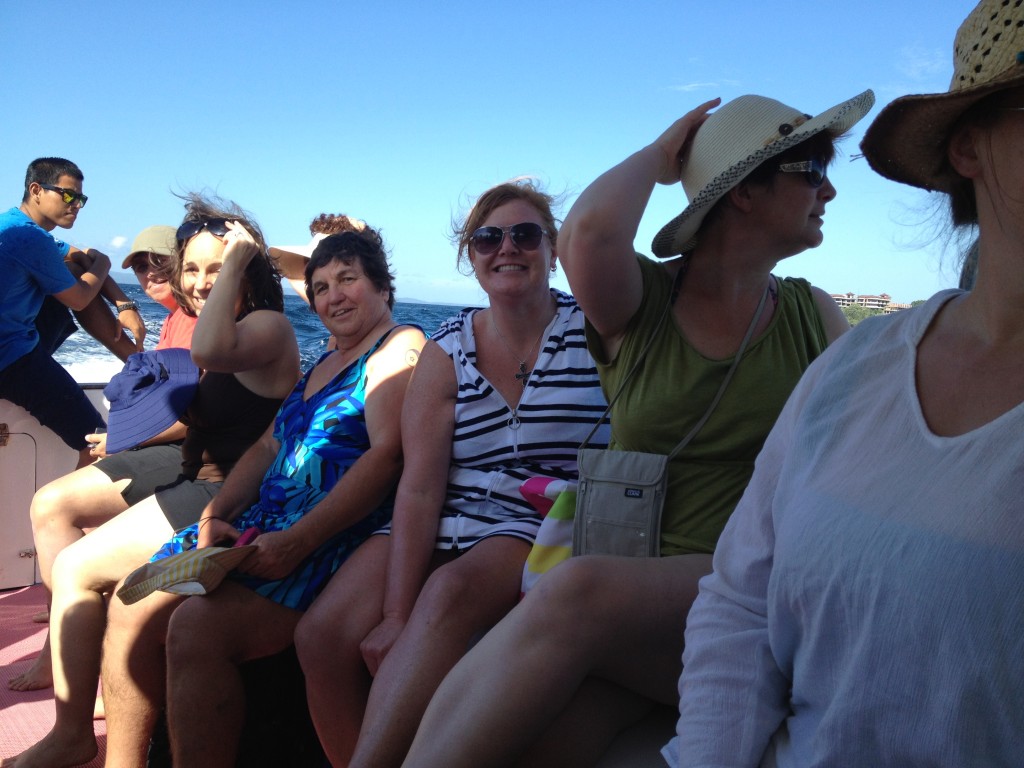 Here's I am with "mask face." See the squeeze lines on my forehead?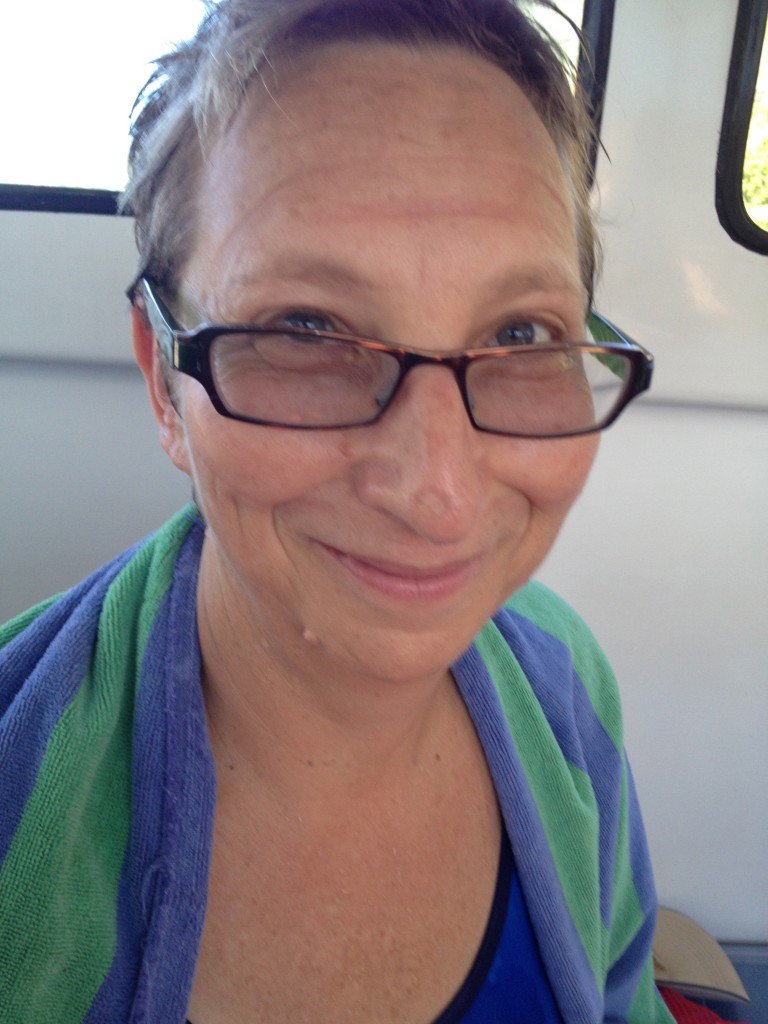 After lunch, we had our inaugural writing group. One of the first things I talked about was taking a risk everyday, doing one thing out of your comfort zone. I stressed that it didn't have to be something others would necessarily define or recognize as courageous; it just had to feel that way to them. Examples might include: starting a conversation with a Balinese person and learning something personal about his/her life, eating a food you've never tasted before, not wearing makeup if you never leave the house without it, doing something physical you usually would not usually do, reading your writing out loud in class….and so on. As one my students here, Cathy Brennan put it, "We're building that courage muscle."
The first homework I gave the group was: Every day I want you to find something you find beautiful each day during your stay and write one or two paragraphs describing it vividly. We did this for the first time in class. I sent everyone out with their notebook looking for something they found beautiful on the property. A half hour later, people came back and shared their pieces. I call this a daily gratitude practice in writing. Taking the time to notice and record beauty.
The other homework I gave was to eat a food they'd never eaten before—and to keep their notebook nearby to record their impressions. I told them they'd have plenty of opportunities to practice, since for dinner, we were walking a mile down the road to the Gedong Gahdhi Ashram for a wonderful mulit-course vegetarian meal, served specially for us, right on the ocean with some of the best views in Candidasa.
Here's some of what we saw on our walk through town:
Since so few children wear helmets here, this purple and white helmet, probably sized for a four year old really caught my fancy.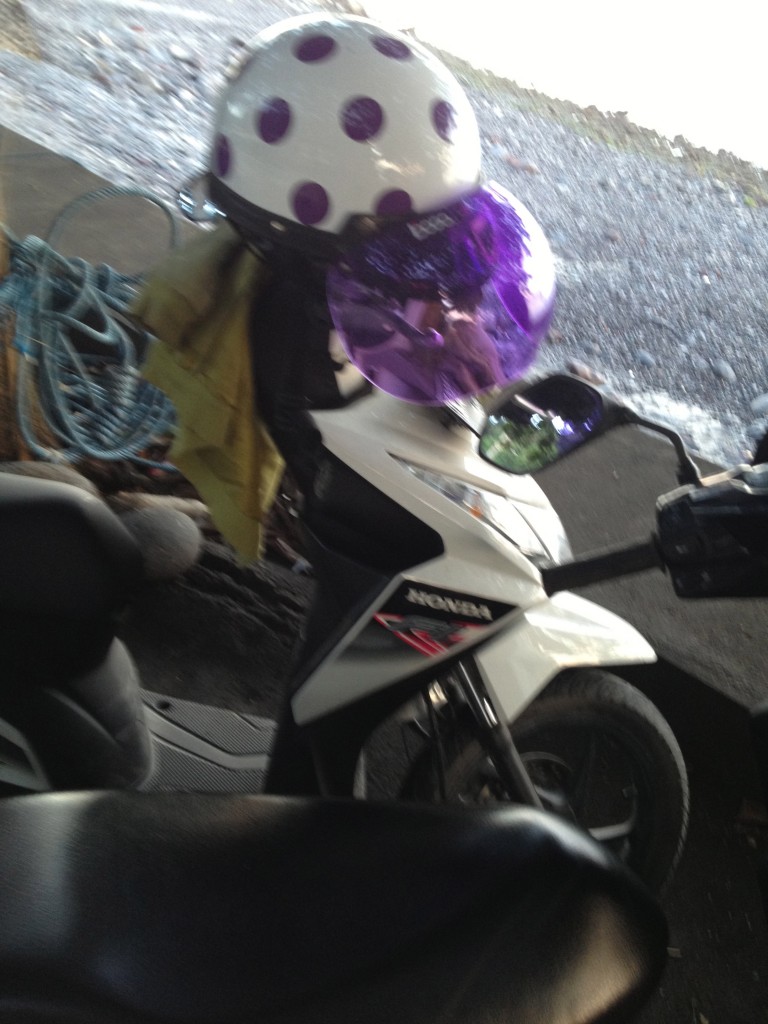 This is typical of the reason you have to look down when you walk—you can never expect smooth, flat sidewalks. Anything goes!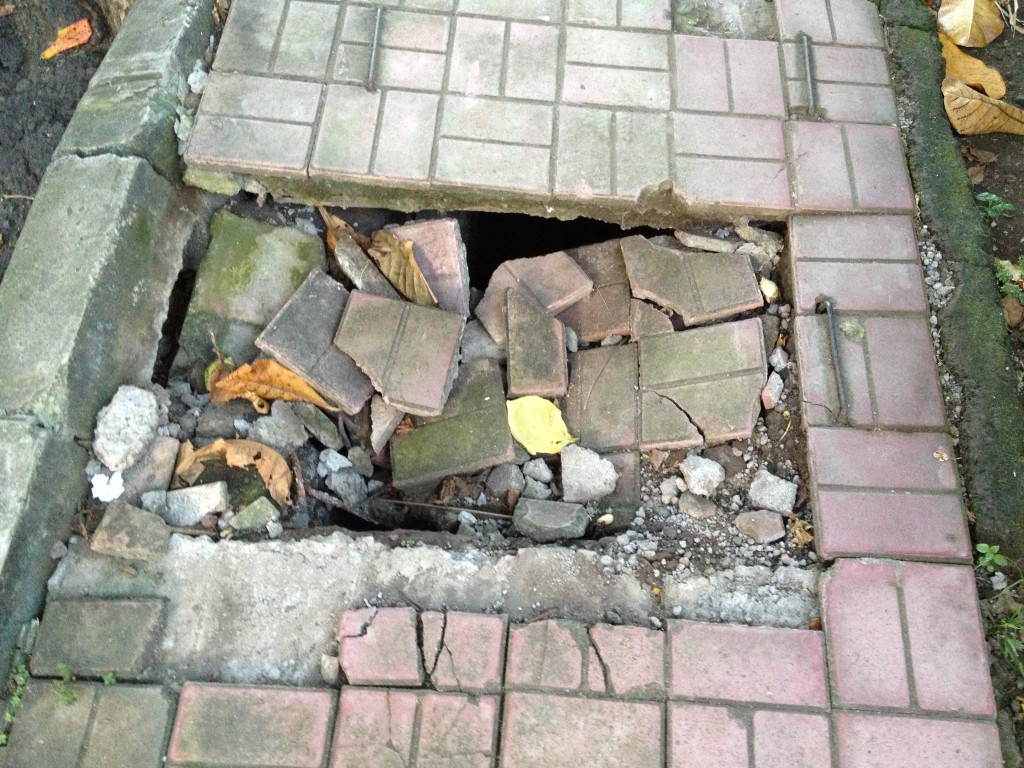 I thought this shrine was amazing: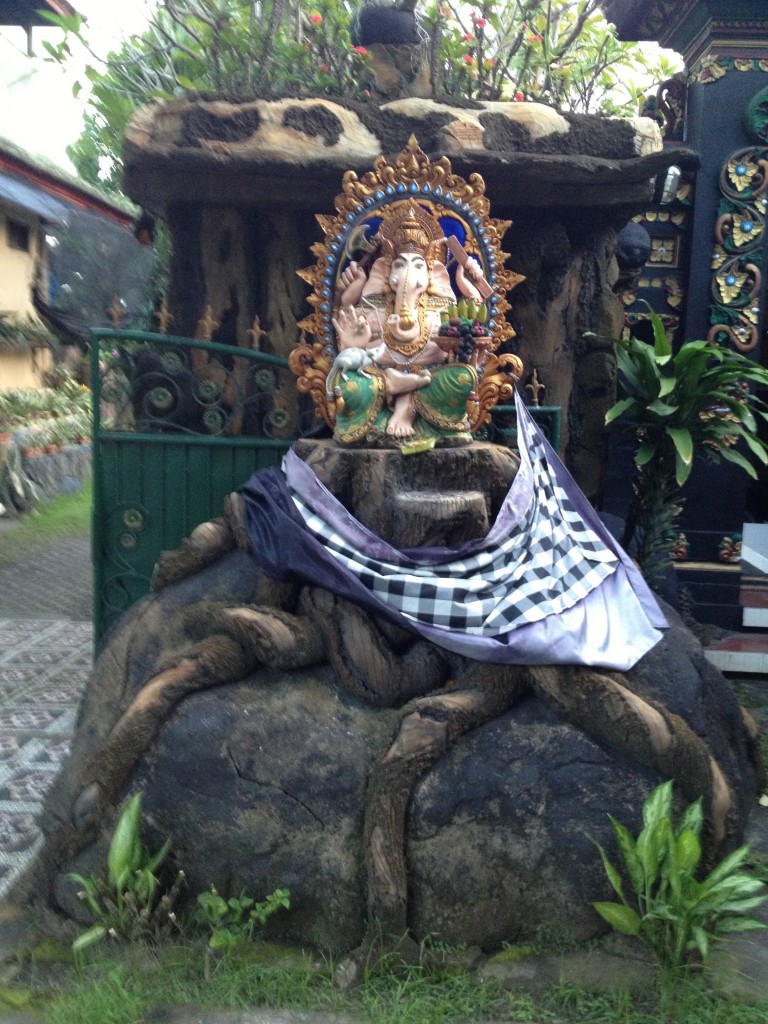 And this roadside shrine, Judy told us, was a statue of Haritri, the goddess of children and fertility. Haritri, so the story goes, was an ogress who used to eat children. But then she converted to Buddhism and became so devoted that she was made the goddess of children. Infertile couples, Judy told us, regularly come to pray and make offerings at this statue.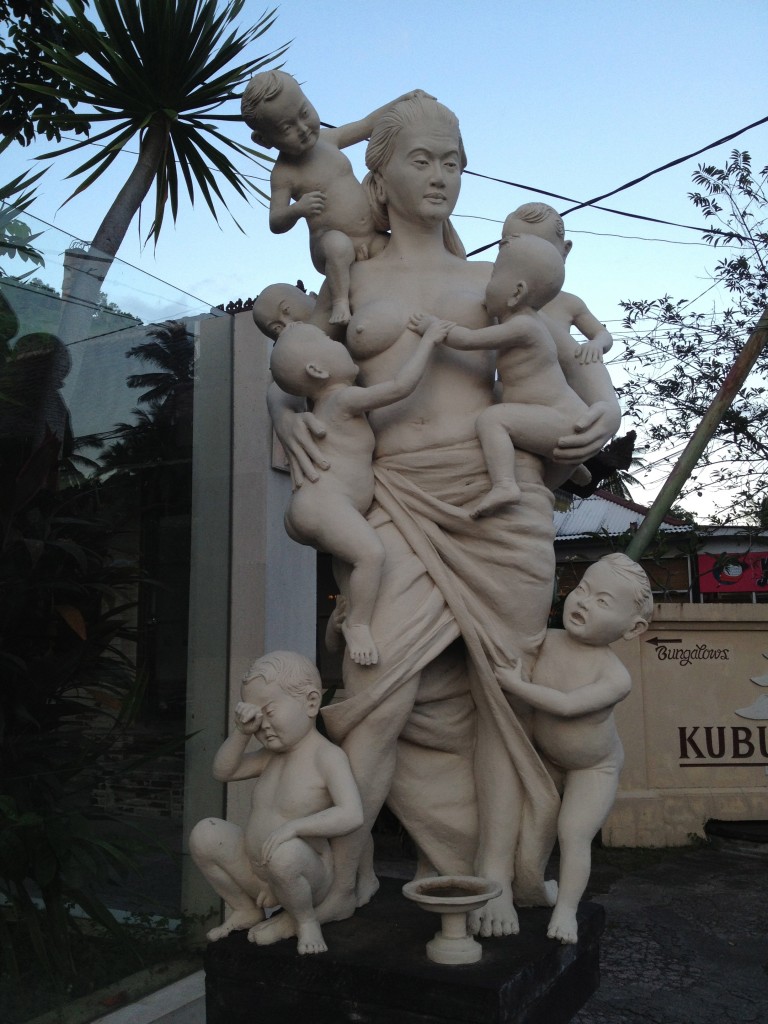 Finally we reached the ashram:
This ashram predated all the development in Candidasa. It was here before all the hotels and guest houses and restaurants. And it's run based on the principles of Mahatma Gandhi.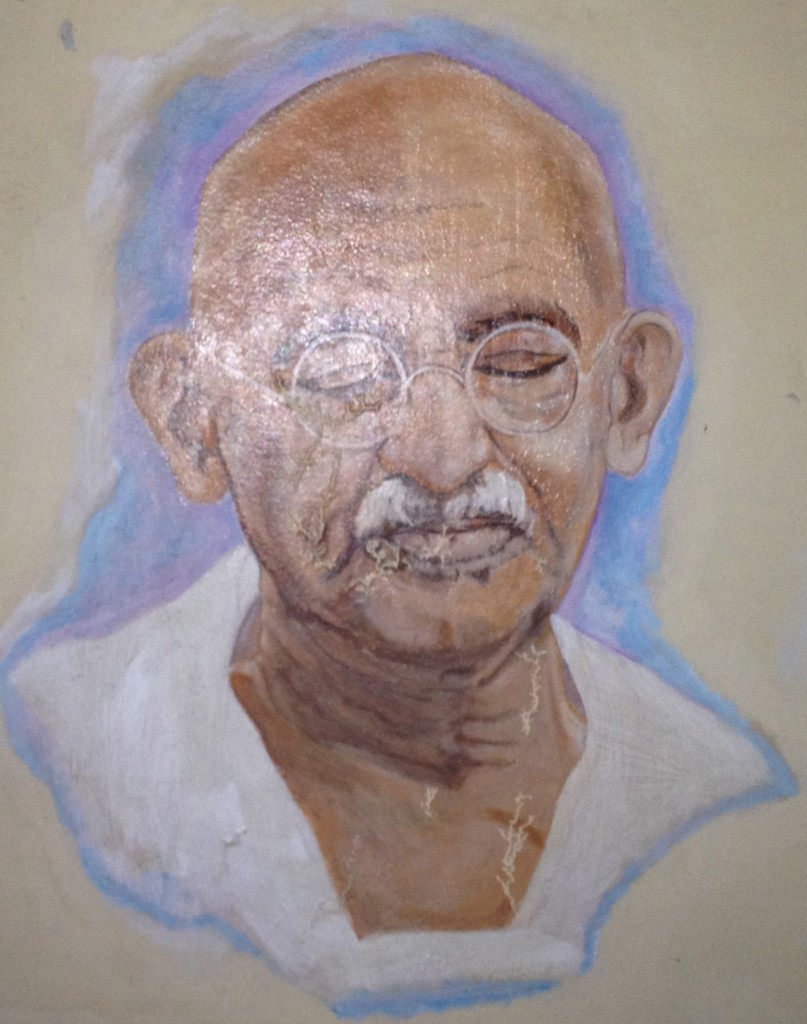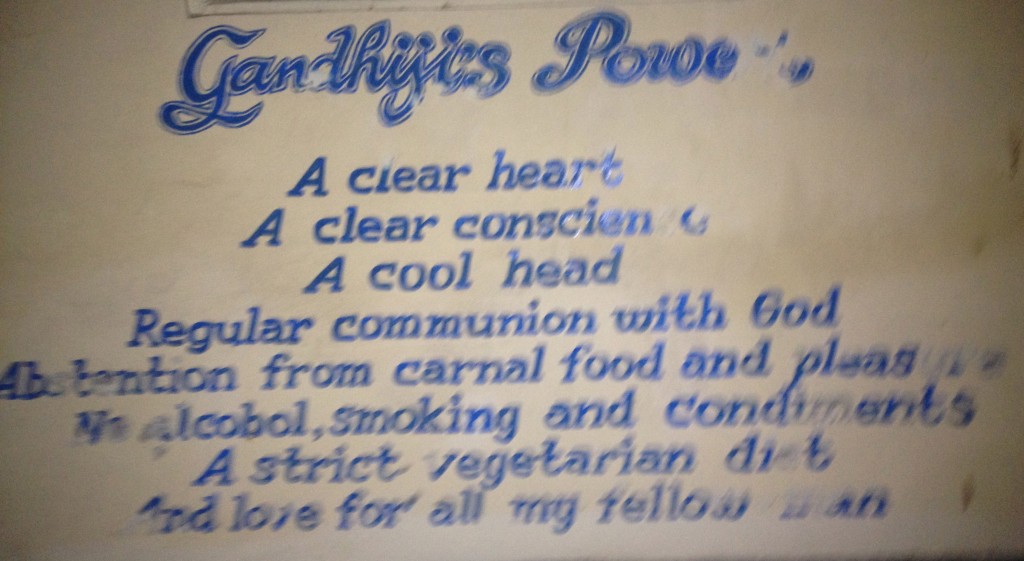 It was dusk when we arrived and we want out to see some spectacular views before our dinner: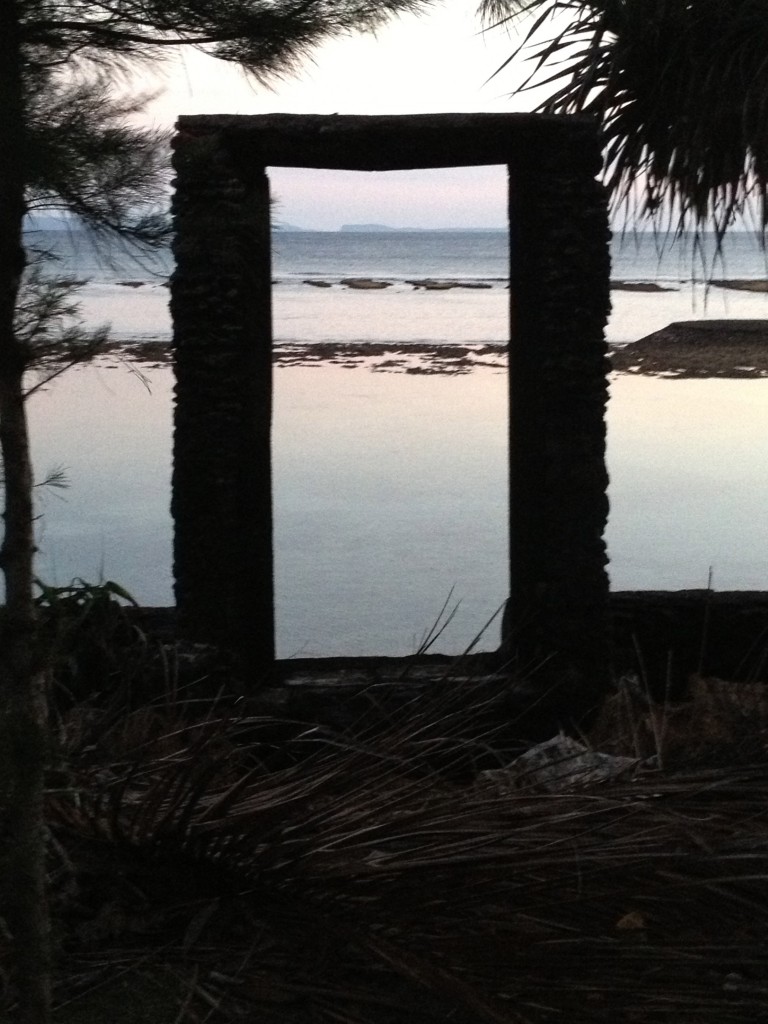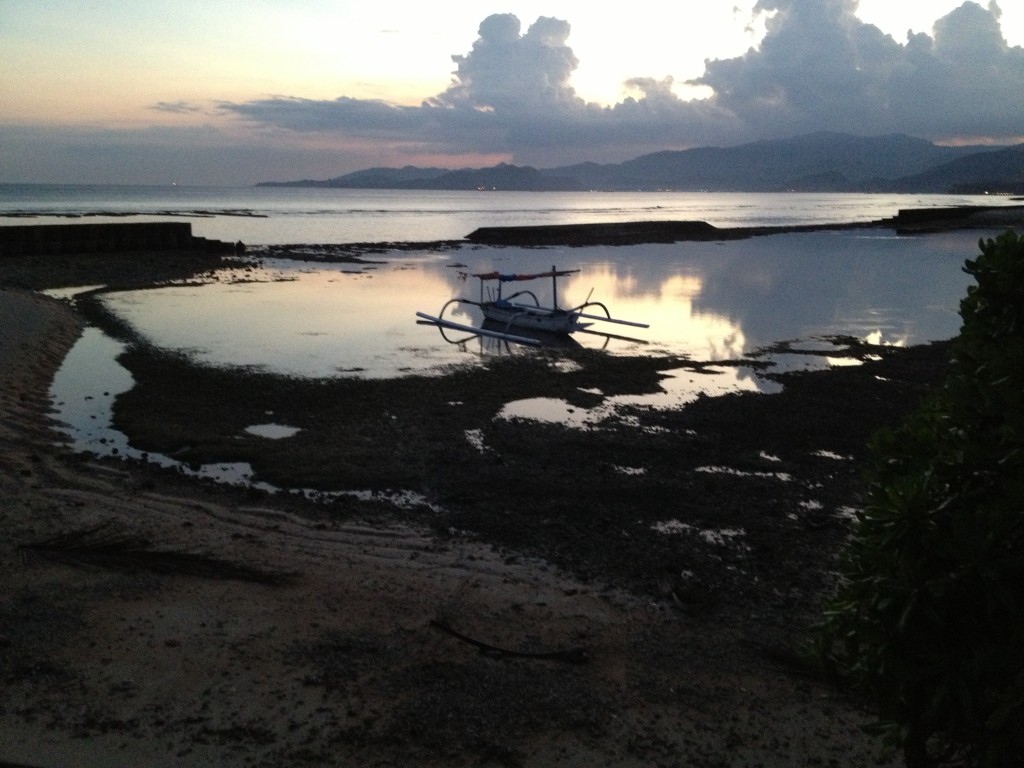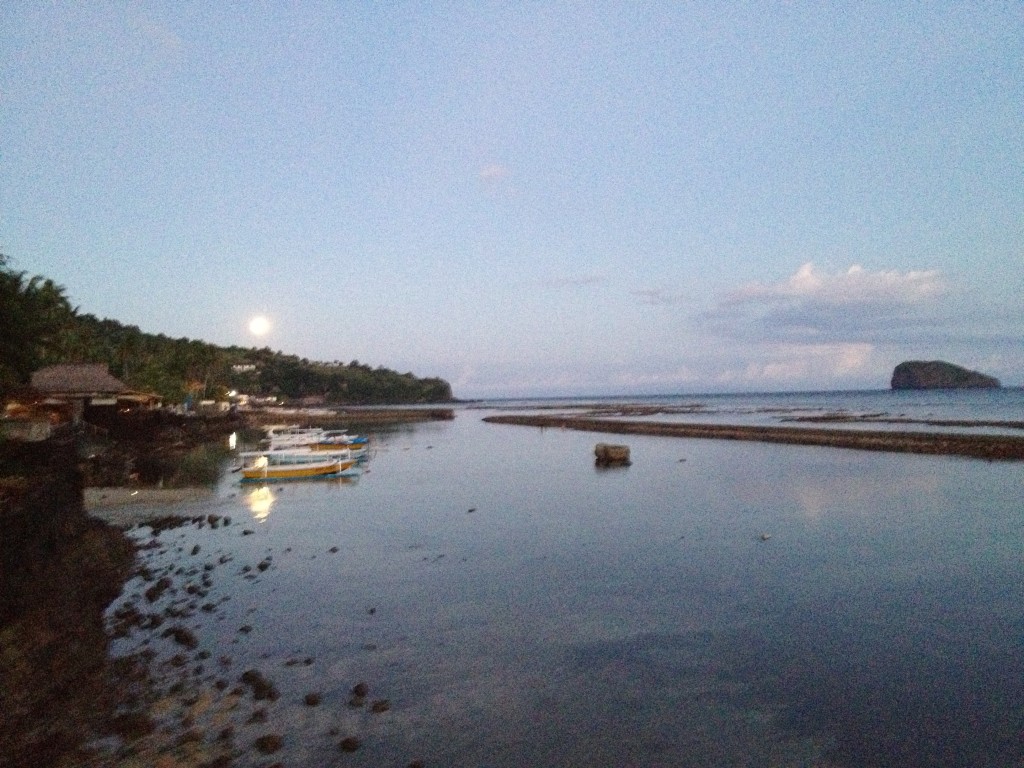 This ashram has a free kindergarten for local children. But boy, I don't think I'd want to go down this slide!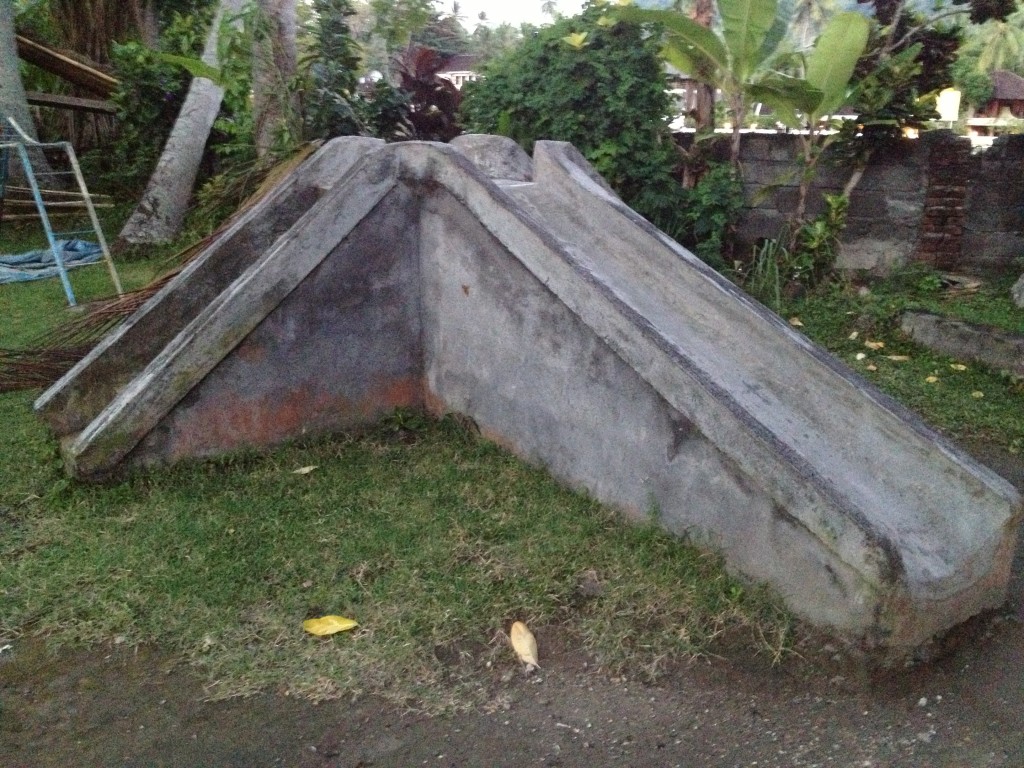 The people from the ashram set out a large red felt rectangle and we sat on pillows around its perimeter. A huge table of delicacies was prepared for us. Before we ate, several young people and one older women led us in an Om and then chanted a prayer before the meal.
The moon was full and rising, the dusk was a deepish purple heading toward black. The food was unfamiliar and wonderful. And they kept bringing around more until we just had to say no.
Walking home, people peeled off to buy ice cream and have a night-time adventure. But Karyn and I were both tired and we stayed with the group returning to the hotel. I wanted to take a shower since I was covered with sweat, but our water was out. I went out to report it, and there was a young Balinese guy repairing the pipes right in from of our room.
I put on my bathing suit and jumped into the infinity pool instead. It was lit with light blue turquoise lighting and the full moon had risen into the sky. Some of the students were sitting by the side of the pool talking and bonding. It was the end of our first full day as a group. I could tell this was going to be a good trip.
P.S. No wifi at the hotel for the past 36 hours. That's why this post has taken so long to get to you. And this hotel has the best wifi of the three we're staying in.