Walking the beach this morning, the day was pure sunny and clear. Striding through the water at the edge of the ocean was completely comfortable temperature-wise—not chilly like Santa Cruz and not tropical like Hawaii.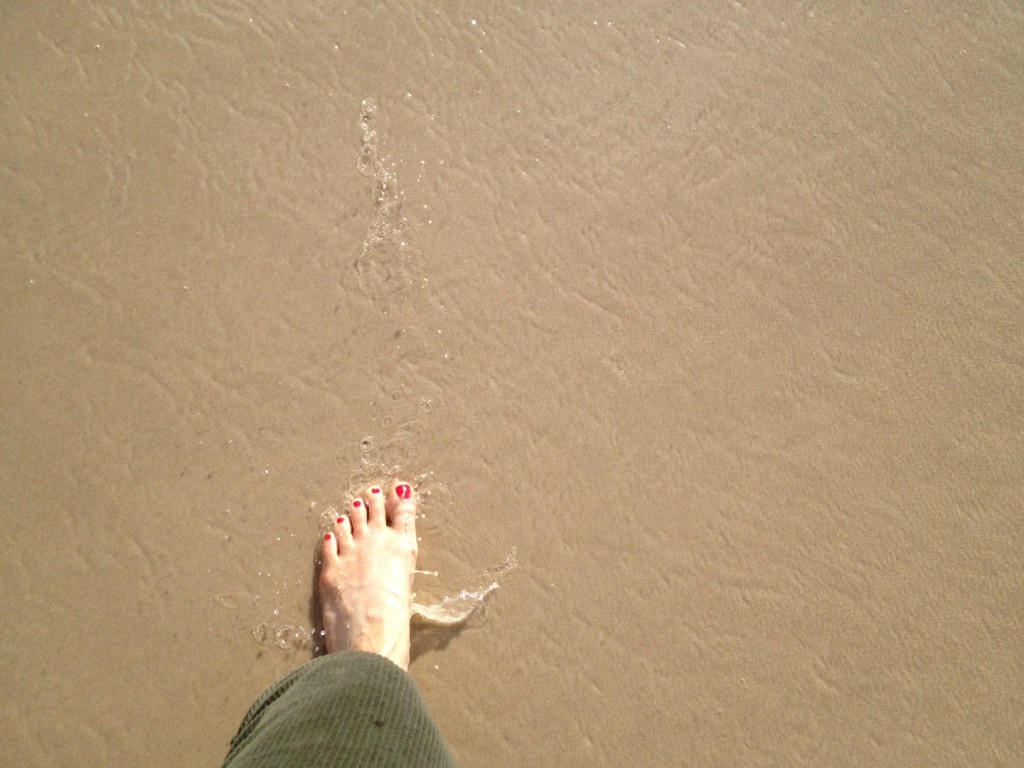 The cloud formations were once again amazing. Allison says she's been walking here every day for four years and every day, the sky is different. It's hot today….I'm wearing pants just below the knee and a tank top and am leaving my sweatshirt at home for our repeat bike ride. And this is winter. All the rain we've had, she said, is not typical. But today's clear, sunny expansive weather is.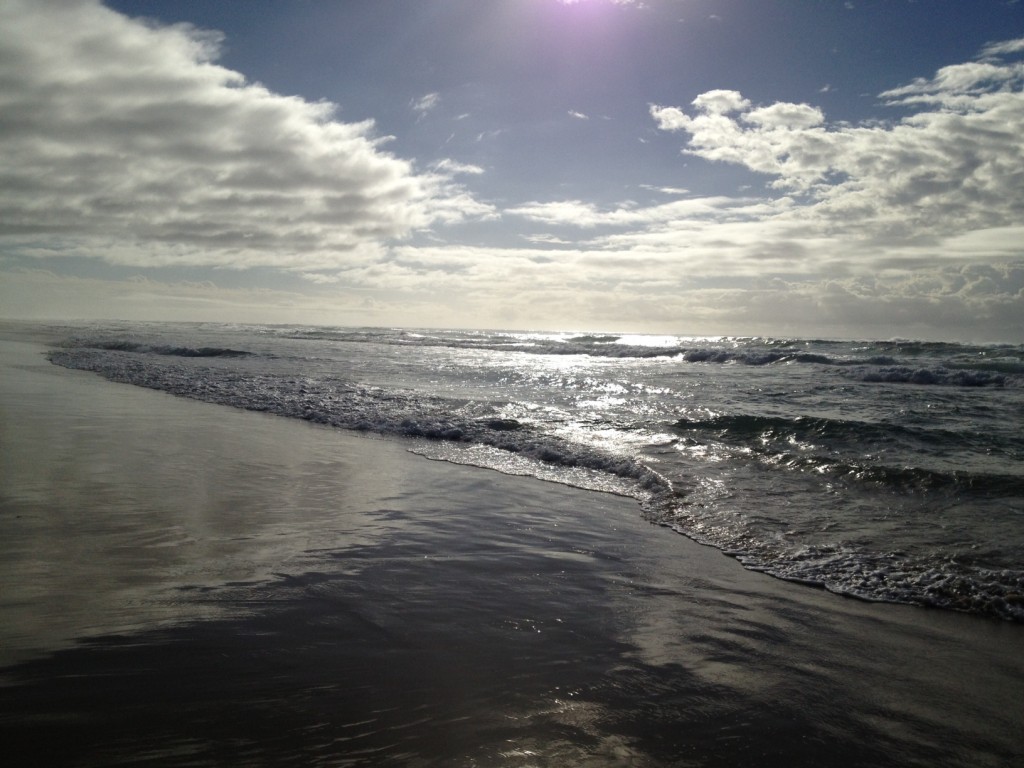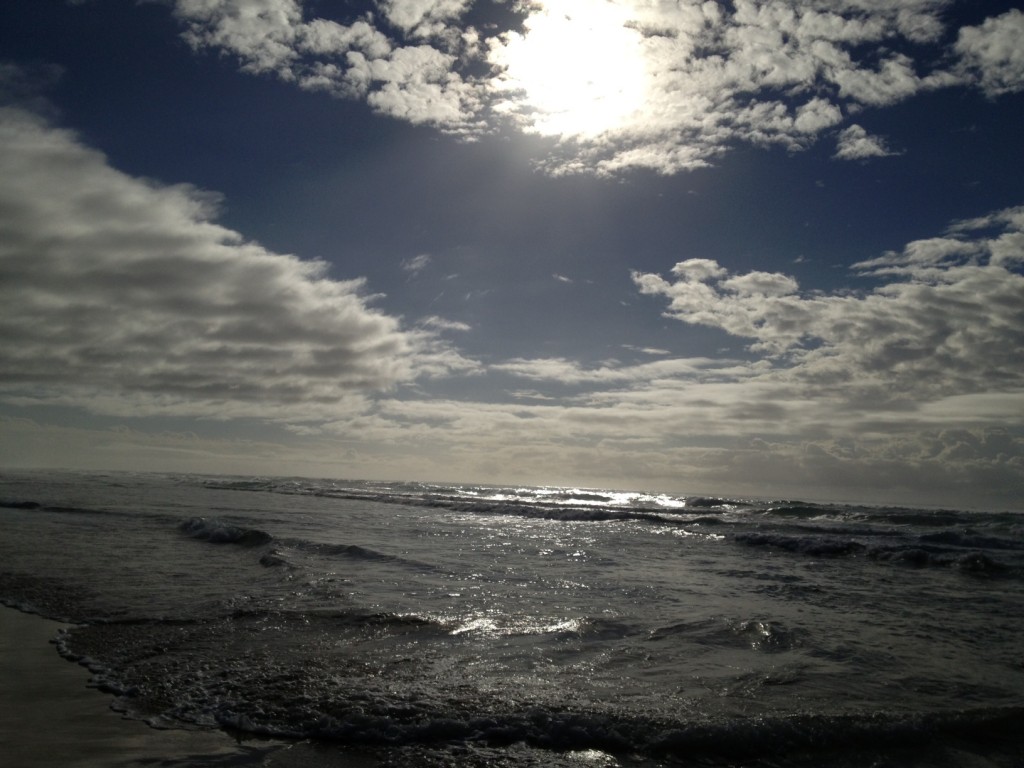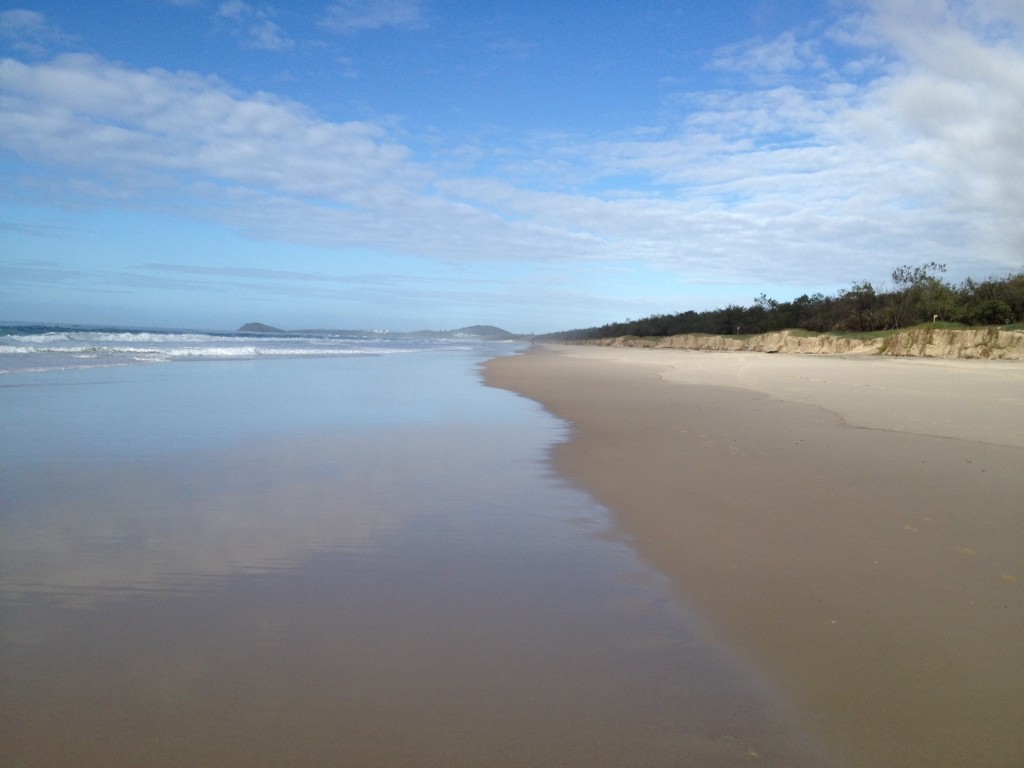 Allison says this area of Australia is the most like California; I feel that, too. Next time I visit, I want to go to some places that feel truly different. But this has been a good way to get my feet wet in this country.
After our walk on the beach, we did an abbreviated version of yesterday's bike ride. Kevin's bike is wonderful and easy to ride, but the seat is definitely made for a six-foot tall man. As soon as I lowered myself onto the seat, it really hurt, but I toughed it out. If I were to ride his bike for many more days, I'd be building up a good set of vaginal calluses.
In the afternoon, I had the great fortune to have a long bodywork/energy healing session with Buddita, a healer/masseuse highly recommend by Allison and Kevin. Buddita is 64-year-old local who has been talking to spirits and healing people since she was a little girl. She's apprenticed with Gerry Bostock, a Bundjalung Elder and Aboriginal energy healer.
Buddita's massage table was outside in the sun and she worked on me with hot macadamia nut oil, so I had heat penetrating my body in two ways.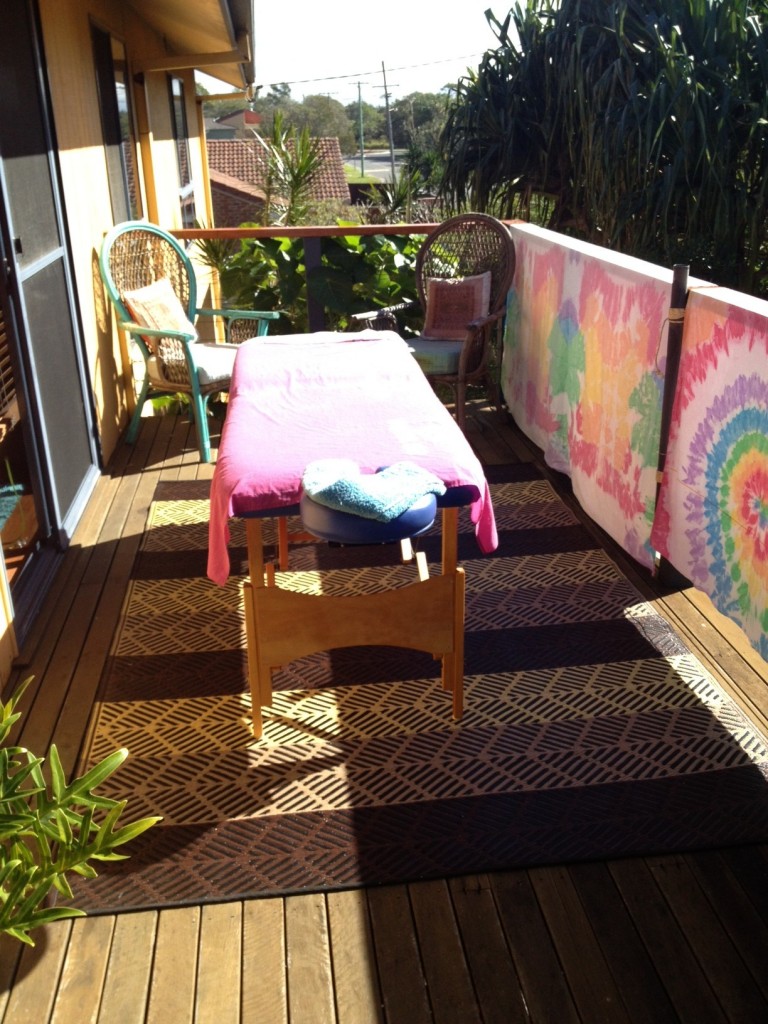 Before she worked on me, Buddita told me all about the junjarri, the little hairy men, the spirits in the trees. She had me take a picture of her and said the spirits might show up in the trees. Can you see them?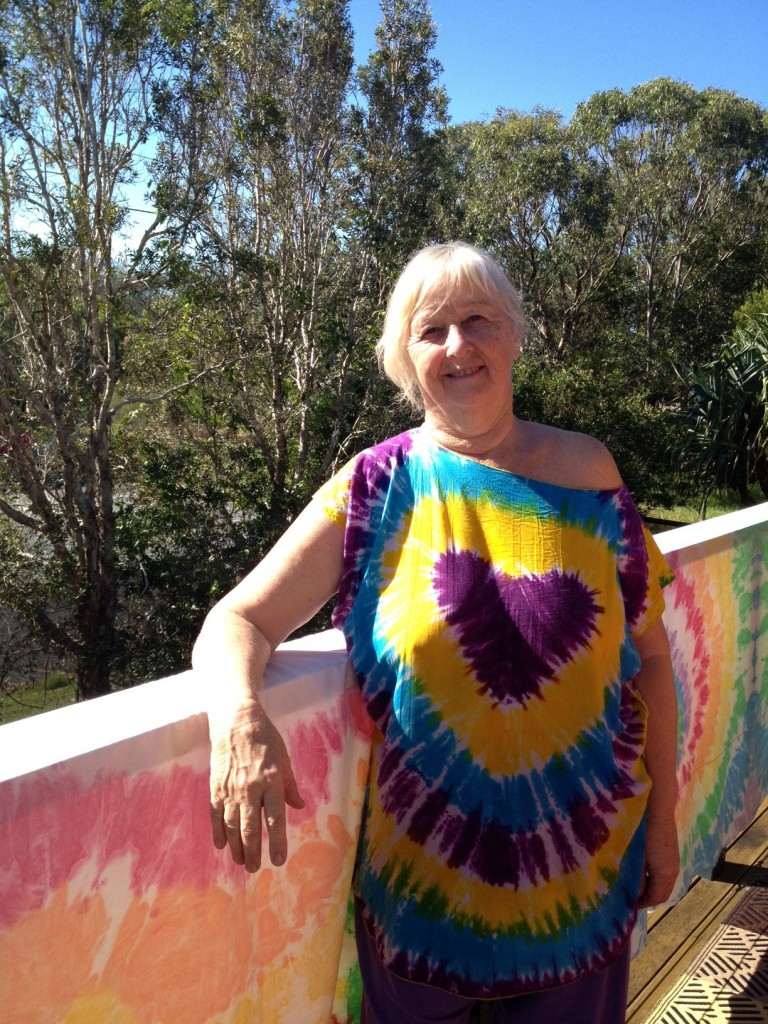 Buddita worked on me for almost two hours; but frankly I completely lost track of time. The work was deep, at times it was as painful as rolfing. She'd reach into a point in my inner thigh and say, "This is your adrenals. The energy is a bit stuck here," and she'd deeply enter the spot and then draw the energy down my legs and out my feet. At times, it was excruciating, but I know how to breathe into bodywork, and then her lilting voice would say, "There it goes, now we've got it out of you." She worked deeply in my lymph nodes, all around my breasts because of my cancer.
She was deeply intuitive and seemed to know exactly where to go.
She read my body and my stuck energy and narrated back to me the story my body was telling her. I just surrendered. At times she drummed over my body or clacked with sticks or made different sounds. And then she'd target another place and ask me about my father or my mother or the grief I carry. Or she'd touch a spot and say, "You have been rather hard on yourself of late." It was as if she were reading a map. I felt deeply relaxed despite the intermittent pain of her treatment, and I could feel, with her, each letting go. I thought, Well, she's only got one shot at me, I'm going to let her do exactly what she wants.
By the time Buddita was finished, I was spent, like a limp noodle. I could hardly get off the table, I was in such a wonderfully relaxed and altered state. I knew I'd been worked on by a true healer.
Can you see how different I look after her treatment?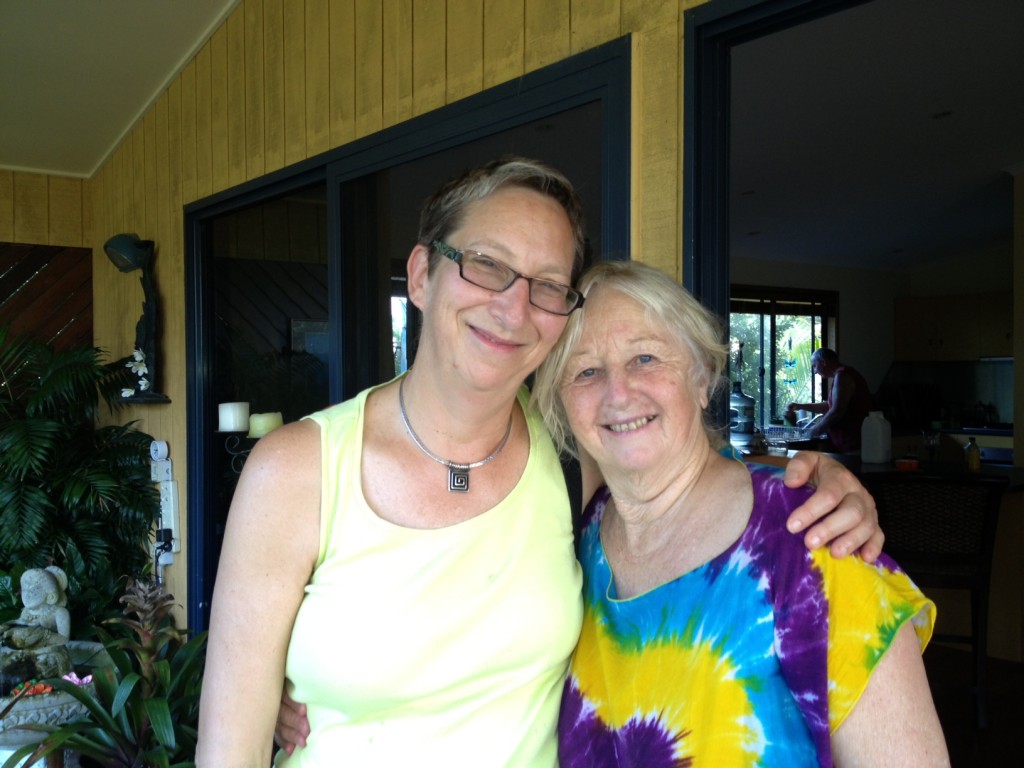 Now I'm home to rest and relax. I'm reading a novel Kimberley Sun about one of Allison's favorite places in Australia, Broome, on the Kimberley coast.
All I need to do for the next few hours is repack my things. We leave for Bali very early tomorrow morning. I'll be taking Allison and Kevin out tonight for a thank you dinner. I can't imagine a better introduction to Australia than the one they gave me.
No koalas and no kangaroos—the wildlife didn't seem to appear for me this time. I take that as a sign that I'll definitely be back.
Australian vocabulary today:
Bonnet: hood of car
Windscreen: windshield
Buggered: tired, exhausted, can't be bothered
Arvo: afternoon: "See you in the arvo."
Bitumen: asphalt
Bull bar: a large metal bumper that extends in front of many Australian vehicles, particularly off-road vehicles and trucks. If you hit a cow or a kangaroo, they can come through your windshield and kill you. A bull bar tosses them off your car and saves your life, though it does nothing to save the animal.